Chocolate Rebel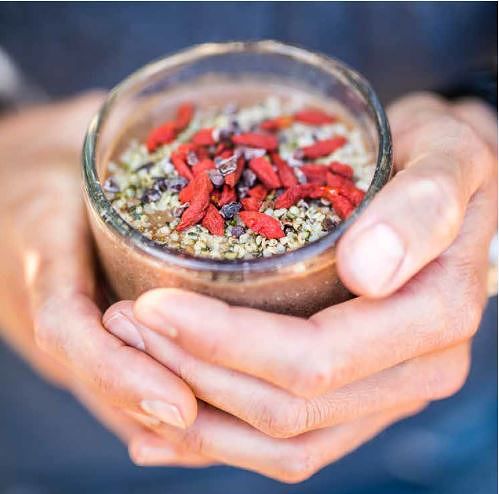 I love this bad boy after a workout. Anyone who likes chocolate: cacoa is your friend. It is a raw chocolate and contains more than 300 nutritional compounds. It's also one of the richest sources of antioxidants of any food on the planet. Chocolate -flavoured protein powder works really well here.
Add maca power for an added energy boost and top with goji berries, hemp seeds and cacao nibs.
Ingredients
350ml

mineral water

a pinch of Himalayan salt

1 tbsp

natural protein powder

1 tsp

coconut oil

1 tbsp

raw honey or maple syrup

1 tbsp

hemp seeds

5

cashew nuts

3 tbsp

raw cacao powder

1 tbsp

raw cacao nibs

1/2

an avocado

1

frozen banana

a handful of frozen strawberries

a handful of ice cubes
Instructions
Wash, peel and chop the ingredients where necessary.
Put all the ingredients into a blender in the order they're listed.
Blitz until smooth.