Blackberry Ricotta Cheesecake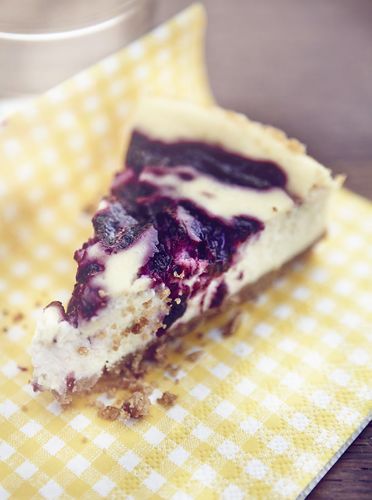 I love the swirls of deep purple berries against this creamy cheesecake. Ricotta gives a less smooth texture than the heavier cream cheese, but the taste is cleaner, allowing the fruit to really shine
For how many?
Serves 8-10
Ingredients
For the base:

150g

digestive biscuits

75g

unsalted butter

For the blackberry swirl:

150g

blackberries

2 tbsp

caster sugar

juice of 1/2 lemon

1 tsp

cornflour (optional)

For the filling:

500g

ricotta cheese

2 tbsp

cornflour

150ml

double cream

125g

caster sugar

2

large eggs, plus 1 large yolk

zest of 1 lemon

1 1/2 tsp

vanilla extract
Instructions
Equipment: 20cm round loose-bottomed or spring-form tin
1. Preheat the oven to 180c/fan 160c/gas mark 4.
2. Crush the biscuits with a rolling pin or blitz them in a food processor, until sandy. 
Melt the butter over a low heat then mix with the biscuit rubble in a large bowl. The crumbs need to be moist enough that they'll hold in clumps if squeezed together, so add extra butter at this point if necessary.
3. Spread the biscuit mixture over the base of the tin and press down firmly all over.
Bake in the preheated oven for 10 minutes, then take out, leave to cool slightly and reduce the oven temperature to 120c/fan 100c/gas mark ½.
4. In a small pan, heat the blackberries, sugar and lemon juice over a low heat until the blackberries soften. Crush with the back of a fork until no whole berries remain, then set aside to cool. If the blackberries release a lot of juice, add one teaspoon of cornflour while the pan's still on the heat and stir for a further minute or two, until thickened.
5. Beat the ricotta and cornflour together in a large bowl until smooth, then stir in the cream. Once combined, incorporate the sugar, followed by the eggs and yolk (one at a time), lemon zest and vanilla extract.
6. Pour the filling onto the baked biscuit base. Dollop spoonfuls of the blackberries into the cheesecake and gently swirl through using a spoon. Bake for 13/4-2 hours, or until the cheesecake has no more than a slight wobble at its centre. The cooked cheesecake should be quite firm all over, except for the blackberry swirls, by now slightly sunken, jammy and a deep purple colour.
7. Leave the cheesecake to cool completely in its tin before attempting to unmould it. Then, for a firmer texture, chill in the fridge before serving.
Watch: Ruby Tandoh discusses innovative ingredients used in Crumb