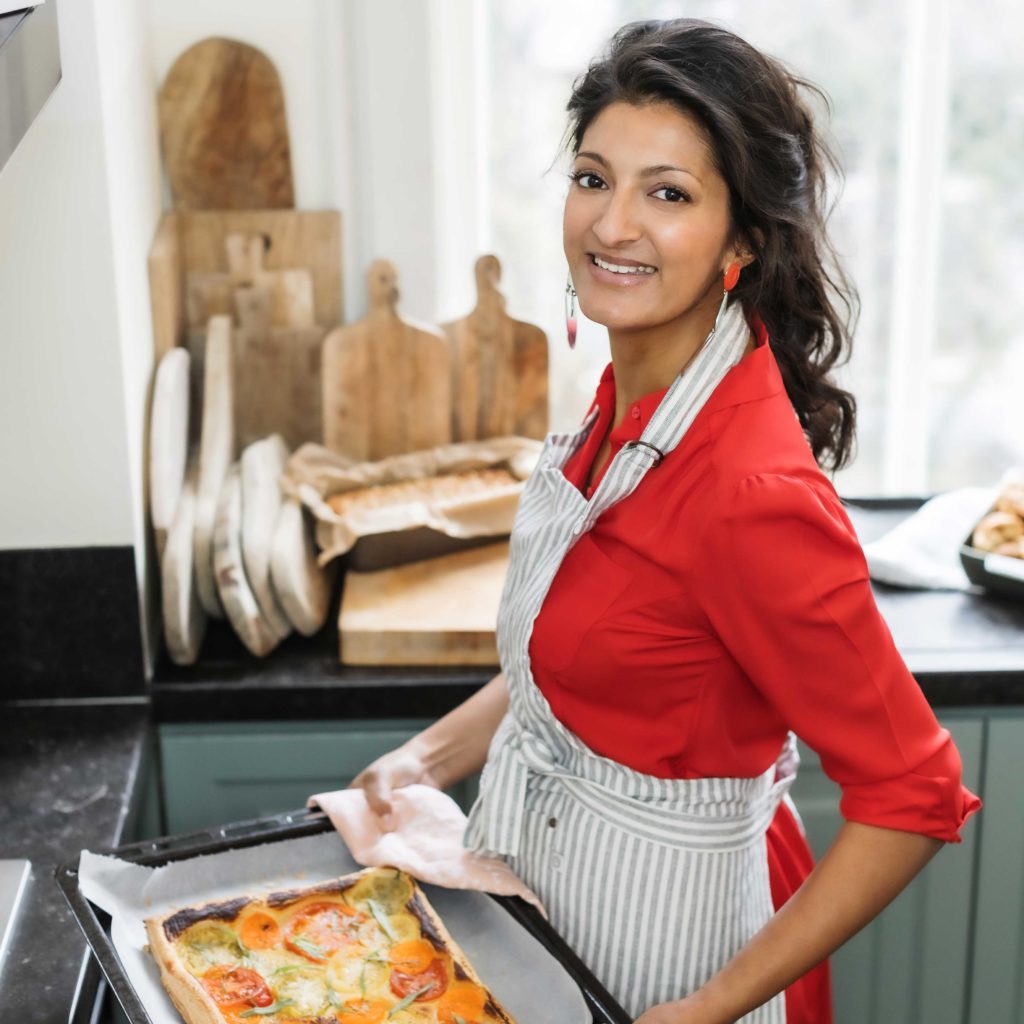 Dinner with Rukmini
Browse all of the recipes in Rukmini Iyer's cookbooks by ingredient.
Roasted Aubergine with Peanuts, Chilli and Lime
A flavourful dressing of peanut butter, soy sauce and lime takes this vegan roasted aubergine traybake to new heights. Best served with rice or noodles for a simple, quick midweek meal.
Introduction
The peanut dressing for this quick and easy dish works so well with the aubergines and pepper – perfect to serve alongside rice or noodles. As brands of peanut butter vary, you may need to spend a little time beating it with the soy sauce and sesame oil to get a good spoonable consistency – but it's well worth it.
Ingredients
2
aubergines, cut lengthways into eighths
1
red pepper, roughly sliced
170g
baby corn
3 cloves of
garlic, grated
5cm
ginger, grated
1 tsp
sea salt flakes
2 tbsp
sesame oil
lots of freshly ground black pepper
For the dressing:
1 heaped tbsp (approx. 75g)
crunchy peanut butter
2 tbsp
good soy sauce
1 tbsp
sesame oil
4 tbsp
water
2-4
limes, juice only
1
fresh red chilli, thinly sliced
To serve:
A handful of
fresh coriander, chopped
quick-cook rice or noodles
Method
Preheat the oven to 180°C fan/200°C/gas 6.
Tip the aubergines, red pepper and corn into a tin large enough to hold them all in one layer and mix through the garlic, ginger, salt, sesame oil and black pepper. Transfer to the oven and roast for 45 minutes.
Meanwhile, mix together all the ingredients for the dressing and set aside. (You want a good spoonable consistency, something like double cream, so you may need to add a little more water to adjust the texture depending on your brand of peanut butter.
Once the aubergines are cooked through, pour over the dressing, taste and adjust the salt as needed, scatter over the fresh coriander and serve hot with quick-cook rice or noodles.