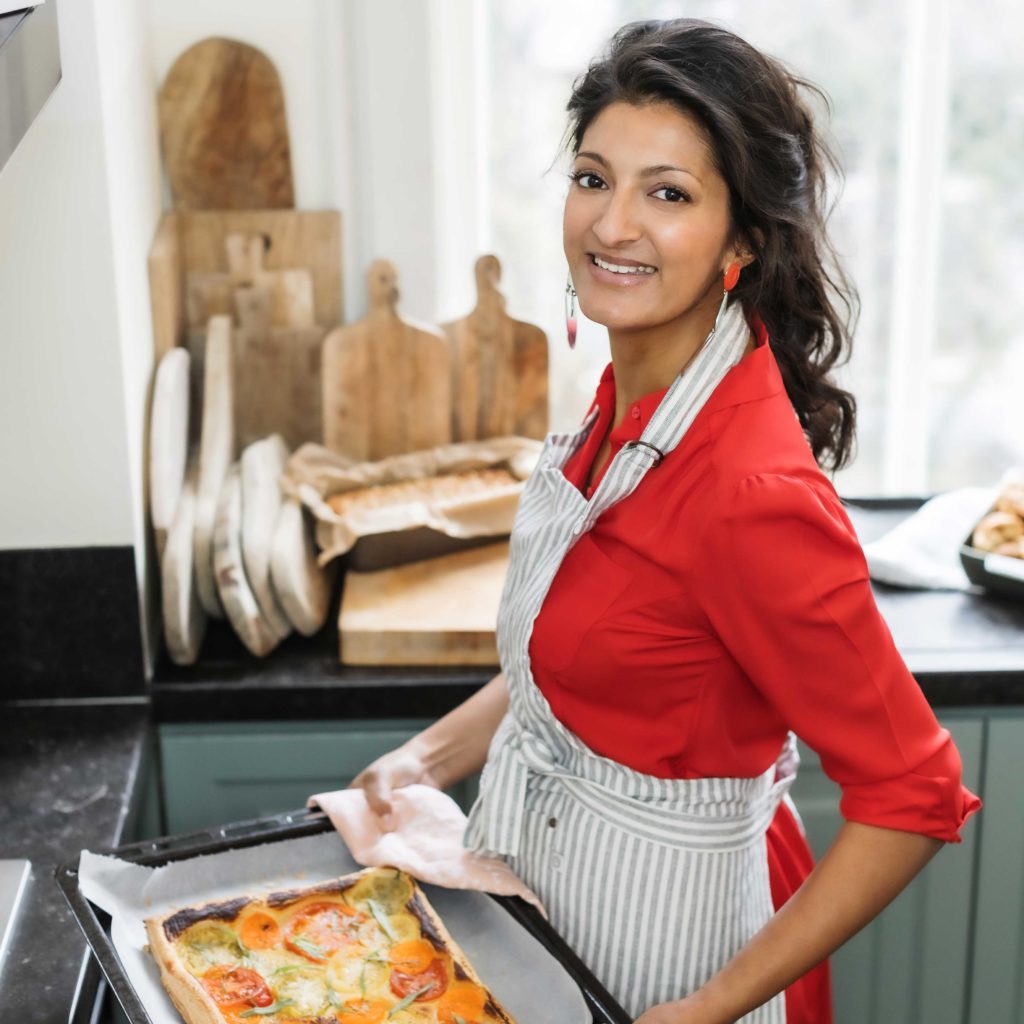 Dinner with Rukmini
Browse all of the recipes in Rukmini Iyer's cookbooks by ingredient.
Quick Meatball Pizza with Cherry Tomatoes and Mozzarella
This Quick Meatball Pizza with Cherry Tomatoes and Mozzarella is an easy, flavour-packed recipe that makes a satisfying weeknight dinner. Ready in under an hour, this speedy recipe is guaranteed to be a new family favourite.
Introduction
This stunning, unashamedly loaded pizza-style tart is possibly one of my proudest creations. And it's an opportunity to use nigella or black onion seeds, which are my new favourite spice, not just because they share a name with my favourite cookery writer, but because they work particularly well with tomatoes and puff pastry.
Ingredients
| | |
| --- | --- |
| 400g | free-range minced beef, lamb or pork |
| 1 tsp | sea salt (optional) |
| 1 | shallot, roughly chopped |
| 2 tsp | nigella (black onion) seeds |
| 1 x 320g | ready-rolled puff pastry sheet |
| 3 tbsp | chopped tinned tomatoes |
| 1 clove | garlic, crushed |
| 100g | cherry tomatoes, halved |
| 100g | broccoli, cut into small florets (can be Tenderstem) |
| 1 x 150g ball | mozzarella cheese, torn |
| | Fresh basil leaves, to serve |
Method
Preheat the oven to 180°C fan/200°C/gas 6.
Tip the minced meat, ½ teaspoon of salt (if using), shallot and half the nigella seeds into a food processor, and blitz until mixed.
(Alternatively, finely chop the shallot and mix in a bowl.)
Roll the minced meat into 18 or so small walnut-sized meatballs, or get little hands to help you with this. It's easier with damp hands, so keep a bowl of water nearby.
Unroll the puff pastry into a roasting tin or on to a large baking sheet, leaving it on the paper that it comes wrapped in. Mix the tinned tomatoes with the crushed garlic, remaining nigella seeds and another ½ teaspoon of salt (if using), and spread this all over the pastry, leaving a 1½ cm border around the edges.
Dot the meatballs all over the pizza, then arrange the cherry tomatoes and broccoli in between. Scatter everything with the mozzarella, then transfer to the oven and bake for 25–30 minutes, until the edges are golden brown and crisp and the meatballs cooked through. Scatter over the basil and serve hot.
NOTE: Don't panic if it looks like you can't possibly fit all the veg and mozzarella on top of the tart as you assemble, everything shrinks on cooking.
More Family Friendly Recipes
---
More Recipes from The Quick Roasting Tin
---