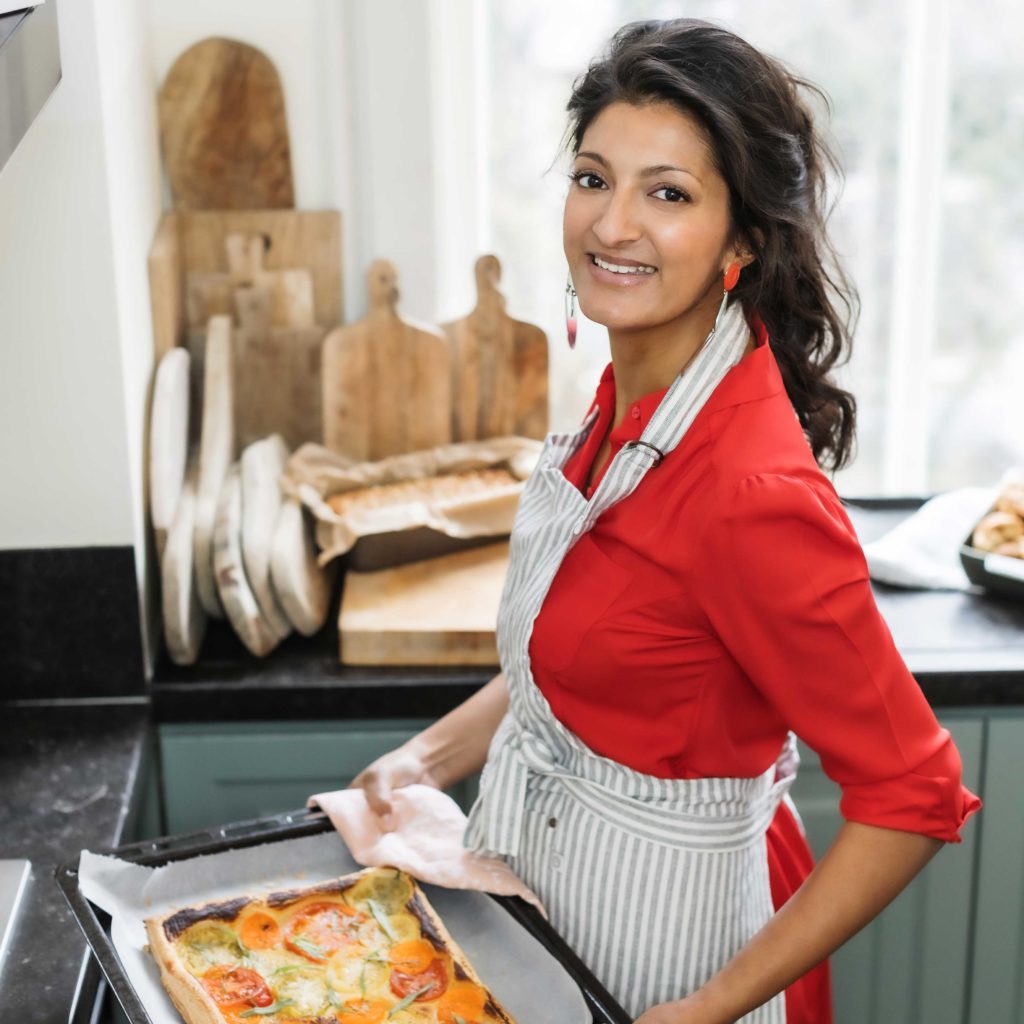 Dinner with Rukmini
Browse all of the recipes in Rukmini Iyer's cookbooks by ingredient.
Chipotle Mushroom and Black Bean Burgers with Peanut and Lime
Rukmini Iyer's vegan burgers are flavoured with a moreish combination of peanut, lime, and chipotle. Trust us: this is the umami-rich, plant-based barbecue dish you've been waiting for.
Introduction
These burgers are ridiculously moreish – I like to serve them in buns with mayonnaise and pickles. Make life easier for yourself by cooking them in the oven first, then finishing them off with a quick warm-through on the barbecue before serving.
Ingredients
| | |
| --- | --- |
| 50g | smooth peanut butter |
| 1 x 400g tin of | black beans, drained, but not rinsed |
| 2 | small cloves of garlic, peeled |
| 2 tsp | chipotle chilli flakes |
| 1 tsp | ground cumin |
| 1 tbsp | olive oil |
| 1 heaped tbsp | rye flour |
| 1 | lime, zest only |
| 1 tsp | sea salt flakes |
| 250g | chestnut mushrooms |
| | To serve: |
| 1 | lime, cut into 4 wedges |
| A handful of | chopped salted peanuts |
| A handful of | chopped fresh coriander |
| 4 | burger buns |
Method
Put the peanut butter into a food processor with 60g of the black beans, the garlic, chilli flakes, cumin, olive oil, rye flour, lime zest and sea salt flakes, and blitz until you have a very thick paste. Tip it into a large bowl and stir in the rest of the black beans.
Tip the mushrooms into the processor – no need to wash it – and pulse until you have a dry mushroom mince. Stir this into the black bean mixture. With damp hands, form it into four thick burgers and arrange them on a lined baking sheet.
Bake in the oven at 180°C fan/200°C/gas 6 for 25–30 minutes. When they've got 10 minutes left, gently flip them over so they can crisp up on the other side.
They're ready to serve straight from the oven, but for a nice bit of smokiness you can let them cool down, then finish them on a medium barbecue for a couple of minutes per side.
Squeeze over the lime wedges and top with a handful of chopped peanuts and coriander, then sandwich them into lightly grilled burger buns.