Ruby Tandoh's Crumb: The Baking Book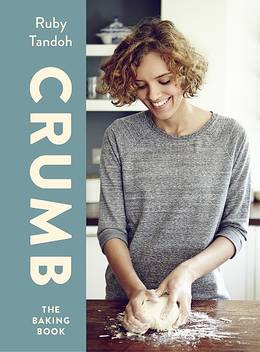 Who's the author? Ruby Tandoh, finalist in the 2013 series of The Great British Bake Off.
What's it about? Ruby's debut cookbook, Crumb is a celebration of sweet and savoury baking that puts flavour first.
Recipes we love: Blackberry and ricotta cheesecake, Chorizo and Kale Flatbread and Dark Chocolate Orange Bourbons.
Good book for: Novice bakers. No need for fancy equipment or know-how.
You'll like it if: You like trying out new tastes and combinations.
Crumb is about flavour, first and foremost – a celebration of the simple joy of baking.  Ruby's recipes delight in new tastes and combinations, as well as the rediscovery of old favourites, to create food that is exciting without ceremony or pretence.

In a delicious blend of practicality and creativity, Ruby encourages novices and seasoned bakers alike to roll up their sleeves and bake – even if they don't have the proper equipment or know-how. From Lemon & Marzipan Cupcakes and Rye Caraway Bagels, Rose & Burnt Honey Florentines, Croissants and Custard Doughnuts, to Butternut Squash & Mozzarella Tartlets and Sticky Toffee Pudding, these are recipes that will quickly become some of your best loved. With writing to be savoured as much as the recipes, tips and techniques to guide you and plenty of ideas for variations, this is baking book to be inspired by, to read and cherish.
Read this book? Tell us what you thought on our Facebook and Twitter pages.