This feature is part of Weekend In, a series designed to help you recreate the flavours of your favourite short haul destinations at home this summer. 
Oh Venice. The city of canals and love, of narrow cobbled streets, of bridges and of winding waterways teeming with gondolas. Behind the touristy thoroughfares, though, is a hidden Venice. A Venice where local Venetians live and shop, where the produce sold at daily markets is fiercely seasonal and where the fish are hauled in and sold at bargain prices. A Venice explored by Russell Norman in his cookbook Venice: Four Seasons of Home Cooking. 
"I believe this collection is a snapshot of the food cooked and eaten by real Venetians", says Russell, whose cookbook will whisk away you to where locals drink at spritz bars, shop at the daily markets, cook with the seasons and where the enoteca fills your plastic bottles with wine to takeaway for just a few euros. A love letter to the real Venice, its seasons and food, its unique character and culture, this is a celebration of the city's real home-cooking. Visit from your kitchens this weekend with our curated summertime menu from Venice: Four Seasons of Home Cooking.
Venice: Four Seasons of Home Cooking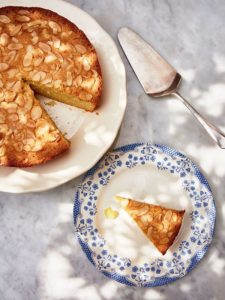 Authentic Venetian dishes across all four seasons
Delicious pasta and risotto recipes
Stunning food and travel photography
Zucchini, Mint and Goat's Cheese Risotto
A classic Venetian dish, risotto is a staple of northern Italian cooking where the region's many rice paddies grow some of the best short-grain rice. "I absolutely love the subtle tang that a good goat's cheese can impart to a dish", says Russell Norman who has paired it with seasonal courgette and fresh mint in this creamy, summertime risotto. Serve with a good twist of black pepper and a very light scattering of lemon zest – perfect for kicking off your meal.
Get your copy of Venice: Four Seasons of Home Cooking here.
A fresh, bright and punchy dish, a puttanesca sauce of juicy tomatoes, olives, anchovies and capers is teamed with grilled swordfish for a fresh taste of Venetian summer.
Get your copy of Venice: Four Seasons of Home Cooking here.
Inspired by his favourite cake shop is Rizzardini near Campo San Polo, this almond cake is Russell's more homely version. A simple, delicate sponge with ground almonds, amaretto and lemon, this bright, summery dessert is delicious with a spoon of whipped cream.