We are Amy and Emily, aka The Rangoon Sisters, two NHS doctors and home cooks who have been running sell-out Burmese supper clubs since 2013. We are now the proud authors of our first book, The Rangoon Sisters Cookbook, which is a collection of delicious family recipes showcasing our Burmese heritage. These are the dishes we learned to cook by closely observing our mum and grandma from a young age, alongside those we have developed and perfected at our supper clubs.
Burmese cuisine is hugely varied and has familiar influences from neighbouring countries such as India and China but is also very much its own unique entity. From gently spiced aromatic curries and flavoursome salads full of freshness and textures, to a wealth of noodle dishes and sweet snacks, our recipes are accessible for all levels of cook and can be easily recreated within your own homes, whether for a midweek meal after work or dressed up for a dinner party.
With our cookbook, we aim to continue to spread the love for Burmese food and can't wait to see you making it and sharing it with your friends and loved ones. Here we have selected five ingredients and dishes to know to get you started and to give you a sense of what our book is all about.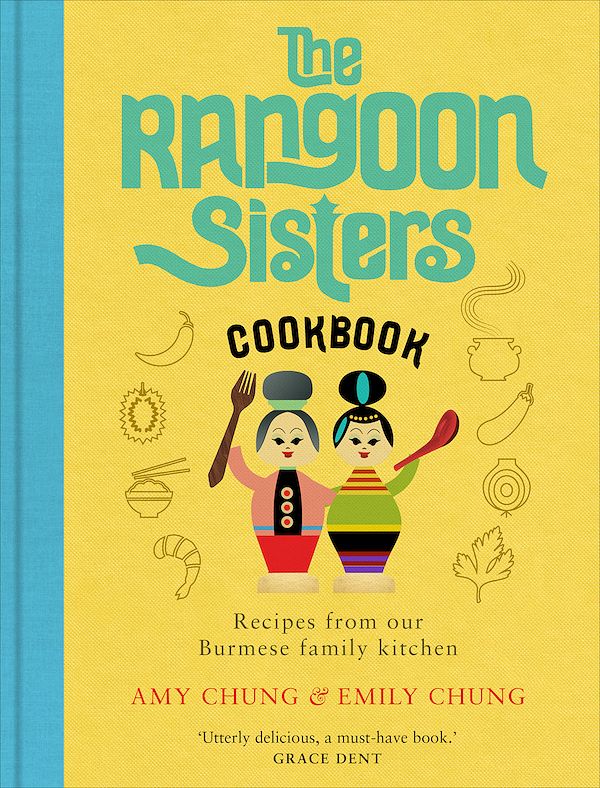 The Rangoon Sisters: Recipes from our Burmese family kitchen
The definitive guide to creating authentic Burmese dishes at home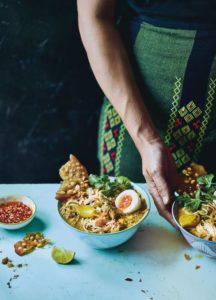 Easy-to-follow recipes for noodle and rice dishes, curries, salads and more
From impressive dinner party centrepieces to quick weeknight meals
1. Onions
Onions are the holy grail of Burmese cooking and you must be prepared to love them when cooking Burmese food! When we put on a supper club we go through bags and bags of them, crying many tears along the way! They are chopped up and then slow-cooked until they turn golden brown and the oil "rises" and develops a wonderful deep flavour, providing a great foundation for you to add the rest of the ingredients of a curry to, such as garlic, ginger and spices. This "onion mix" can be used for lots of other dishes, which we detail in the book, and we often make a huge batch and freeze them for cooking at a later date.
2. Ngapi (fermented shrimp or fish paste)
One of the key elements in Burmese food is saltiness, which often comes from a shrimp or fish element such as ngapi, dried shrimp or fish sauce. Fermented shrimp paste is made by mixing small shrimp with salt and then leaving it to ferment for a few weeks, resulting in an ingredient with a most intense smell and a strong, salty taste. Despite the pungent odour, once you've added it to a curry or stir-fry, the flavour is elevated and you won't be without it again! It is readily available in east and southeast Asian supermarkets in the UK and online.
3. Lahpet (fermented tea leaves)
Lahpet is an ingredient unique to Burma, which is thought to be the only place where tea is eaten! Fresh tea leaves are left to naturally ferment over a period of months before being flavoured with ingredients such as garlic and chilli. It has a wonderful umami taste which, when combined with freshly shredded cabbage, sliced tomatoes, chilli, lime, garlic oil and crispy fried beans and nuts to make lahpet thoke, makes for the ultimate salad with a caffeine hit, ideally served up at the end of a meal. You can now easily buy lahpet online from the Lost Tea Company (lostteacompany.com) or Mum's House (www.mumshouse.com) alongside the fried beans and nuts, and the restaurant Lahpet (www.lahpet.co.uk) have started doing lahpet thoke kits.
4. Mohinga
Mohinga is the national dish of Burma and is a must try for anyone new to the cuisine. It's a delicate fish soup flavoured with lemongrass served over a bed of rice vermicelli noodles, topped with fresh lime, chilli, boiled egg and a moreish crispy chana dal fritter. You can find it being dished up for breakfast from road side street stalls (with the most popular stalls selling out very quickly) but you can eat it any time of the day. When we last visited Burma we visited Dawei in the south where our grandparents were originally from – they have their own variation of mohinga, made with their local fish, called muclusi. It was darker, richer, spicier and just as delicious, if not more so!
5. Snacks
We love to have food on the go and street food is brilliant in Burma – there is such a range to satisfy all desires, whether you want something sweet or savoury, light or more substantial. From mohinga (mentioned above) and noodle salads, to freshly cut fruit served up with chilli salt, crispy vegetable fritters, samusas, fried chickpea tofu, sweet and savoury pancakes of all shapes and sizes, buttery coconut semolina cake, steamed sweet coconut sticky rice wrapped in banana leaves, and much, much more! Lots of these recipes can be found in our book, so you can virtually travel to Burma through the medium of food during a time when travelling is not so easy.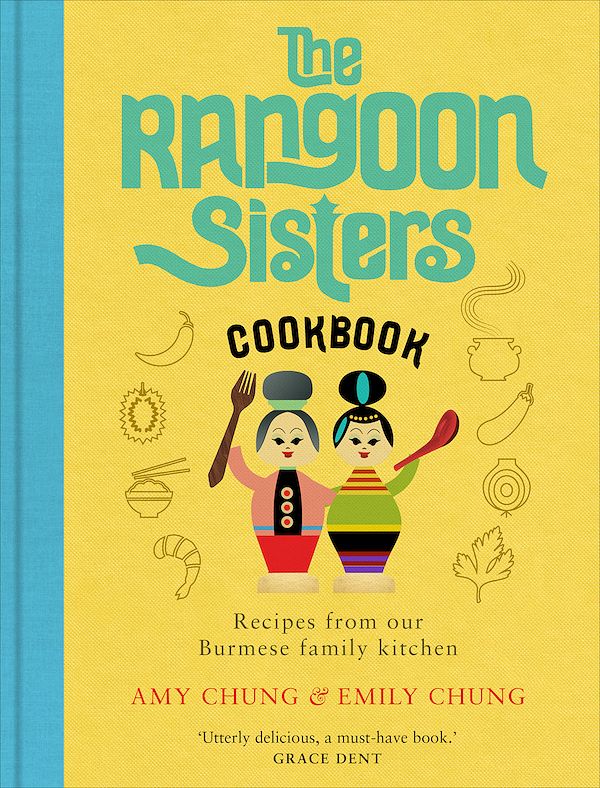 The Rangoon Sisters: Recipes from our Burmese family kitchen
The definitive guide to creating authentic Burmese dishes at home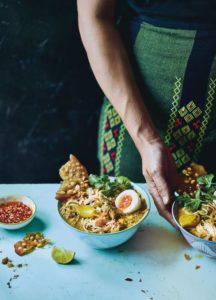 Easy-to-follow recipes for noodle and rice dishes, curries, salads and more
From impressive dinner party centrepieces to quick weeknight meals