Following on from the success of our inaugural event in November 2017, on 14th April 2018 The Happy Foodie hosted our second Cookbook Club, this time celebrating Russell Norman's love letter to Venetian home cooking, Venice.
We returned to the incredibly Instagram-friendly Rye London and invited along some of our favourite cookery influencers to join us and Russell for an afternoon sharing dishes from his lovely book. Each of our guests cooked and brought along a different recipe, resulting in a Venetian lunch spread of dreams. We had everything from crostini and bruschetta to frittata, panzanella and plenty of bakes for afters.
To help transport us to a canal-side bar in Venice, Aperol Spritz were on hand to mix up cockails for our guests.
Before sitting down to eat lunch, Russell showed us all how to make the malfatti  we would soon be lucky enough to try. Malfatti, meaning 'badly made' in Italian, are balls of spinach, ricotta and Parmesan, fried in butter and sage (you're drooling, right?) and are rarely found in the city's restaurants but are very common in Venetian homes, making them the perfect recipe to illustrate what Venice is all about. 
After watching Russell make a batch of malfatti, and learning a clever tip for rolling them involving a wine glass along the way, we were more than ready to get stuck in to a plateful, accompanied by the other dishes from the book contributed by our guests.
During lunch, Russell's editor, Juliet, interviewed the author and restaurateur, who gave us some fascinating insight into the real Venice and the inspiration behind the recipes in the book. As if the Aperol Spritz and Venetian food wasn't enough, Russell's amazing stories about this beautiful Italian city certainly had us all searching for the next flight to Venice.
After feasting on a selection of authentic Venetian bakes from the book accompanied by a good shot of espresso, our second Cookbook Club had come to an end. What better way to spend an afternoon that with good company, incredible food and a fantastic cookbook?
Venice: Four Seasons of Home Cooking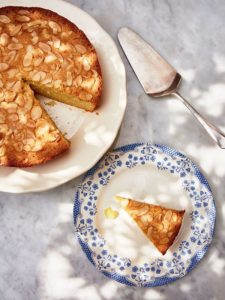 Authentic Venetian dishes across all four seasons
Delicious pasta and risotto recipes
Stunning food and travel photography