An incredibly versatile rice-shaped pasta, orzo is delicious in soups and stews, bulking out dishes with a creamy, silky texture that makes it an excellent alternative in risotto too. In Italy, orzo is used to add body to minestrone-type soups, while in Greece and Cyprus it's often paired with tomato sauce to great effect - as Georgina Hayden demonstrates with this gloriously simple family traybake. 
"Orzo pasta is a non-negotiable staple in my kitchen", says Nigella Lawson, who loves to serve it simply dressed in butter and salt as a swap-in for rice or potatoes. Nigella's clever, one-pot orzo dishes have inspired us to seek out more of our orzo favourites, which we've gatherered here. Most of these dishes can be made in one pot and almost all of them are speedy enough to be made midweek. Scout out a packet of orzo in your nearerst supermarket and you won't look back.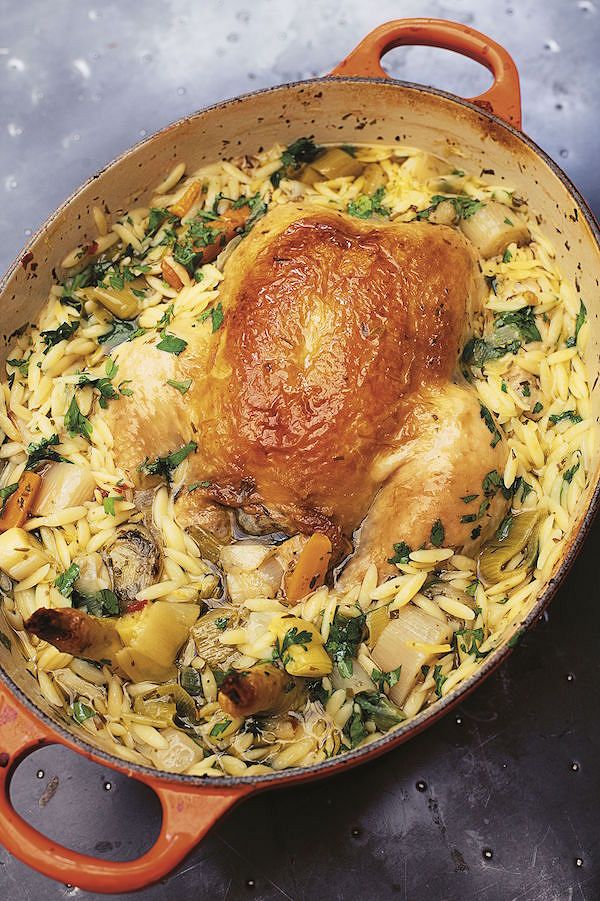 Chicken in a Pot with Lemon and Orzo from Cook, Eat, Repeat by Nigella Lawson
Nigella reinvents the wheel with this roast chicken dinner with lemony orzo, leeks and tarragon. "A family favourite, it's a simple one-pot dish which brings comfort and joy, and it is my pleasure to share that with you", Nigella says.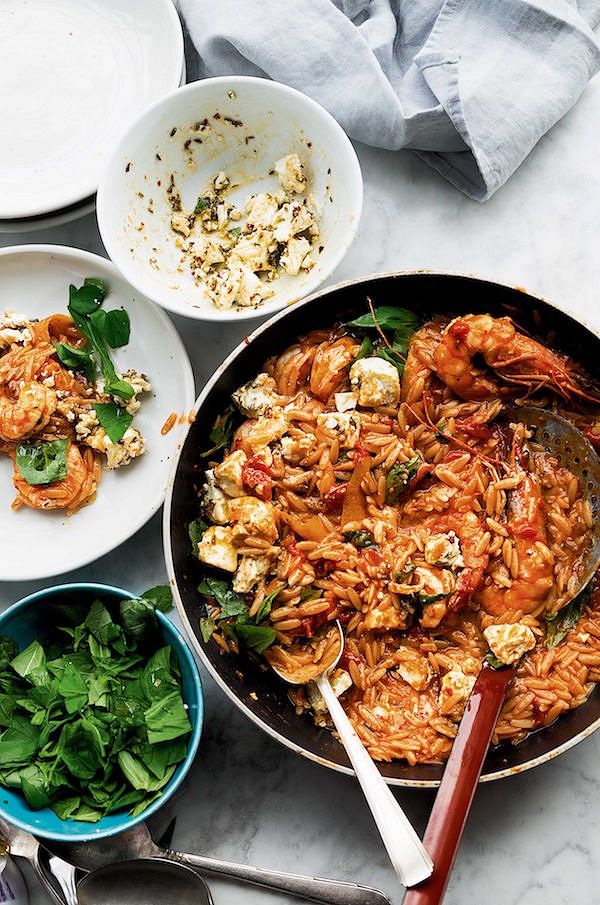 Orzo with Prawns, Tomato and Marinated Feta from Ottolenghi SIMPLE by Yotam Ottolenghi
"The combination of prawns, feta, tomatoes and pasta is one that I love", says Yotam Ottolenghi of this easy one-pot supper. Leave the feta to marinate in a mixure of olive oil, fennel seeds and chilli flakes while you get on with your dinner, then crumble it over before serving for a lovely tangy, creamy finish.
Order a copy of Ottolenghi SIMPLE here.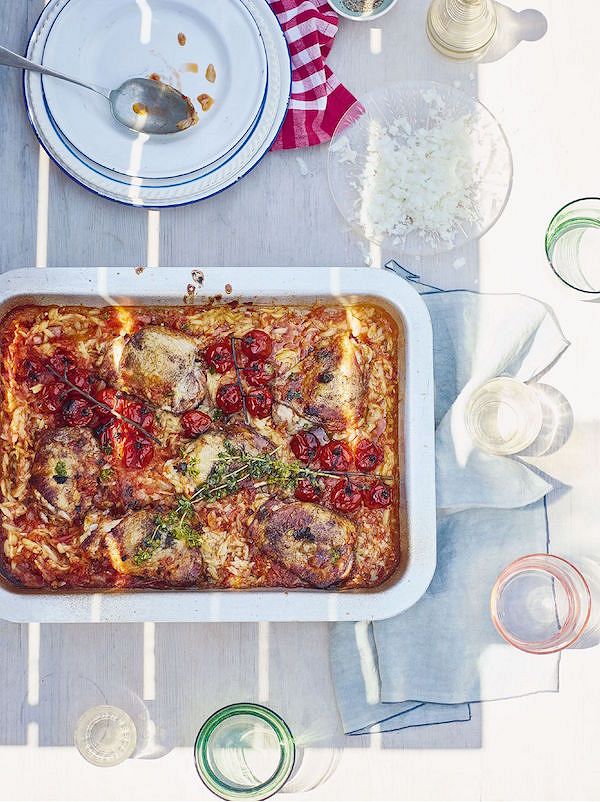 Chicken, Cinnamon and Sweet Tomato Orzo from Taverna: Recipes From a Cypriot Kitchen by Georgina Hayden
"This chicken dish is the sort of family one-pot recipe all households should have up their sleeve", says Georgina. A simple dinner that's cooked all in one tray, pairing crispy chicken thighs with tomato, orzo, cinnamon and fresh oregano.
Order your copy of Taverna here.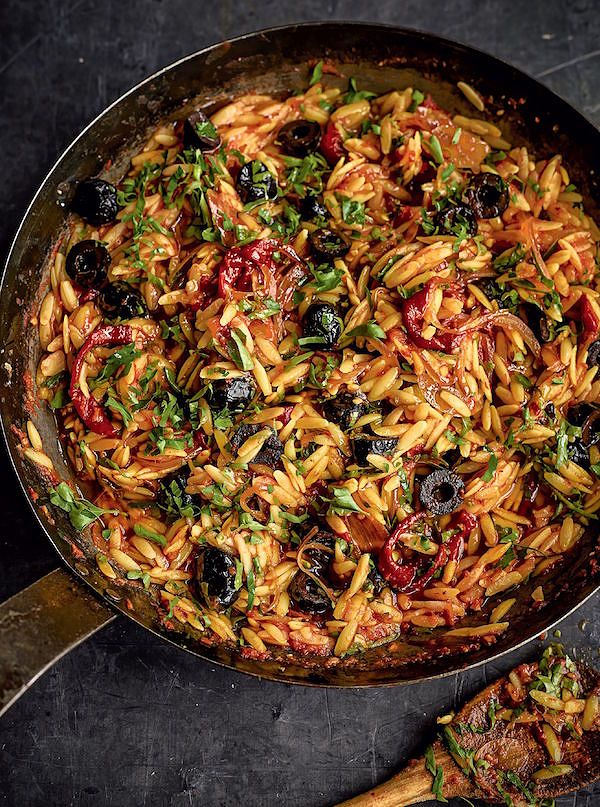 Red Orzo Risotto with Goat's Cheese from One Pot Wonders by Lindsey Bareham
For an alternative to risotto, try this version that swaps rice with orzo for an equally silky, creamy finish. A chunky red pepper, red onion and tomato sofrito, cooked in olive oil and flavoured with saffron, garlic and flat-leaf parsley and served with goat's cheese – pure comfort!
Order a copy of One Pot Wonders here.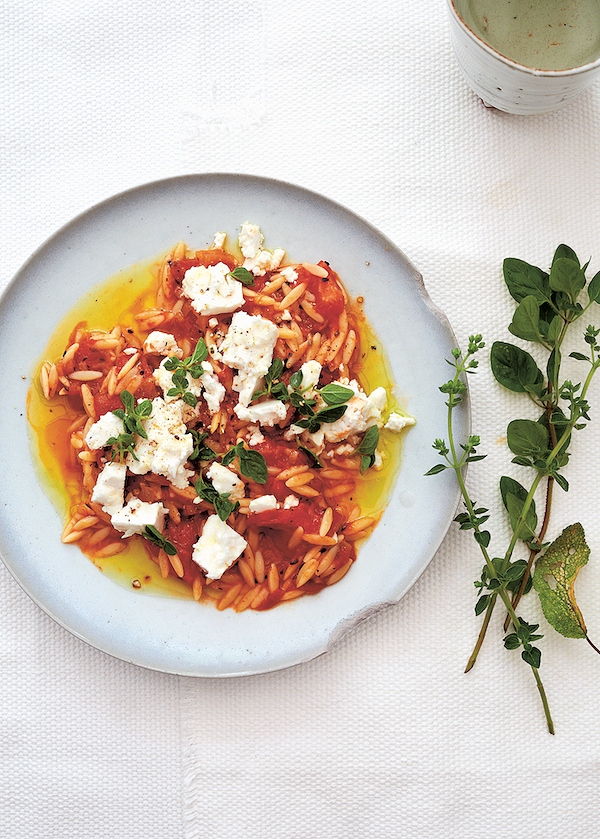 Orzo Pasta, Spicy Tomato Sauce & Feta from Ducksoup Cookbook by Clare Lattin and Tom Hill
This Mediterranean-inspired dish marries orzo with tomatoes, olive oil, salty feta, fresh oregano and a spicy hit of chilli and paprika. A midweek dinner that tastes like summer.
Order a copy of the Ducksoup Cookbook here.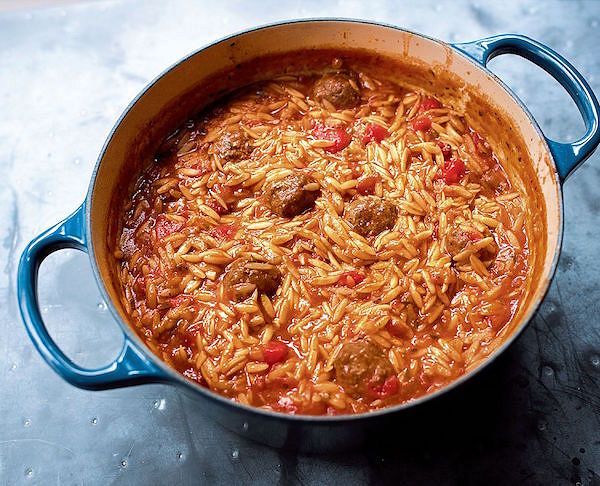 Meatballs with Orzo from At My Table: A Celebration of Home Cooking by Nigella Lawson
A cosy one-pot pasta risotto with homemade meatballs, this is a dinner for the whole family. Here, orzo is added to meaty tomato sauce to suck up its rich flavours while it cooks. Serve with a generous grating of Parmesan.
Order a copy of Nigella's At My Table here.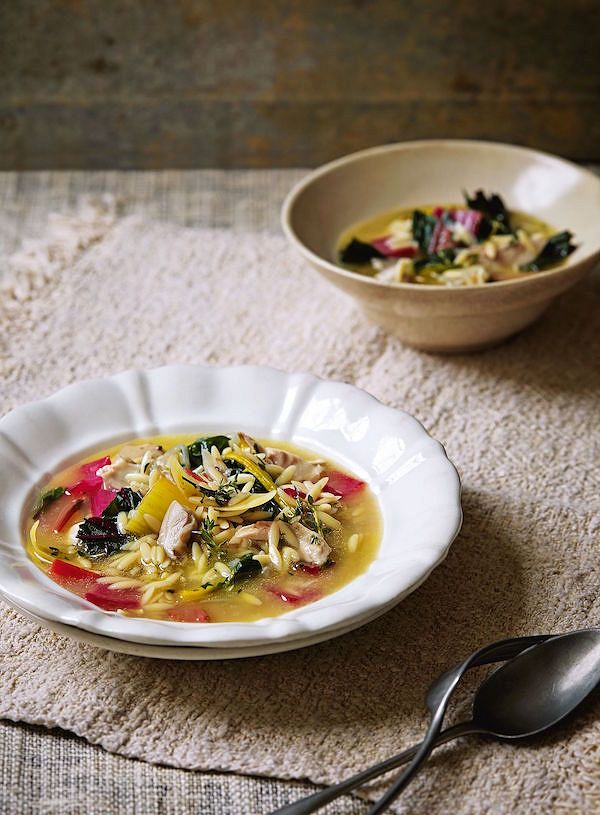 Lemony Chicken Broth with Orzo Pasta and Chard from The Great British Bake Off: Winter Kitchen by Lizzie Kamenetzky
A nourishing, brightly flavoured chicken soup bulked out with orzo and chard, and cut through with zesty lemon, this is a perfect dish for the transition between winter and spring. Chard leaves and their stems lend a richness to this soup – look out for colourful rainbow chard if it's in season or use regular chard or spinach, if you like.
Order the The Great British Bake Off: Winter Kitchen cookbook here.