If you want to get a nutritious breakfast in the morning, oats are a great way to go – they're a great source of lots of essential vitamins and minerals, including B-vitamin thiamine that our hearts need to work properly, and they're packed with fibre to help keep us fuller for longer. As it's getting a bit too warm for porridge, here are our favourite no-cook oaty breakfasts. Whether overnight oats or granola, you can make these breakfasts ahead so they're ready and waiting when you wake up. 
Bircher Muesli from The Kitchen Orchard by Natalia Conroy
Bircher muesli is essentially the same as overnight oats but it's a recipe hailing from Switzerland – simply mix your ingredients together the night before and leave it in the fridge overnight so the oats have time to soak up the milk and sweetness from the fruit. The results are luxurious and creamy. These overnight oats come packed with dried fruit, nuts and seeds, cinnamon and grated apple. For extra indulgence, soak your oats in milk and cream – delicious!
Get a copy of The Kitchen Orchard here. 
Raspberry and Chia Overnight Oats from The Fit Foodie by Derval O'Rourke
This makes for a great start to the day, luxurious creamy oats with berries and agave. Use frozen raspberries here or swap in any seasonal fresh berries if you like. 
Order a copy of The Fit Foodie here.
Mango Lassi Bircher from Nadiya's Family Favourites by Nadiya Hussain
The loveliness of mango, mint and lime, all soaked into gorgeous oats with almond milk and toasted almond flakes, this is an exotic twist on breakfast. While it might sound a bit extravagant, it takes just 20 minutes to prepare.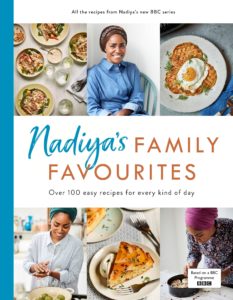 Nadiya's Family Favourites
Tasty midweek meal ideas
Easy ideas to feed a crowd
Showstopping cakes and bakes
Apple Crumble Granola from A Year in 120 Recipes by Jack Monroe
Jack Monroe throws together homemade granola with a few everyday ingredients – oats, apple, cinnamon and honey. Store in an airtight jar for weeks. 
Order a copy of A Year in 120 Recipes here.
Peanut Butter Overnight Oats from Superfood Breakfasts by DK Publishing
Simply throw a few ingredients together before bed and leave it to prepare itself, then top with peanut butter, banana, berries, granola and honey. Healthy, filling and full of good fats. 
Order a copy of Superfood Breakfasts here.
DIY Oaty Fruity Cereal from Jamie Oliver
"Eating a tasty, nutritious breakfast is a great way to help kick-start your day the best way you can", says Jamie. You can make a big batch of this healthy cereal and eat it straight up with milk or yoghurt, or soak them overnight so they're plump and creamy when you wake up.