Signal the arrival of warmer days with one of these dishes that make new potato the star of the show. Sweet, waxy and able to hold their shape much better than their fully-grown siblings, new potatoes are the perfect addition to salads and curries and can carry bold flavours with ease. 
Asparagus, Potato, Pea and Quinoa Salad from One Pot Wonders by Lindsey Bareham 
Complete with asparagus and pea, this easy one-pot recipe is a picture of spring and the perfect way to make the most of new potatoes.
Get your copy of One Pot Wonders here.
Roast Garlic and Lemon New Potatoes from Fay's Family Food by Fay Ripley
Simplicity is key in this stand-out side dish, with a winning combination of garlic and lemon elevating new potatoes to carb heaven. 
Get your copy of Fay's Family Food here. 
Chorizo, Egg and Potato Salad from The Little Book of Lunch by Caroline Craig & Sophie Missing
Give your new potatoes a Spanish makeover with this sunny salad featuring chorizo and egg. 
Get your copy of The Little Book of Lunch here. 
Savoy Cabbage, Black Kale and Potato Subji from Fresh India: 130 Quick, Easy and Delicious Recipes for Every Day by Meera Sodha
Turn your new potatoes into an enviable Indian-inspired feast with this vibrant and layered vegetable dish.
Fresh India: 130 Quick, Easy and Delicious Recipes for Every Day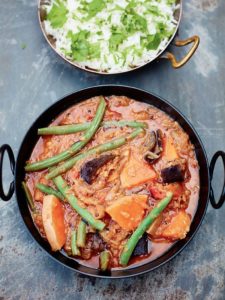 The go-to guide for vegetarian Indian cooking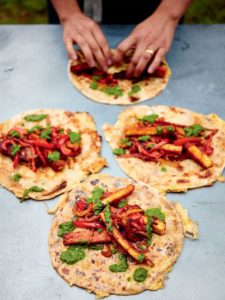 130 stunning recipes with a fresh and light feel
Beautiful puddings with Indian-inspired flavours
Smoked Trout, Horseradish and New Potato Salad from Jamie's Dinners: The Essential Family Cookbook by Jamie Oliver
There are few combinations greater than smoked oily fish and new potato, as this substantial salad by Jamie Oliver so convincingly proves.
Get your copy of Jamie's Dinners here.