Inspired by his sensational cookbook, Nanban, we asked Masterchef champion Tim Anderson to give us a tour of his personal cookbook collection. Find out which cookbooks have influenced his style of cooking, which books he enjoys reading for pleasure, which book he would save in a house fire and more!
1.       What was the first cookbook you ever bought?
I don't remember, but I think the first one I ever had was an Indian cookbook that was given to me by a friend in high school. But I don't know where it is now. I wish I did, because it was really quite good. It's probably in my parents' basement.
2.       Have you inherited any cookbooks from your family? Can you tell us about what they mean to you?
My most cherished and most used cookbook is Anderson Family Cookbook, which my mom compiled for my brother and I in 2003. It's a collection of family recipes and there are some real gems in there. I would like to say that cooking from it makes me feel sentimental, but actually the dishes are so much a part of me that they just feel really normal when I cook and eat them. Pure, unpretentious, simple comfort food.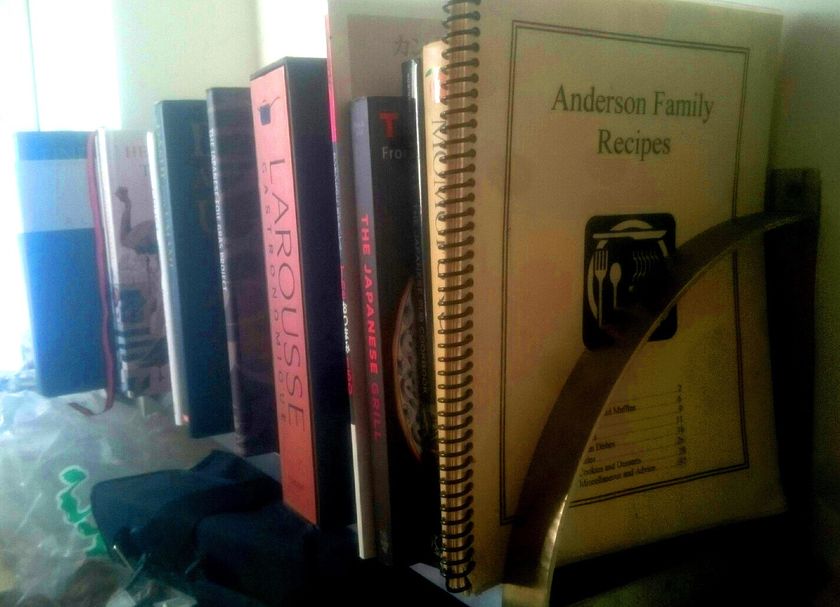 3.       Which cookbook in your collection has really changed the way you cook and why?
The Fat Duck Cookbook has taught me more than probably any other cookbook I have, mostly because of the sheer volume of knowledge it contains. It's got so much amazing information, on everything from making classic consommés to modern oddities like flaming sorbet.
4.       Which cookbook would you recommend as a source of advice on techniques?
Japanese Cooking: A Simple Art has a fully illustrated section on techniques, mostly to do with fish and veg prep. It's invaluable. I'd also recommend Michel Roux's Pastry, which contains really clear, helpful photos to illustrate techniques and show how each pastry should look as you make it.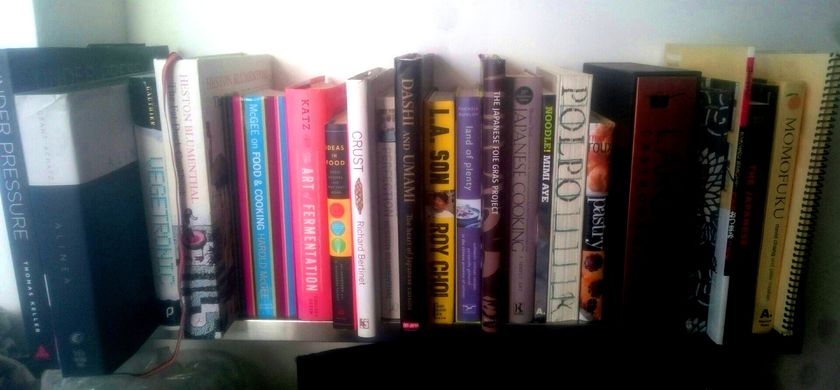 5.       How do you order / use your cookbooks? Do you annotate / scribble on them? Are the recipes catalogued somehow?
My go-to, most used cookbooks are on a shelf in the kitchen. The rest are scattered elsewhere, mostly on the bookcase in the living room. That's as far as my organization goes.
6.       If you had to save one cookbook in your collection from a house fire, which would it be?
The Anderson Family Cookbook.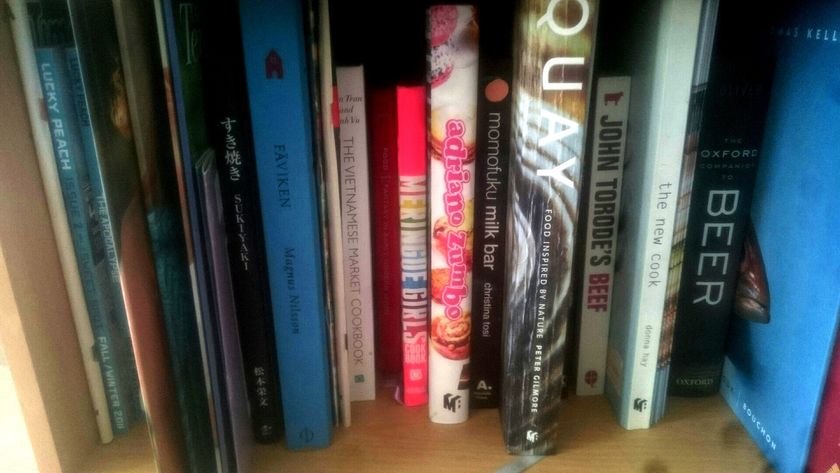 7.       Which cookbooks do you read most for pleasure and the enjoyment of the food writing?
Roy Choi's LA Son is an incredible book just from a narrative perspective. Choi's story is fascinating, and he tells it with a lot of honesty and passion. The recipes are fantastic, as well.
8.       At the moment the stack of books beside my bed are…
Nanban and an old issue of Lucky Peach.