Add some fresh touches to your festive feasting this year with Nadiya's practical advice, clever shortcuts and no-fuss techniques. With recipes for alternative show-stopping bakes from her latest book Nadiya Bakes, as well as tempting edible gifts, savoury pies and centerpiece sharers, these celebratory recipes will add something a little different to your festivities.
Kransekake Biscuit Tower from Nadiya Bakes
For an impressive celebratory centrepiece, why not make this huge tower of sweet, chewy, almond biscuit? This Swedish treat often requires fancy equipment but Nadiya has found a way to use everyday kitchen tools. Filled with the wrapped chocolates you're likely to have lying around at this time of year and decorated with edible flowers this is extra fun and extra festive.
Nadiya Bakes
A collection of all new baking recipes accompanied by gorgeous photography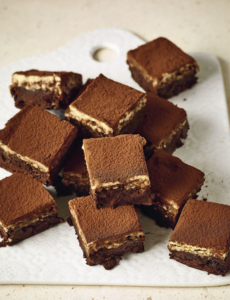 Packed with cakes, pies, and puddings to warm the heart and lift the spirits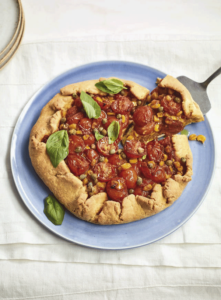 Including mouthwatering savoury bakes as well as irresistible sweets
Cranberry and Chilli Brioche Wreath from Nadiya Bakes
A beautiful wreath of chilli-laced brioche balls surrounding a baked Camembert topped with a dollop of marmalade, this a tastebud fest of contrasting sweet, savoury and spicy flavours. Bring it to the table and watch everyone dig in.
Order your copy of Nadiya Bakes.
Chicken, Brie, Cranberry and Pink Pepper Pithivier from Nadiya Bakes
With a gooey centre of melted brie encased in a chicken filling spiced with pink peppercorns and cranberries, and a puff pastry crust, Nadiya's twist on this classic French pie is pure festive decadence.  
Order your copy of Nadiya Bakes here.
Ginger and Almond Florentines from Nadiya Bakes
"Laced with chopped crystallized ginger, sliced almonds and a hint of orange zest, they're finally dipped in chocolate to add to the party in your mouth!" says Nadiya. Make a batch up as an edible gift for a lucky loved one.
Order your copy of Nadiya Bakes here.
Spiced Biscotti with an Orange Syllabub Dip from Nadiya's Kitchen
These crunchy Italian biscuits made with warming spices, orange zest and plenty of dried fruit and nuts are perfect for wrapping up in pretty packets to give away. Alternatively, try these as an alternative Christmas dessert, dunked into creamy and luxurious orange syllabub.
Get your copy of Nadiya's Kitchen here.
Éclair Roll from Nadiya's Family Favourites by Nadiya Hussain
A cross between an éclair and the more traditional Yule Log, this has all the elements you want from Christmas dessert – pastry, cream and chocolate – but with a little less work and time involved. Make it ahead, sprinkle over the shavings of milk chocolate and leave in the fridge until you're ready to eat.
Buy Nadiya's Family Favourites here.
Tutti Frutti Pavlova from Nadiya Bakes
Ditch the trifle, forget the Christmas pudding and try Nadiya's nostalgic twist on pavlova. She combines chewy, soft meringue with all the fun, jewel-toned colours of tutti frutti – glacé cherries, pistachios and mixed peel, rippled through whipped cream and topped with shavings of chocolate.