Spatchcocking a chicken might sound cheffy but it's simpler than you think and promises to add a faster way of cooking a whole chicken to your kitchen skill set. Spatchcocking entails removing the backbone so that you can flatten the chicken out. Once flattened in this way, it takes less time to cook, is much easier to marinade, and can be cooked it in a variety of ways: roasted or cooked on the barbecue, under the grill or in a griddle pan.
Follow this guide, then turn your chicken into one of the following recipes for a fast track to your Sunday roast or BBQ feast.
Can you spatchcock a chicken with a knife?
Yes you can. Use a large sharp knife. Place the tip of the knife on one side of the backbone in the middle of the chicken, press it down, then firmly bring the knife down along one side of the spine in one movement so you cut all the way through. Turn the bird around and repeat so you have cut all the way down one side of the backbone. Repeat on the other side.
How to spatchcock a chicken:
1. Place the chicken on a board, breast­-side down, with the legs towards you.
2. Run your finger along the back of the chicken so you can feel the backbone, then use sharp kitchen shears or scissors to cut right along one side of the bone, through the ribs. Or use a knife (see tip).
3. Repeat step two along the other side of the backbone. 
4. Lift out the backbone and discard (or save for making chicken stock). 
5. Open out the chicken and turn it over.
6. Now press down firmly with the heel of your hand so that it opens out and the meat is all one thickness. You'll hear a crack and you're good to go.
4 spatchcock chicken recipes to try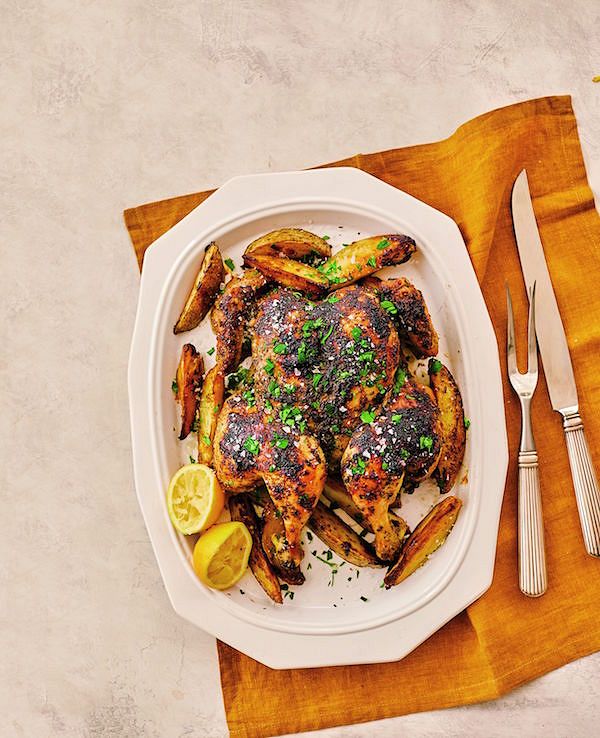 Greek Spatchcocked Chicken from Tasty Ultimate Cookbook by Tasty
Marinated in a vibrant green medley of olive oil, mint, oregano, garlic and bay leaves, and roasted with potato wedges until golden brown and crisp, this beats a takeaway any day of the week.
Order a copy of Tasty Ultimate Cookbook here.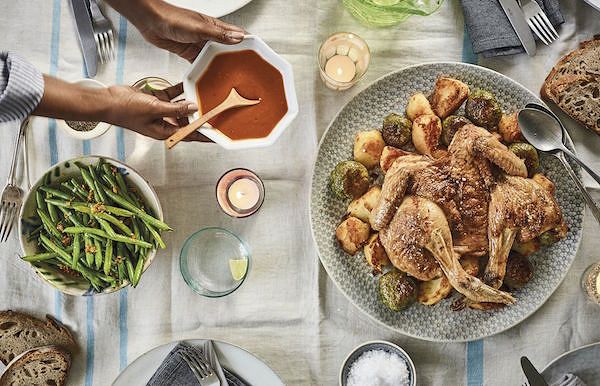 Sunday Lunch Our Way from Nadiya's Family Favourites by Nadiya Hussain
"Down with convention!" says Nadiya of this Sunday roast chicken dinner, complete with ghee roast potatoes, coriander stuffing, turmeric greens and tomato gravy. Spatchcocked chicken is smothered with oil, ginger, garlic and salt, before it's roasted on top of potatoes for a fresh take on this classic family lunch.
Order your copy of Nadiya's Family Favourites.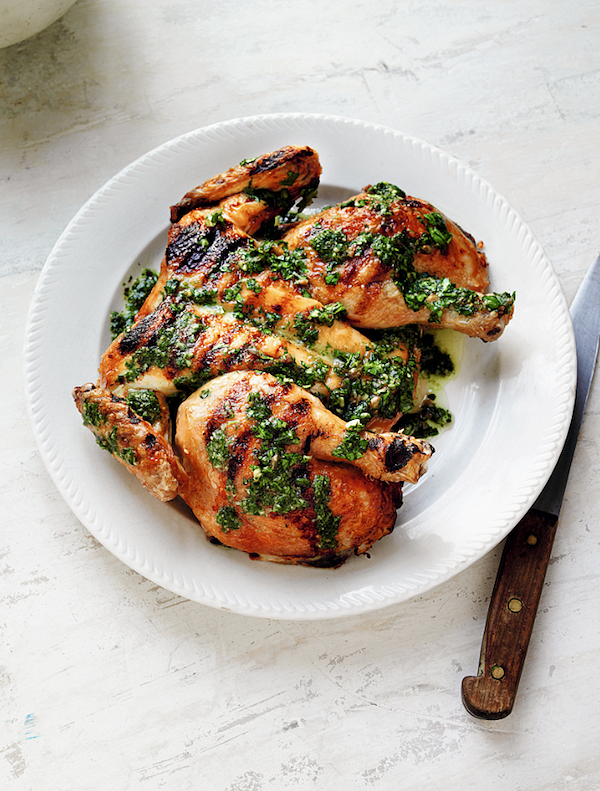 Grilled Spatchcocked Chicken with Green Sauce from Semplice by Dino Joannides
Another way to freshen up your Sunday roast repertoire. Cook your spatchcocked chicken as you like, either on a barbecue, on a griddle pan or under the grill, then pair it with an authentic Italian salsa verde, made with parsley, anchovies, capers and garlic. Simple and delicious.
Order a copy of Semplice here.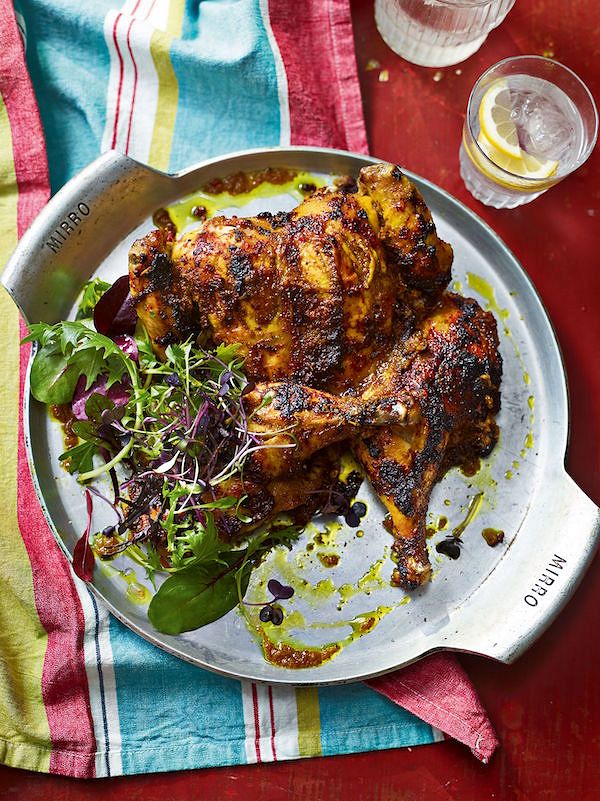 Ultimate Jerk Chicken from Ainsley's Caribbean Kitchen by Ainsley Harriott
Ainsley's jerk marinade combines allspice and Scotch bonnet chillies with fresh ginger and turmeric, thyme and soy sauce for a punchy, zingy marinade on barbecued spatchcock chicken.