From traybakes and curries to homemade fish fingers, keep the kids healthy and happy with these simple suppers that make fish the hero. Fish has a wonderful ability to take on the flavours it's paired with and is often delicate and mild enough that even fussy eaters will take a liking to it.
When shopping for white fish, adapt to what you can find at the shop or fishmonger's – avoid over-fished cod and try what's caught locally when in season, such as pollack or ling that both swim abundantly off British shores. Alternatively, look out for the blue MSC label; this is a good indicator that shows your fish has been caught with the future of our oceans in mind.
Hoop Fish Bake from Time To Eat by Nadiya Hussain
Nadiya's fish traybake recipe is a midweek saviour, making the most of the family staple, spaghetti hoops. She says, "I don't like spaghetti hoops as they are, neat out of the tin, but I can really appreciate their sweetness and ability to bulk out a dish when they are mixed with other things". Combine with white fish, a few vegetable-drawer staples and top with breadcrumbs for a midweek traybake dinner.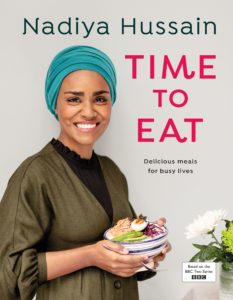 Time To Eat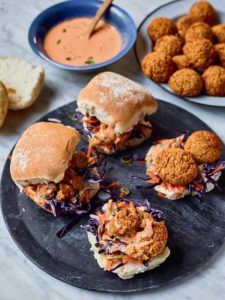 Nadiya's foolproof recipes for family dinners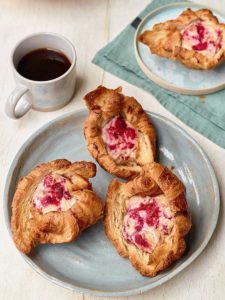 Every recipe from the BBC2 TV series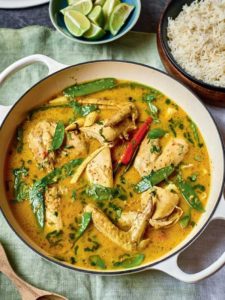 Reliable recipes and time-saving tips
Posh Fish Fingers from Annabel's Family Cookbook by Annabel Karmel
This recipe uses cornflakes to make a delicious coating for white fish. Serve these crispy fingers with oven-baked chips and lemon wedges for squeezing over.
Order a copy of Annabel's Family Cookbook here. 
Crazy Simple Fish Pie from 5 Ingredients Quick & Easy Food by Jamie Oliver
Jamie Oliver's fish pie uses only five ingredients – haddock, spinach, spring onions, Cheddar and filo pastry, making it a simple recipe to whip up on a week night. Fancy more of a classic fish pie? Try his Sweet Pea Fish Pie recipe.
Order a copy of Jamie's 5 Ingredients here.
Fish Korma from A Year in 120 Recipes by Jack Munroe
This recipe champions white fish, coconut, cumin and turmeric to make a frugal fish curry that relies on a few staples and thrifty fish fillets.
Get your copy of Jack's A Year in 120 Recipes here.
Kick-Ass Fish Tacos from Jamie's Food Tube: The BBQ Book by DJ BBQ
Spice up simple fish with DJ BBQ's Mexican rub, then throw it on the barbecue or a griddle pan on the hob to cook. Stuff into tortilla wraps with guacamole and a quick pickled cabbage, or get the kids to load them up themselves.
Order a copy of The BBQ Book here. 
Crumbed Pesto Fish from Everyday Super Food by Jamie Oliver
Baked fish, roasted vine tomatoes, fresh pesto and breadcrumbs, served up with greens and new potatoes make this a healthy dish that ticks at least three of your 5-a-day.
Order a copy of Everyday Super Food here.
All-In-One Steam-Roasted Salmon and Broccoli from The Roasting Tin: Deliciously Simple One-Dish Dinners by Rukmini Iyer
Salmon fillets and broccoli, slathered with a punchy ginger, lime and peanut dressing, served up all in one tin is bound to be a midweek favourite. Vibrant, zesty and delicious.