Great British Bake Off winner Nadiya Hussain successfully made the nation drool with her BBC2 series, Nadiya's British Food Adventure. In the show she travelled the length and breadth of Britain, meeting talented food producers and cooking up her own British-influenced dishes.
The cookbook of the series gathers together all the recipes from the show (yes, including that amazing Eton Mess Cheesecake from episode 1), along with many more of Nadiya's family favourites. With over 120 recipes – spanning breakfasts, midweek meals, dinner party ideas and stunning bakes – it's a versatile book with recipes that will appeal both to novice and experienced home cooks.
Nadiya's British Food Adventure
Over 120 easy and inspiring twists on British classics
Irresistible bakes from the celebrated GBBO winner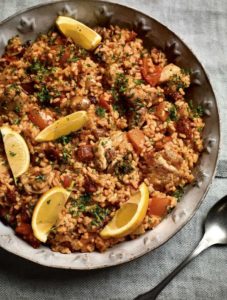 All of the recipes from the hit TV series
To celebrate the book's release, we gathered together a team of Happy Foodies to put some of the recipes from Nadiya's British Food Adventure to the test. Here's what we thought…
Who: Claire Bush, senior marketing manager
What I made: Whole Baked Fish with Potatoes, Lemon and Sun-Dried Tomatoes
What I thought: This weekend I had some friends round for dinner, so I wanted to cook something both impressive and easy – a tough recipe to find! Nadiya's book is FULL of easy and delicious looking dishes, but I opted for the whole baked fish with potatoes, lemon and sun-dried tomatoes – what is more impressive than a whole cooked fish?!
I went to Brixton market in the morning to select the best fish to feed four people and was recommended coley, a fish I've never cooked before. It was meaty and tender and very reasonably priced – a great choice by the fishmonger.
This was the perfect summer dinner party dish – I was able to prep the potato, tomato and lemon base well before my guests arrived, and simply laid the fish on top and popped it in the oven when we were ready to eat. I will definitely be making this again.
Who: Claire Davis, Penguin senior digital marketing executive
What I made: Cardamom Banana Drop Scones
What I thought: A weekend isn't a real weekend if it doesn't include a dazzling brunch of some sort, am I right? I spend a lot of time seeking out simple but delicious recipes to fulfil my brunch craving, so Nadiya's new cookbook was something of a blessing. As soon as I laid eyes on the Banana Drop Scones, I knew they would be a winner.
They're a similar process to pancakes so relatively quick and easy to make, though of course you need to add the mixture on top of the banana slices in the pan to create the drop scone part. The banana added a scrumptious shot of sweetness to the middle, and the caramel sauce itself wasn't overly sweet thanks to the cardamom. I did notice that the recipe creates far too much caramel sauce, and you'll probably have more than enough if you go for just two thirds of Nadiya's suggested quantities. Otherwise, it was a sensationally simple, sweet-but-not-sickly start to the weekend, and a brunch recipe we will definitely be adding to our repertoire.
Who: Julia Pal, senior digital marketing manager, cookery
What I made: Jerk Haddock and Jollof Rice Salad
What I thought: With two growing, but often fussy kids at home, I'm always on the lookout for new family meal inspiration. Excitingly, Nadiya's British Food Adventure offers a huge range of choices. As a mother of three, Nadiya knows how hard it can be to inspire children to explore new flavours and, reassuringly, her family have road-tested all the meals in the book.
I had heard my kids talk appreciatively about the jerk chicken served at school so I thought I would try out Nadiya's Jerk Haddock and Jollof Rice Salad recipe, but was slightly nervous about the chilli heat and the addition of unusual black rice in the salad. In the end, I omitted the Scotch Bonnet chillies from the kids' portions (but not from mine – total chilli addict, here). Both kids wolfed the dish down, the younger one even going back to the kitchen afterwards to grab more of the black rice. That jollof rice salad will definitely go on our regular menu. It's a perfect summer side dish, packed with colourful, nutritious vegetables. Great with the jerk haddock, but would work brilliantly with lots of other main courses, too. A winner!
Who: Annabel Wilson, marketing co-ordinator
What I made: Spiced Bean and Banger Stew
What I thought: My sister and I made the super delicious spiced bean and banger stew over the weekend. Sausage casserole is probably my all-time favourite dish, I feel like a homemade casserole can never go wrong. I was mainly in charge of chopping vegetables during the preparation whilst my sister took charge of timings and flavouring (very wise). It was amazing how simple the ingredients were and how delicious the dish tasted! The flavours were rich and the meal itself was filling but not too much. All in all, a hearty, simple and delicious meal. I'm looking forward to having the leftovers for tea.
Who: Maddy Marshall, marketing executive
What I made: Cheese and Crystallized Ginger Straws
What I thought: We had a party this weekend to celebrate my cousin's 30th and we were in need of some tasty food to serve to the 50 guests on arrival. I had finally got my hands on a copy of Nadiya's British Food Adventure and I thought this was the perfect opportunity to make the cheese and crystalized ginger straws as an appetiser.
Since this was for our guests to eat, I hadn't been in the kitchen more than 5 minutes before my Grandma decided that she would be taking over the cooking. I was, however, allowed to grate the parmesan and help twist the pastry before the straws went in the oven – a really fun job.
When we brought them out they were a lovely golden brown colour and smelled amazing. I was hoping to take lots of photos of people eating them but by the time I had managed to retrieve my camera there were only a few left. Everyone commented on the surprising flavour of the ginger which turned this normal savoury snack into something delicious and sweet. We'd definitely make these again.
Who: Sarah Thrift, senior digital marketing executive, Puffin & Ladybird
What I made: Carrot and Parsnip Bhajis, Garlic Naan, Aubergine Pakoras with Spiced Ketchup, Prawn and Orange Curry, Cardamon Rice Pudding Brûlée
What I thought: I love cooking Sunday lunch for friends, but it's rare I have a table full of meat eaters so neither my friends, nor my bank balance would thank me for a roast with all the trimmings. I like the long, luxury of Sunday lunch though, so I often turn to curry to make sure I have plenty to make, and plenty to eat afterwards. I love Nadiya's approach to fun and flavoursome food, so gave a few recipes a try. The carrot and parsnip bhajis were a crisp triumph, and I'd certainly make them again using any leftover veg I had in the fridge. Alongside a raita, I made the spicy ketchup from the book, which worked really well and couldn't be simpler. For the main course, I served up the prawn and orange curry with rice. It doesn't take long to make, smells divine and tasted great. Nadiya mentions people's scepticism about fish and fruit, and suggests this recipe might change minds. It certainly will. For pudding, I cooked up the cardamom rice pudding brulee, served with mango. I am a HUGE rice pudding fan: tinned, fridged or homemade, but this is easily the best recipe I have made myself. The fruit made it work for a summer lunch, but I can see this sneaking into my winter recipe collection too, as it's so warm and comforting.
We all had a lot of fun cooking from Nadiya's British Food Adventure and writing about it too. Have you been cooking from the book? Let us know @thehappyfoodie on Twitter or Instagram. We love to see your photos of the dishes you cook.