It's what home bakers everywhere have been waiting for: Nadiya Hussain is back, and this time she's all about the bakes! Nadiya Bakes is a book that celebrates the sheer joy of baking, with fun, creative, and truly unique recipes designed to lift the spirits as well as dazzle the tastebuds. Being the baking enthusiasts (not to mention Nadiya enthusiasts) that we are, we couldn't wait to get baking from this beautiful book. So, to test out some of the recipes, we gathered a team of volunteer home cooks – read on to see how they fared with everything from luxurious brownies to vegan cheesecake.
Nadiya Bakes
A collection of all new baking recipes accompanied by gorgeous photography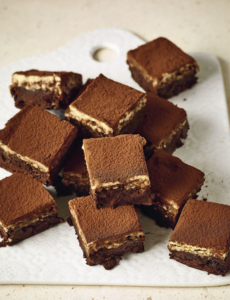 Packed with cakes, pies, and puddings to warm the heart and lift the spirits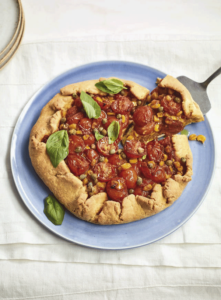 Including mouthwatering savoury bakes as well as irresistible sweets
Who: Sophie Shaw – Marketing Executive, Michael Joseph
What I Made: Money Can't Buy You Happiness Brownies
What I thought: I think these are officially THE MOST decadent brownies in the world. A chocolate chip brownie, then a layer of caramel and toasted nuts, and THEN baked cheesecake on top?! Outrageous. The recipe is really easy to follow, but because of the three different layers and chilling in the fridge overnight they are pretty time consuming to make. They are, of course, 100% worth the wait. These are definitely special occasion brownies, and after eating one I immediately needed a lie down (in the best way possible!).
Who: Charlea Harrison – Creative Metadata Executive, Michael Joseph
What I made: Banana Ice Cream Cheesecake with Blueberry Compote
What I thought: I love a cheesecake and so I was desperate to try out this vegan twist on the classic dessert. This was such a fun recipe to make and didn't involve much effort – except trying not to eat too much of the base mixture! I didn't have a food processer but a handheld blender worked just fine, although I think I got a bit over-excited and added more cocoa powder than I should have (which I can't say I wholly regret). The finished product was DELICIOUS! I love that you can keep this in the freezer so it's ready to eat any time. My absolute favourite part was definitely the nutty, oaty base – it is completely addictive!
Who: Amy Davies – Jamie Oliver Brand Manager, Michael Joseph
What I made: Ginger and Almond Florentines
What I thought: These biscuits are so zesty and delicious! The creaminess of the chocolate balances the tang of ginger and orange really well. The only trouble I had was keeping the mixture far enough apart so it didn't merge when baking – in the end that wasn't too much of a problem though as it made one delicious sheet that I could snap into pieces and dip into chocolate. Really moreish and pretty, would bake again!
Who: Sriya Varadharajan – Press Officer, Michael Joseph
What I made: Onion Pretzels
What I thought: Though I love the standard chocolate-covered mini pretzels, I've rarely had the big soft kind, but the beautiful pictures in Nadiya Bakes made these look too good to resist. These were an absolute joy to make. The dough came together so easily, even without a stand mixer, and was deliciously smooth and elastic. I left extra time for it to rise but in the end it only took about an hour and a half for it to double in size, so I could easily have cut down the total time if I had needed to. I've never experimented with knotting or shaping bread before so was apprehensive, but it was so easy and satisfying to do. They are so soft – they melted in the mouth when eaten warm out of the oven – and they taste delicious. I'm looking forward to having them as a snack and with soup for lunch while they last, and experimenting with other flavours when I make them in the future.
Who: Ella Watkins – Publicity Manager, Michael Joseph
What I made: Caramel Crunch Rocky Road
What I thought: I am far from being a star baker, so I thought I would start with a recipe from the "no-bake bakes" chapter and I was not disappointed. The combination of caramel-biscuitty chocolate, pistachios and dried fruit is perfect – crunchy, gooey and just delicious.
Who: Laura Nicol – Senior Publicity Manager, Penguin Michael Joseph
What I made: Blueberry and Lavender Scone Pizza
What I thought:  Well, I love pizza so how could I not adore a pizza in cake form? Having spent so long working on this book and drooling over photos of the recipes, this one was absolutely top of my list to bake. I love Nadiya's creative recipe twists so much. After months of baking the clichéd classic cakes along with the rest of the world (banana cake will forever be ruined for me), they are a breath of fresh air. I adore lemon drizzle cake, and the scone base tasted really similar, but in a much less sweet kind of way. I found it tricky to source lavender – at one stage I was eyeing up scented lavender sachets – but thankfully I can confirm that this cake tastes just as great without any, so don't worry if you also can't get your hands on it. This one is going to become a staple bake for me. It's best eaten fresh, but also fine to keep in the fridge for a couple of days. It would be perfect for bringing to a party or for when you're entertaining, sure to attract compliments and inspire awe (other serving suggestions include doing as I did and eating the whole thing yourself).
Want to dive even deeper into Nadiya Bakes? Check out ten things we know you'll love about the book.