Nadiya is back with a brand new cookbook and this time she's going back to her Bake Off roots with her first baking-focused cookbook. In Nadiya Bakes you'll find bakes, cakes, pies, breads and biscuits, all with Nadiya's signature riffs and twists and all designed with home cooks in mind. "This book is a compilation of all the yummy ideas that fly around in my head and all the things my husband eats over and over again", says Nadiya. Expect bakes for every scenario, from special occasion show-stoppers to everyday, low-effort bakes that the kids can get involved with too, all wrapped into one neat little package. Here's what you can expect from Nadiya Bakes. 
1. Nadiya Bakes is full of Nadiya's trademark original recipes, clever twists and unbelievable flavour combinations that are totally achievable at home. There are Pecan Pie Empanadas, Tutti-Fruit Pavlova and Summer Fruit Tea-ramisu – a riff on the Italian dessert made with tea-infused sponge and a layer of summer fruits. Not to mention an epic Matcha and Kiwi Hurricane Roll and this Blueberry & Lavender Scone Pizza that's essentially a giant scone infused with lavender and topped with rippled cream, jam, and lots of fresh blueberries. We could go on...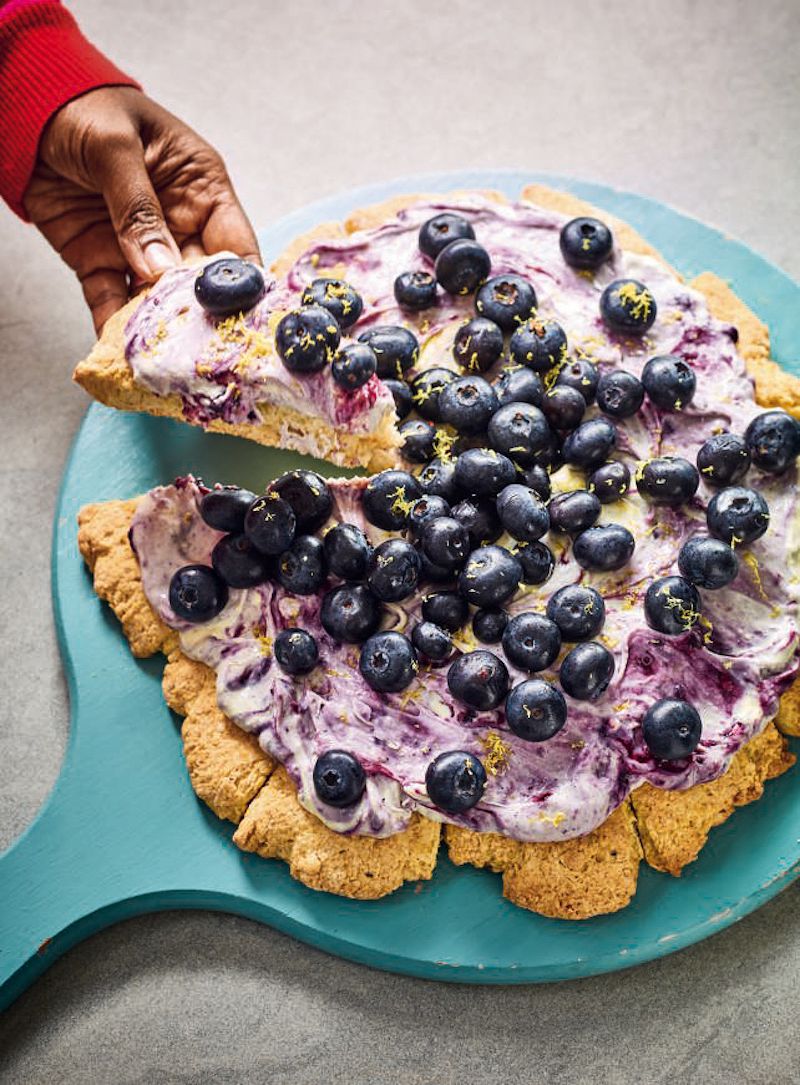 2. This beautiful book is Nadiya's most comprehensive collection of bakes to date, with chapters that span Cakes, Mini Cakes & Traybakes, No-bake Bakes, Biscuits & Bites, Celebration Bakes, Tarts & Pies, Bread & Buns, and Desserts too. There is something for every occasion.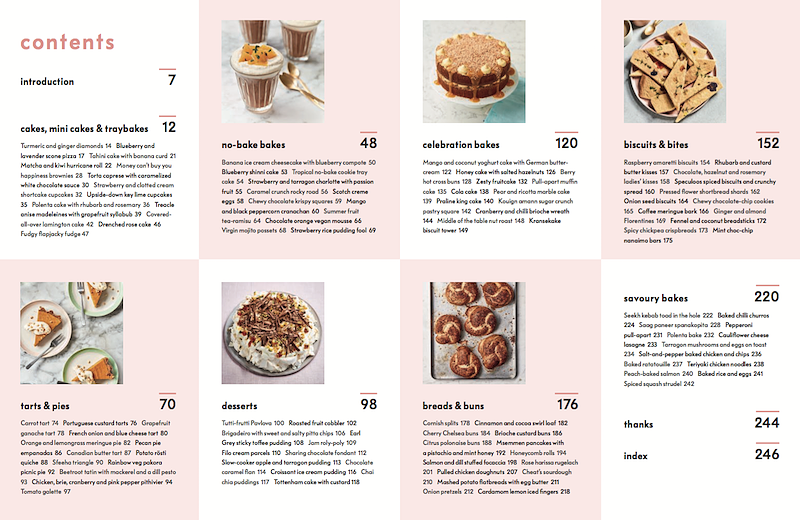 3. Whether you're a baking novice or fit for the Bake Off tent, Nadiya ensures the recipes in Nadiya Bakes are for everyone and every skill level, with plenty of her down-to-earth guidance.
4. Any cookbook with a recipe entitled "Money Can't Buy You Happiness Brownies" gets the seal of approval from us. Nadiya has dreamed up a triple chocolate brownie, which includes a layer of toasted chopped nuts encased in dulce de leche, then topped with a zesty cheesecake mixture and baked again. Yes, yes and yes.
5. You'll also find lots of these beautiful recipes in Nadiya's accompanying BBC series, Nadiya Bakes. Pick up your copy of the cookbook so you can cook your favourites from the show at home.
6. "We can't have a baking book without a Breads chapter", says Nadiya who has included recipes like Cornish Splits, Pulled Chicken Doughnuts and Rose Harissa Rugelach into the mix. Not forgetting a Cheat's Sourdough recipe for anyone who, like Nadiya, loves a sour loaf without the hassle of keeping a starter going. 
7. Beautifully designed with mouth-watering photography and a pastel colour scheme, Nadiya Bakes would make a gift for any of your friends or family who love to bake.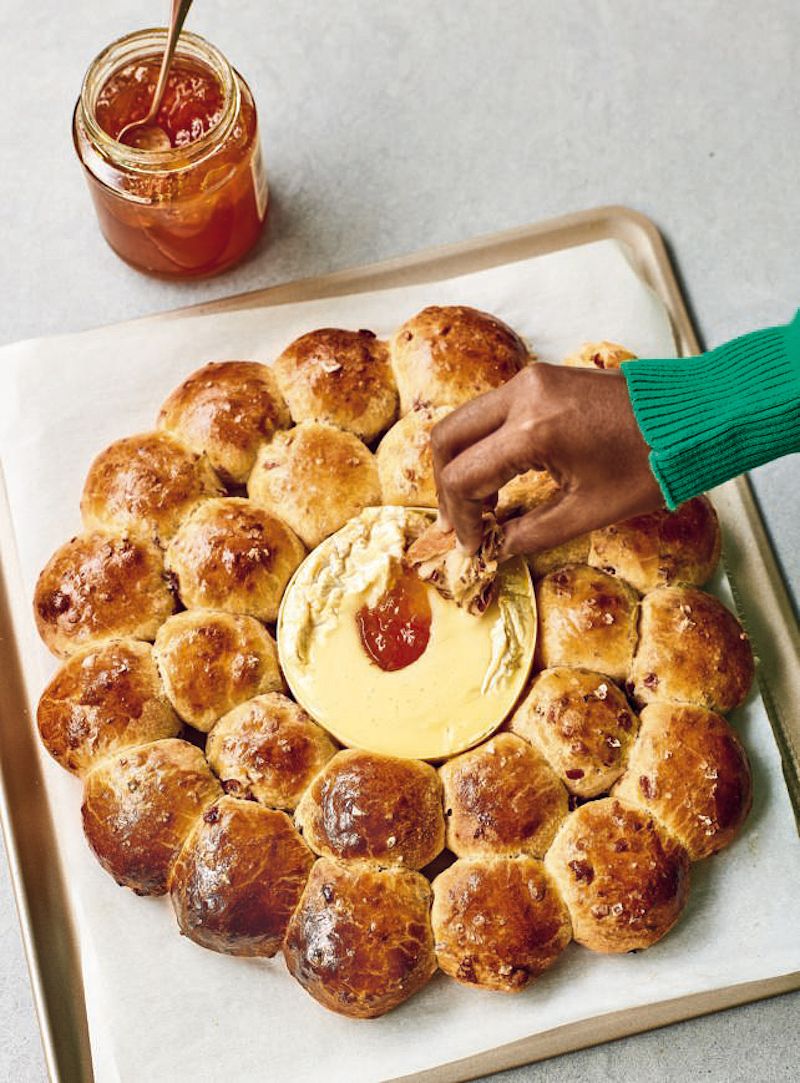 8. Okay it's not Christmas yet, but is this Cranberry & Chilli Brioche Wreath really just for Yuletide? We think not. Chilli-laced brioche balls surround a baked Camembert that's topped with a dollop of marmalade. "Expect a flavour explosion of sweet and savoury, all soft and oozy, and impossible not to love", says Nadiya.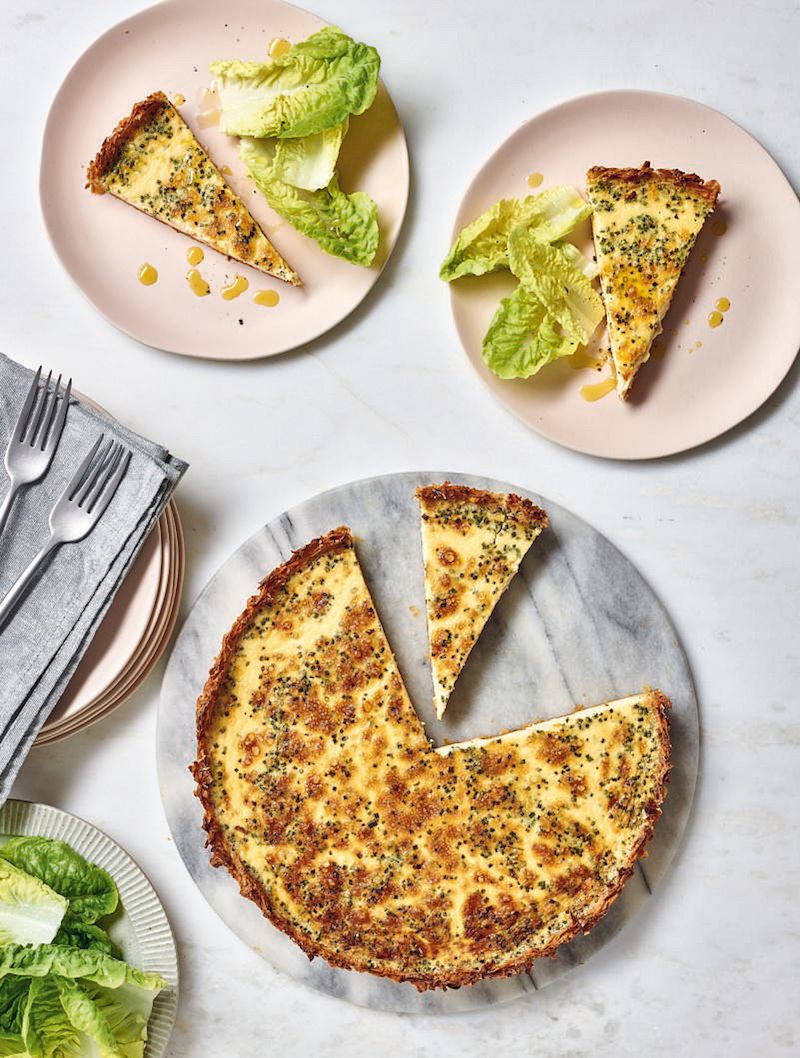 9. Let's talk about this Potato Rösti Quiche – a re-imagined quiche that is all about the base. Nadiya has used both white potatoes and sweet potatoes, grated and pressed them into a quiche tin with paprika, onion and garlic for a deliciously light base, and filled it with a creamy cheese and chive mixture. An epic fusion of two classic dishes. 
10. We love that some of the more complicated recipes come with step-by-step photography to guide you along the way. With Nadiya's no-fuss guidance, this cookbook is perfect for helping you conquer your fear of pastry, breads and that all-important celebration bake.