Our senior digital marketing manager, Julia, cooks from Gizzi's Kitchen Magic by Gizzi Erskine and tries out the recipe for Massaman Curry in her own kitchen.
Who: Julia Pal, senior digital marketing manager, cookery
What I made: Massaman Curry from Gizzi's Kitchen Magic
What I thought: Gizzi Erskine's massaman curry recipe from her brilliant Gizzi's Kitchen Magic cookbook is one I come back to again and again. It has all the warmth and comfort of a hearty stew, making it perfect to curl up with on a cold winter's night. The spicing is delicate and fragrant, while the coconut gives the sauce body and richness. It really is 'lick the bowl' good.
Both my children adore this curry, another reason why it features regularly on our weekend cooking menu. I have to be more sparing with the chilli than I'd like to if I were just cooking for adults, but it's absolutely worth the compromise on heat to see them broadening their taste horizons with such relish.
What I love most about this recipe is that it is really versatile. I've made it with lamb to serve as an impressive dinner party dish. I love opening the front door to my guests and watching their faces light up as they take in the rich aroma of the curry wafting through from the kitchen. Mostly, though I make this dish with beef braising steak, and always buy more meat than is needed in the recipe. That way, I'm guaranteed enough lip-smackingly good leftovers to come home to after a busy midweek day at work.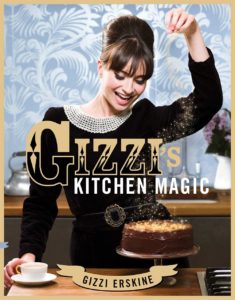 Gizzi's Kitchen Magic
Simple and inventive recipes
Comforting dishes from around the world
Classic dishes with a twist
A couple of little tips:
Don't worry if you can't get hold of shrimp paste. When I've been in that situation, I've just upped the quantity of fish sauce a little and added one whole anchovy fillet. Works a treat.
This is a brilliant pressure cooker dish – I cook on high pressure for around 20 minutes, add the potatoes and cook for another 15, and then cook for a further 10 with the lid off to reduce the sauce at the end.
I do hope you'll give this gorgeous dish a try and would love to see your photos. Tag photos with #thehappyfoodie on Instagram as we'd love to see what you make.
You can find the recipe for Gizzi's Massaman Curry here. And why not try making her Chicken Katsu Curry, too.