From simple biscuits for dunking and savoury bites to cute bakes to give away, Nadiya knows how to elevate the everyday cookie to something special. With her signature flavour twists, clever tricks and down-to-earth advice, her new book, Nadiya Bakes, is packed with biscuit recipes we want to try again and again. We've put together our favourites from her new book and thrown in a few extras from her previous cookbooks for good measure.
Raspberry Amaretti Biscuits from Nadiya Bakes by Nadiya Hussain
These soft almondy Italian biscuits have a subtle hint of raspberry all the way through and a hidden raspberry in the centre. They're super easy to make and make delicious gifts to give to loved ones.
Nadiya Bakes
A collection of all new baking recipes accompanied by gorgeous photography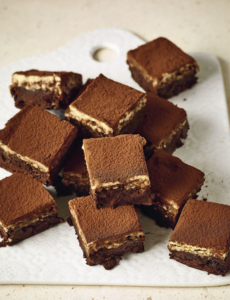 Packed with cakes, pies, and puddings to warm the heart and lift the spirits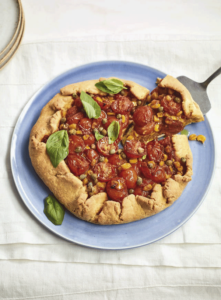 Including mouthwatering savoury bakes as well as irresistible sweets
Rhubarb and Custard Kisses from Nadiya Bakes by Nadiya Hussain
Nadiya has taken inspiration from the nostalgic rhubarb and custard boiled sweets of our childhood, sandwiching them with melted white chocolate between delicate rippled custard biscuits. 
Order your copy of Nadiya Bakes here.
Kransekake Biscuit Tower from Nadiya Bakes by Nadiya Hussain
This Scandi-inspired biscuit tower is designed for special celebrations with rings of stacked chewy, sweet, almond biscuit dough, decorated with chocolate-covered nuts, sugared almonds and edible flowers. Nadiya has found a way to make this without any specialist equipment – all you need is a round cake tin base, a knife and the ability to cut a freehand circle, she recommends.
Order your copy of Nadiya Bakes here.
Chocolate, Hazelnut and Rosemary Ladies' Kisses from Nadiya Bakes by Nadiya Hussain
"These are the sweetest little Italian biscuits I have ever eaten", says Nadiya. These little treats are flavoured with hazelnuts, then sandwiched with a rosemary-spiked dark chocolate. Store in an airtight jar and they'll last a few months.
Order your copy of Nadiya Bakes to get the recipe.
Ginger and Almond Florentines from Nadiya Bakes by Nadiya Hussain
Laced with chopped crystallized ginger, sliced almonds and a hint of orange zest, these florentines are dipped in rippled chocolate for an eye-pleasing treat that is full of crunch and zingy flavour.
Order your copy of Nadiya Bakes here.
Spiced Biscotti with an Orange Syllabub Dip from Nadiya's Kitchen by Nadiya Hussain
Empty your baking cupboard into these crunchy biscotti packed with nuts and dried fruit. You can make the biscuits on their own, or for a no-effort dessert for sharing, make this creamy orange syllabub for delicious dippage.
Order your copy of Nadiya's Kitchen here.
Cheese Biscuits with Tomato Jam from Nadiya's Family Favourites by Nadiya Hussain
Salty cheesy biscuits with a sweet, spiced tomato jam, these savoury bites work both as a lunchbox snack and a cute pre-dinner nibble.