As the summer draws to a close, autumn welcomes in new seasonal fruits that grow abundantly in the UK. Orchard fruit like apples, pears and plums, as well as blackberries that have continued to ripen on hedgerows since August. Make the most of local fruit that's at its best right now in these autumnal baking recipes, from classic crumbles to upside-down cakes to Ottolenghi's simple Plum Friand. 
Plum, Blackberry and Bay Friand Bake from SIMPLE by Yotam Ottolenghi
Friands are deliciously light, moist almond cakes, which Ottolenghi brings to life here with autumnal plums and blackberries. "The fruit can be played around with, depending on the season", he says, so feel free to throw in other fruits that need using up; peaches and raspberries in summer or apples and pears later in the year.
Ottolenghi SIMPLE
Ottolenghi made easy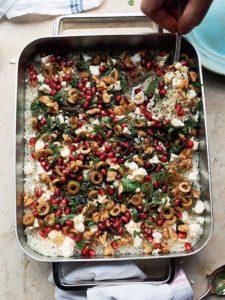 Easy meals, packed with veg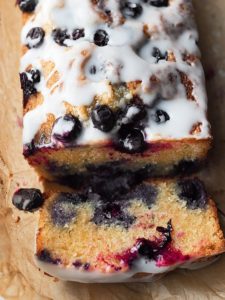 Sensational sweet treats
Pear & Vanilla Upside-Down Cake from How Baking Works by James Morton 
Upside-down cakes not only look the part, they're a wonderful way to showcase in-season fruit without being too tricky to make. Bake Off star, James Morton, shows you how to team pear and vanilla in this modern twist on a traditional bake. Got a glut of plums instead? Try this recipe for Caramelised Upside-Down Plum Cake from Together: Our Community Cookbook.
Order a copy of How Baking Works here. 
Apple and Custard Crumble from The Great British Bake Off: Winter Kitchen by Lizzie Kamenetzky
Tender chunks of tart apple and rich custard, spiked with nutmeg, cloves and cinnamon, and topped with a crumbly topping – the ultimate comfort bake. 
Get a copy of The Great British Bake Off: Winter Kitchen here.
Any-Fruit Streusel Cake from The Weekend Cookbook by Catherine Hill
You can use just about any fruit in this cake recipe, which is perfect if you have an autumnal glut. Ripe pears, plums or apples would be great, or go for blueberries if you like. 
Get a copy of The Weekend Cookbook here. 
Salted Caramel, Poached Pear and Chocolate Drizzle Traybake from Meringue Girls Cookbook by The Meringue Girls
Traybake meringue topped with oozy dulche de leche, poached pears, drizzled chocolate, mascarpone and walnuts, this is an impressive autumnal dessert that's easy to make. 
Order a copy of the Meringue Girls Cookbook here. 
Free-from Hazelnut, Plum & Cinnamon Tart from Genius Gluten-Free Cookbook by Lucinda Bruce-Gardyne
Plums, orange and cinnamon on a hazelnut pastry base makes this a show-stopping dessert that's big on flavour for anyone avoiding gluten. 
For more clever, gluten-free recipes, order the Genius Gluten-Free Cookbook here. 
Joe's Blackberry Brownies from The Little Book of Chocolat by Joanne Harris & Fran Warde
You need just six ingredients to make these gooey chocolate brownies, combined with sharp blackberries for an easy pudding.