Get set for the return to school with this collection of easy school-night meal ideas for the whole family.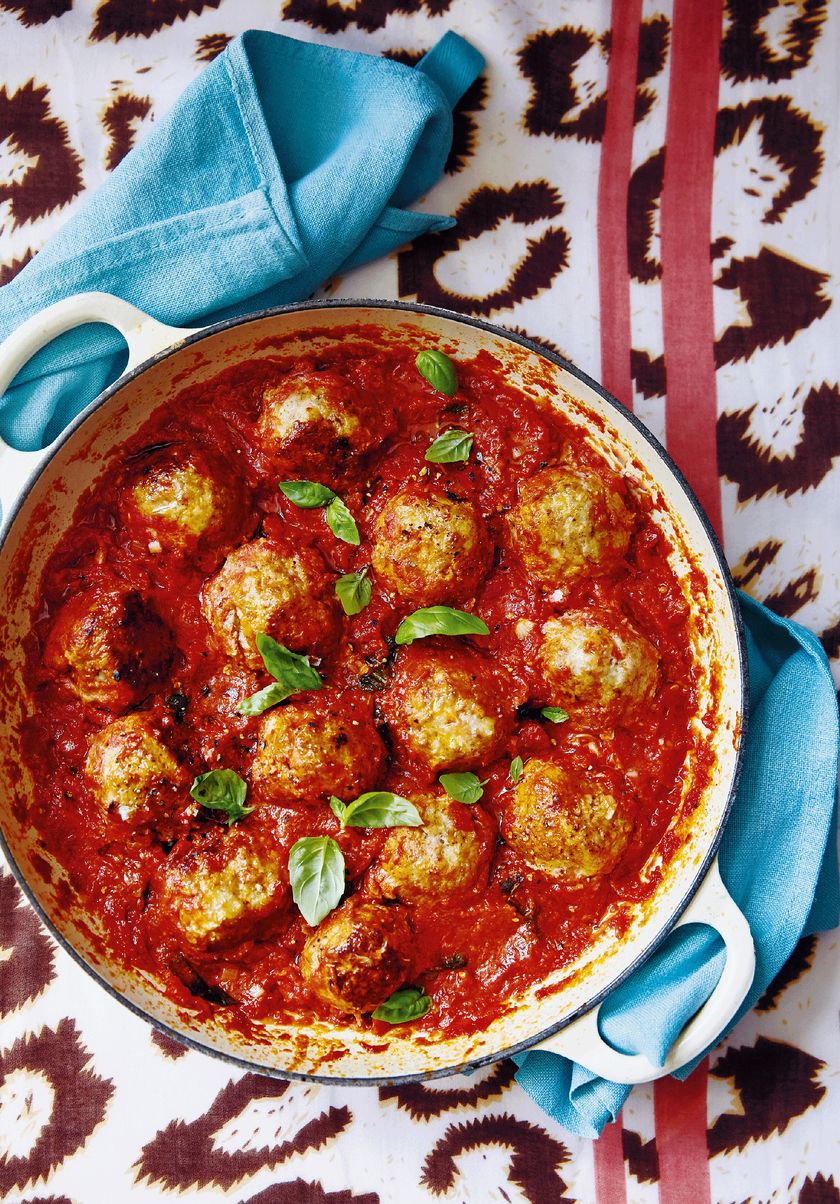 Turkey Meatballs in Tomato Sauce from Table Manners: The Cookbook by Jessie Ware and Lennie Ware
 A tangy tomato sauce meets tender meatballs in this turkey twist on a classic. Serve with spaghetti and a big crunchy salad.
Get your copy of Table Manners here.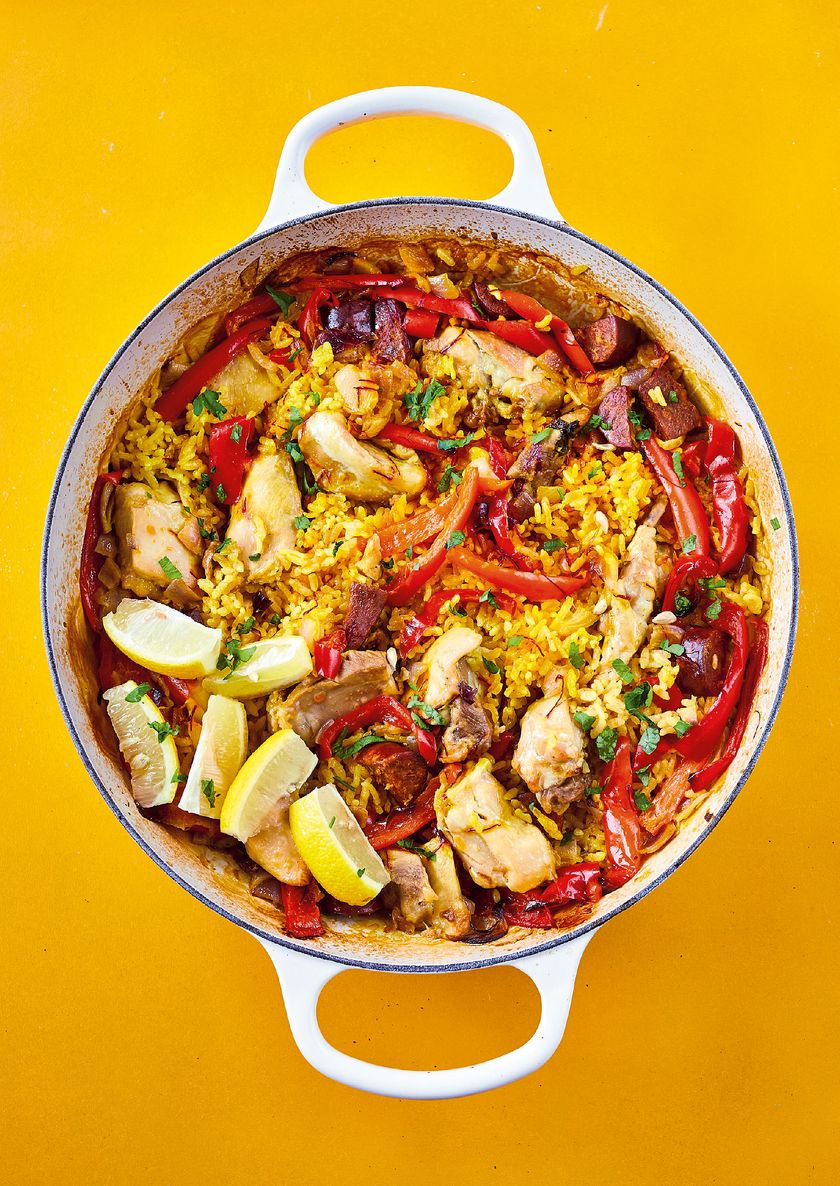 All-in-one Paella with Chicken, Peppers and Chorizo from The Roasting Tin Around The World by Rukmini Iyer
If the kids love a paella but you're looking for an easier version, look no further than this one-pot wonder from The Roasting Tin Around the World, featuring chicken, peppers, chorizo and plenty of rice to satisfy hungry tummies.
Get your copy of The Roasting Tin Around the World here.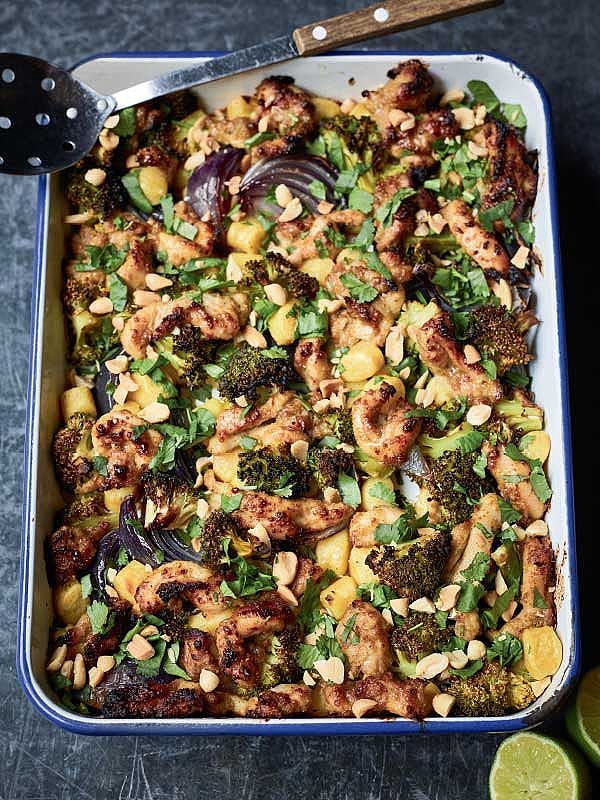 One-tray Peanut Chicken from Time to Eat by Nadiya Hussain
This easy traybake is a midweek favourite. Served with gnocchi and broccoli, this peanut chicken dish is a complete and filling meal the whole family will love.
Romano Pepper and Herb Penne from Mary Berry's Quick Cooking by Mary Berry
Dried pasta dishes are weeknight saviours. This recipe packs a punch of flavour with salty, crispy Parma ham, sweet roasted red peppers and fragrant fresh herbs.
Get your copy of Mary Berry's Quick Cooking here.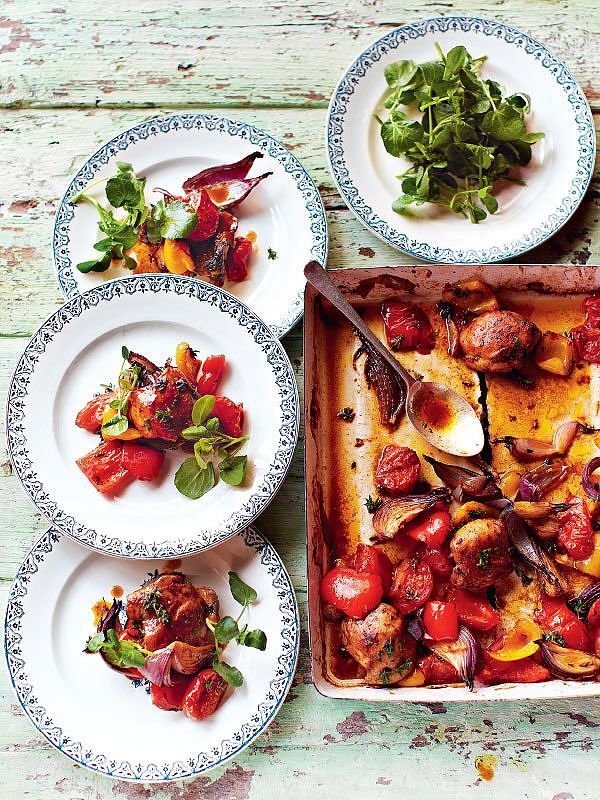 Hit 'n' Run Traybaked Chicken from Save with Jamie by Jamie Oliver
If chicken dishes go down well in your house, you'll get nothing but clean plates after serving this tasty traybake. This recipe is perfect for busy evenings as after minimal prep, the oven does all the hard work for you. 
Get your copy of Save with Jamie here.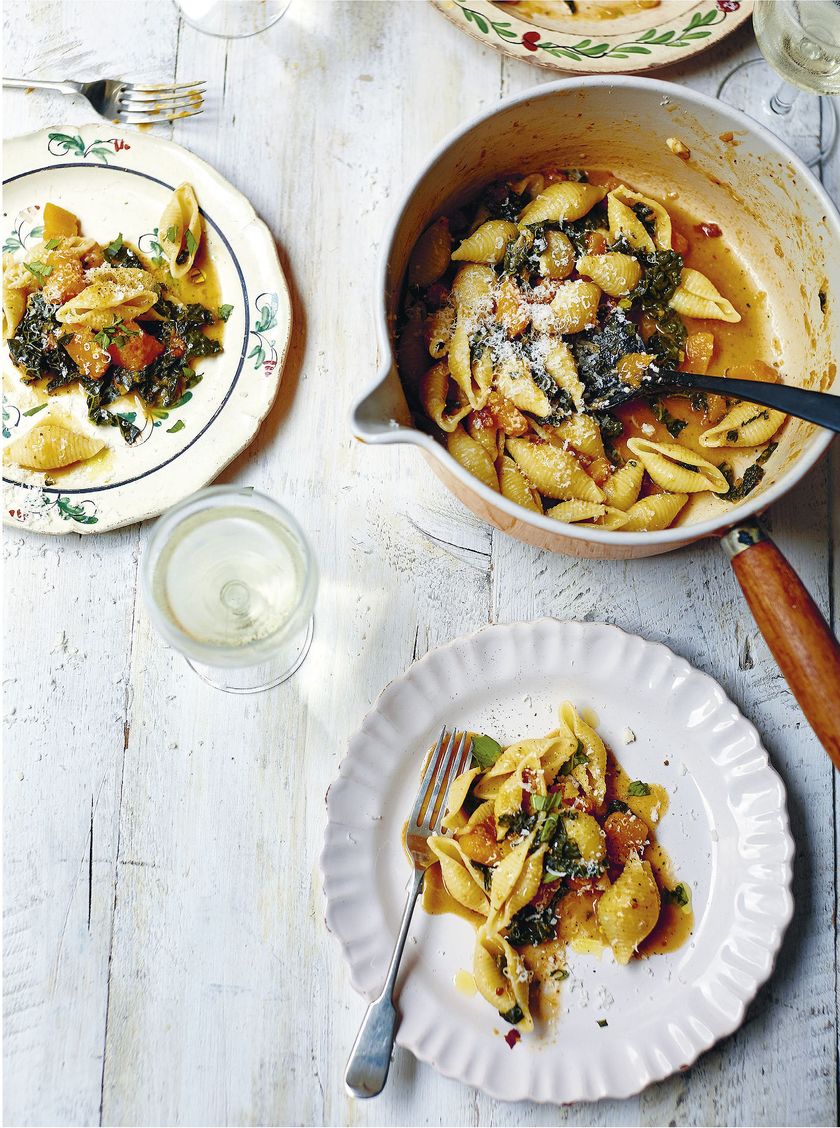 One-pan Creamy Squash Pasta from Stirring Slowly by Georgina Hayden
This simple pasta dish is comforting, substantial and packed with veg. Almost like a risotto, this pasta creates its own delicious sauce from stock and starch.  
Get your copy of Stirring Slowly here.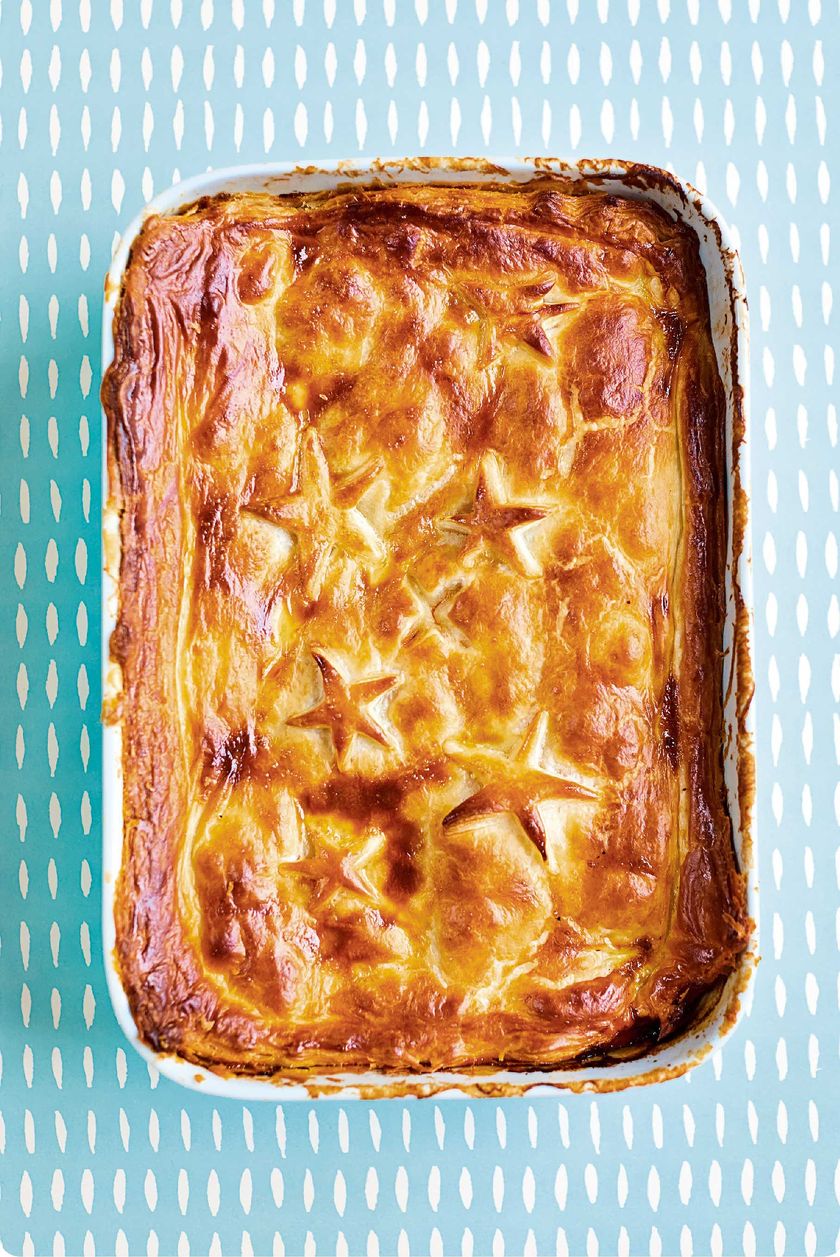 Quick Chicken, Leek and Chorizo Pie from The Quick Roasting Tin by Rukmini Iyer
Pie on a weeknight is possible with this speedy recipe. Chorizo and leeks give a hit of flavour to an otherwise traditional chicken pie topped with buttery puff pastry. 
Get your copy of The Quick Roasting Tin here.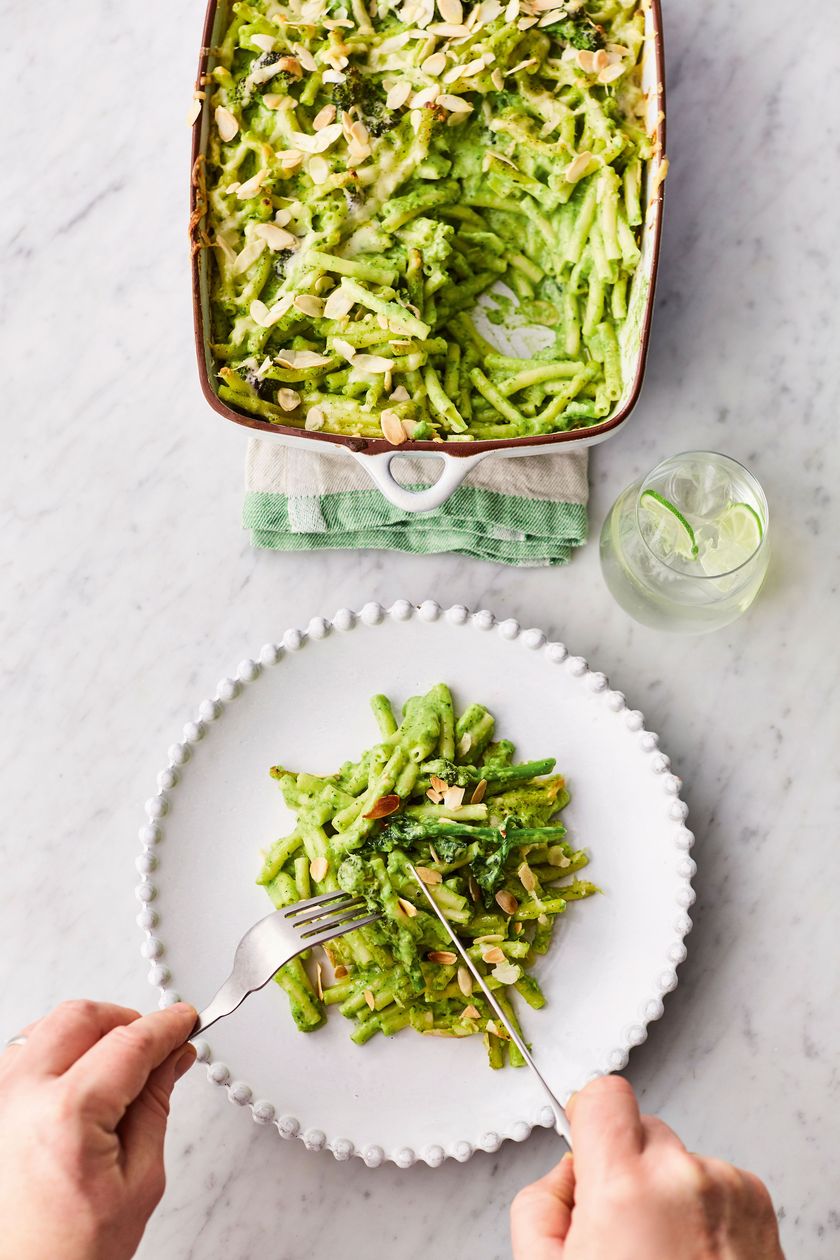 Greens Mac'n'Cheese with Leek, Broccoli, Spinach and Toasted Almond Topping from VEG by Jamie Oliver
Family favourite mac 'n' cheese gets a makeover from Jamie Oliver. This version is loaded with veg and is perfect for feeding a crowd. 
Get your copy of VEG here.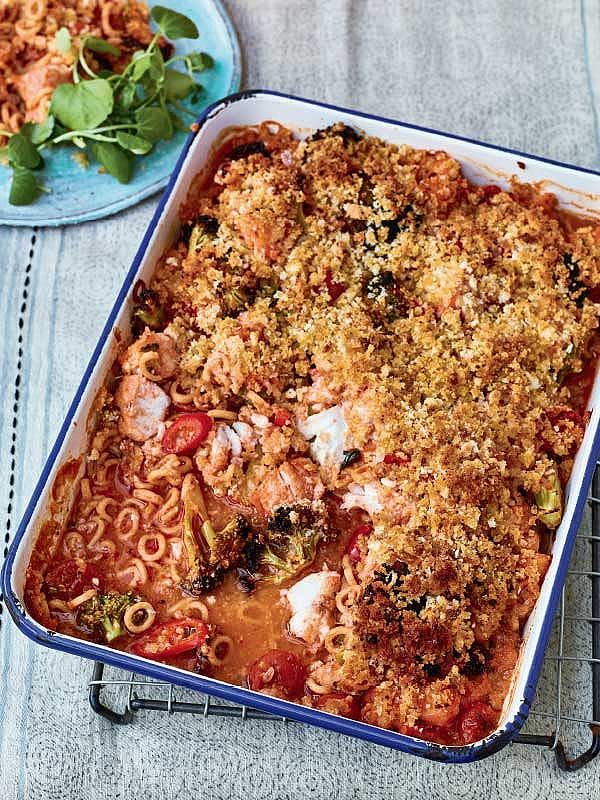 Hoop Fish Bake from Time to Eat by Nadiya Hussain
Nadiya Hussain's easy fish bake is bound to become a family favourite thanks to the addition of spaghetti hoops. This recipe can be doubled-up, meaning you can save one in the freezer for a future busy weeknight. 
Get your copy of Time to Eat here.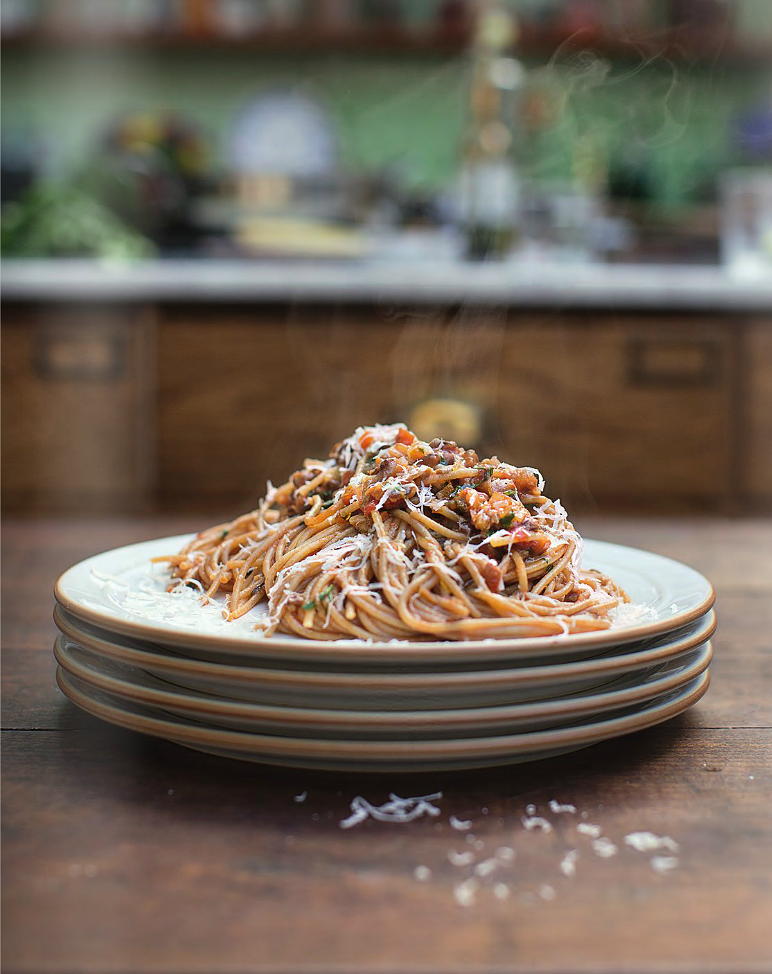 Veggie Bolognese Loadsa Veg, Lentils & Parmesan from Super Food Family Classics by Jamie Oliver
Switch out your regular Bolognese for Jamie Oliver's version packed with fibre-rich veggies and lentils. This simple recipe is bound to become one of you weeknight staples. 
Get your copy of Super Food Family Classics here.