Rosemary, Olive and Onion Frittata with Rocket Salad and Parmesan Vinaigrette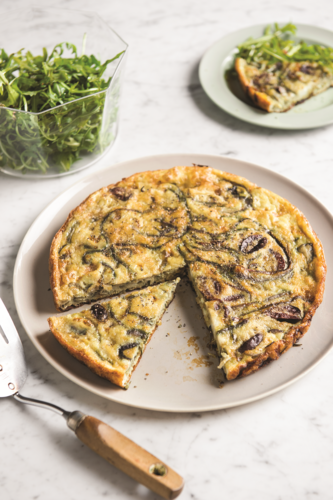 Recipe from Ali Maffucci's Inspiralize Everything.
(for 1 of 6 servings)
Calories: 221
Fat: 16 g
Sodium: 293 mg
Carbohydrate: 5 g
Fibre: 1 g
Sugar: 1 g
Protein: 14 g
Ingredients
For the frittata:

1 tbsp

olive oil

1

medium red onion, peeled, spiralized with BLADE A, noodles trimmed

Leaves from 1 sprig of rosemary

1/4 tsp

garlic powder

Salt and pepper

90g

pitted large black olives, quartered

9

egg whites plus 3 large eggs, beaten

For the dressing

2 tbsp

extra-virgin olive oil

1 tbsp

red wine vinegar

2 tsp

grated Parmesan cheese

Salt and pepper

1/8 tsp

garlic powder

1/4 tsp

dried oregano

1 tsp

fresh lemon juice

Pinch of chilli flakes

80g

baby rocket
Instructions
1 Preheat the oven to 190°C/375°F.
2 Heat the olive oil in a medium ovenproof frying pan over a medium-high heat. When the oil is shimmering, add the onion and season with the rosemary, garlic powder, salt and pepper. Cook for 5 minutes or until softened. Stir in the olives, then pour over the eggs. Cook for 3 minutes to lightly set the eggs on the bottom, then transfer the pan to the oven and bake for 15 minutes. Pierce the frittata with a knife. If it comes out clean, it's done. If not, cook for a further 3–5 minutes.
3 Meanwhile, make the dressing. Whisk together all the ingredients for the dressing in a medium bowl. Taste and adjust the seasoning to your preferences. Add the rocket and toss to combine.
4 Cut the frittata into slices and plate with some of the salad alongside.