Raw Cheesecake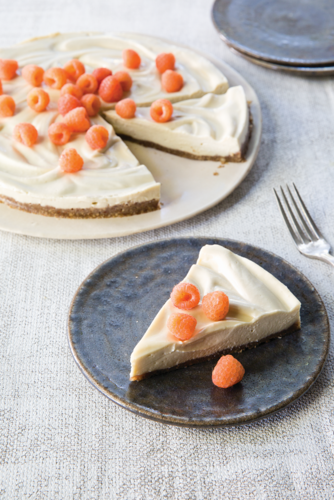 This cheesecake is one of my favourite desserts to serve to those who are resistant to trying "healthy" food. It has a taste and texture remarkably similar to the real thing, without the need for dairy, flour, or refined sugar. A sneaky serving of zucchini blends seamlessly into this creamy dessert, and when paired with raw cashews, it packs a healthy dose of magnesium, which helps lower blood pressure, relieve muscle tension, and promote healthy bones. For best texture, serve this cheesecake chilled, as it will soften quickly at room temperature.
Ingredients
For the crust:

1 ½ cups

raw pecan or walnut halves

2 tbsp

maple syrup

2 tbsp

melted coconut oil

1⁄₈ tsp

sea salt

For the filling:

2 cups

raw cashews, soaked for 2 hours, drained well, and rinsed

1 cup

peeled and diced zucchini

3 tbsp

freshly squeezed lemon juice

¼ cup

melted coconut oil

½ cup

honey

1 tsp

vanilla extract

¼ tsp

sea salt
Instructions
1. Line a 9-inch springform pan or 9-inch square baking dish with parchment paper for easy removal.
2. Prepare the crust: In a large food processor fitted with an "S" blade, pulse the nuts until they are finely ground. (Be careful not to overprocess, as you don't want them to release their oils and become nut butter.) Add the syrup, coconut oil, and salt and process again to combine. Press the mixture evenly into the bottom of the lined pan and place in the freezer to set while you prepare the filling.
3. Prepare the filling: In a high-speed blender, blend the cashews until finely ground. (It's okay if they start to turn into cashew butter.) Add in the diced zucchini, lemon juice, coconut oil, honey, vanilla, and salt and blend again until completely smooth and creamy. You may need to stop and scrape down the blender a few times to achieve this texture.
4. Remove the crust from the freezer and pour the cheesecake filling into the pan. Use a spatula to smooth the top, and then return to the freezer to set until firm, about 6 hours. Slice and serve directly from the freezer for the best texture.
NOTE: If you don't have access to a high-speed blender, you can replace the whole cashews in this recipe with ¾ cup prepared raw cashew butter instead.
For a properly combined dessert, skip the fresh raspberries. If food combining isn't a big concern of yours, this fresh fruit garnish looks beautiful.