Mulled Wine Cupcakes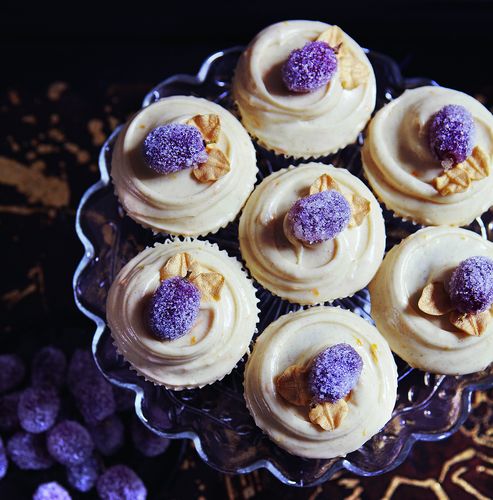 The most Christmas-flavoured cupcake we could think of, this rich, spicy sponge is offset perfectly by the light icing. It would make a great Christmas gift for friends or could be left for Father Christmas and his reindeer on Christmas Eve, with a glass of sherry alongside.
For how many?
Makes 12 regular cupcakes
Ingredients
For the mulled wine:

175ml

red wine

1

cinnamon stick

4

cloves

zest of ½ orange

For the sponge:

90g

butter, at room temperature

200g

soft dark brown sugar

50g

granulated sugar

1

egg, plus 1 egg yolk

1

medium glass (175ml) of mulled wine

1 tsp

orange essence

1/2 tsp

bicarbonate of soda

1/2 tsp

baking powder

1/4 tsp

salt

1/2 tsp

ground cinnamon

50g

good-quality cocoa powder

140g

plain flour

For the Spiced Mascarpone Icing

50g

unsalted butter, at room temperature

juice and zest of ½ orange

1/4 tsp

ground cinnamon

175g

icing sugar

125g

mascarpone

For the sugar dipped grapes:

12

red grapes

1

egg white

granulated sugar
Instructions
Preheat the oven to 180c/160c (fan)/350F/gas 4. Line a 12-hole muffin tray with muffin cases.Heat the wine in a pan with the spices until it just comes to the boil, then remove form the heat, cover and leave to infuse for at least 30 minutes. Strain before using. In a large bowl, cream together the butter and sugars until pale and fluffy. Add the egg and egg yolk, mix well, then add the mulled wine and orange essence and mix until the batter is evenly combined. Fold in all the dry ingredients with a metal spoon until just combined. Divide the mixture evenly between the muffin cases and bake in the oven for approximately 20 minutes, until an inserted skewer comes out clean. Remove the cupcakes from the oven and leave to cool in the tray for 10 minutes or so before turning out onto a wire rack to cool completely.
To make the icing: Put the butter, orange juice and zest, cinnamon and half the icing sugar in a bowl and beat, using an electric hand beater on a low speed, until smooth. Add the rest of the icing sugar and beat again until well combined. Add the mascarpone and continue to beat, this time on a medium speed, for about 30 seconds, until combined. Do not overbeat. Refrigerate the icing until just before you are ready to use it. Ice each cupcake with some of this icing and decorate with sugar-dipped grapes if you like.
To make the sugar-dipped grapes: Dip each grape into the egg white and then roll in granulated sugar. Leave to set for a little while before using to decorate the cupcakes. As this decoration includes raw egg whites, remember not to give them to pregnant women or children.