Ferakh Maamer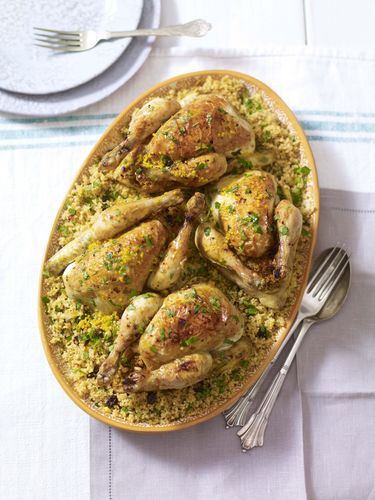 This festive dish is packed with powerful aromas and infuses bland poussins with flavour. You can also use pigeons or a large chicken instead
Prep Time
15 min
Cook time
1 h 15 min
For how many?
Serves 4
Ingredients
400g (14oz)

ready-to-cook couscous

salt and freshly ground black pepper

4

ready-to-cook poussins

400ml (14fl oz)

hot light chicken stock

pinch of saffron strands

1 tbsp

snipped mint leaves

1 tbsp

snipped coriander leaves

2 tsp

lemon juice

For the stuffing:

4 tbsp

olive oil

1½ tbsp

runny honey

3 tbsp

pine nuts

3 tbsp

raisins

2

spring onions, white (and green) parts only, finely chopped

1-2

garlic cloves, crushed

½–1 scant tsp

harissa paste

½ tsp

ground cinnamon

1 tsp

ground cumin

½ tsp

ground ginger

1 tsp

dried mint

1 tsp

dried coriander
Instructions
1. Cook the couscous according to the packet instructions. For the stuffing, mix all the ingredients in a bowl. Add half the cooked couscous, season, and toss well.
2. Lightly salt the cavity of each poussin, then spoon in the stuffing. Stir the unused stuffing into the remaining couscous.
3. In a deep, ovenproof sauté pan, heat the stock over a medium heat and add thesaffron. Simmer, add the poussins, cover, reduce the heat, and cook for 20 minutes.
4. Preheat the oven to 220ºC (425ºF/Gas 7). Remove the lid and transfer the pan to the oven. Bake for 15–20 minutes. Remove most of the liquid. Cover and return to the turned off oven for 10 minutes.
5. Reheat the couscous in a pan and add 2–3 tablespoons of the cooking liquid. Season and stir in half the fresh herbs. Bring the remaining cooking liquid to the boil in a pan. Stir in the lemon juice. Season. Place the poussins on a platter and surround with the couscous. Drizzle over the cooking liquid, scatter over the remaining herbs, and serve.