Chocolate Fondant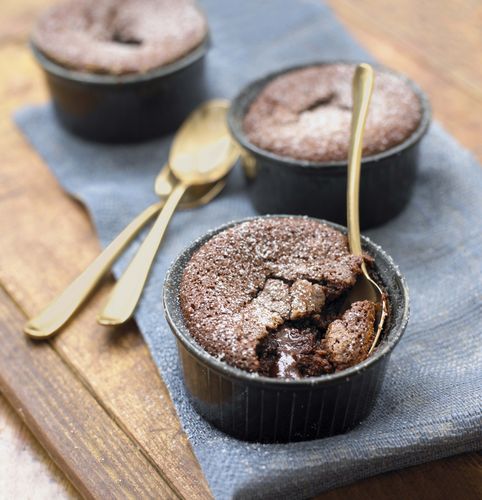 Chocolate must be melted gently because it may scorch. An alternative method is to microwave it, stopping frequently to check progress.
Prep Time
10 min
Cook time
12 min
For how many?
Serves 4
Ingredients
125g (4½ oz)

unsalted butter, diced, plus extra for greasing

150g (5½ oz)

caster sugar, plus 4 tsp for coating the ramekins

125g (4½ oz)

dark chocolate, chopped

3

large eggs

35g (1¼ oz)

plain flour icing sugar, for dusting 10 mins 12 mins preparation
Instructions
1. Preheat the oven to 200°C (400°F/Gas 6). Lightly butter four 100ml (31∕2 fl oz) ramekins, or other individual baking dishes no bigger than 150ml (5fl oz) each. Put 1 tsp caster sugar into each ramekin, and tilt and rotate to coat the bottom and sides evenly.
2. Place the butter and chocolate in a heatproof bowl and set it over a pan of barely simmering water to melt as shown below. Set aside.
3. Beat the remaining sugar with the eggs, then mix in the flour. Fold the melted chocolate into the egg mixture. Spoon into the ramekins. Bake for 10–12 minutes or until risen. Dust with icing sugar and serve immediately.
Melting chocolate
Put the chopped chocolate in a heatproof bowl set over a pan of steaming hot water; the base of the bowl must not touch the water. Allow the chocolate to soften and remove the bowl from the pan of water. Stir the chocolate with a wooden spoon until smooth.