Ancient Grains Soup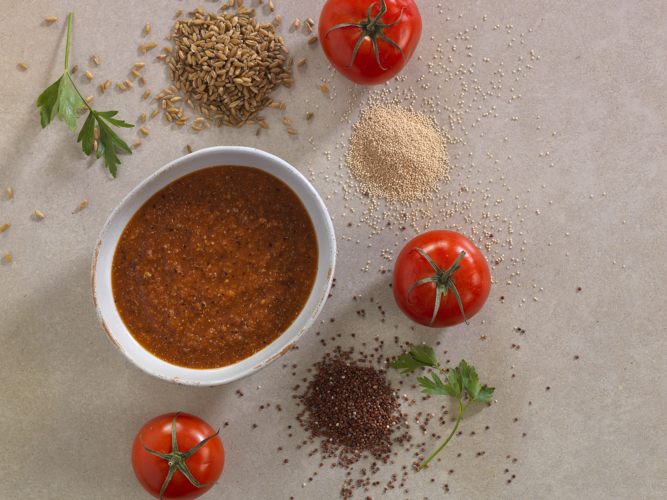 The ancient grains amaranth, freekeh, and quinoa bring a robust texture and earthy flavour to this rich tomato soup. With a savoury mix of vegetables, it's nutritious and satisfying. Serve hot.
Ingredients
3/4 tbsp

olive oil

75g (2 1/2oz)

onion, diced

50g (1 3/4oz)

celery, diced

75g (2 1/2oz)

carrot, peeled and diced

2 tsp

garlic, crushed (about 2 cloves)

400g

can chopped tomatoes

60g (2oz)

amaranth, cooked

45g (1 1/2oz)

freekeh, cooked

45g (1 1/2oz)

quinoa, cooked

400ml (14fl oz)

water

1 tsp

parsley, chopped

1/4 tsp

salt

1/4 tsp

pepper
Instructions
1. In a medium casserole, heat olive oil over medium heat for 2 minutes. Add onion, celery, carrot, and garlic, and cook until onion is translucent, about 5 minutes.
2. Add tomatoes (with juices), amaranth, freekeh, quinoa, and water. Increase heat and bring to the boil, and then reduce heat and simmer for 15 minutes. Remove from heat.
3. Transfer contents of pot to blender and add parsley. Purée until well combined. Season with salt and pepper.