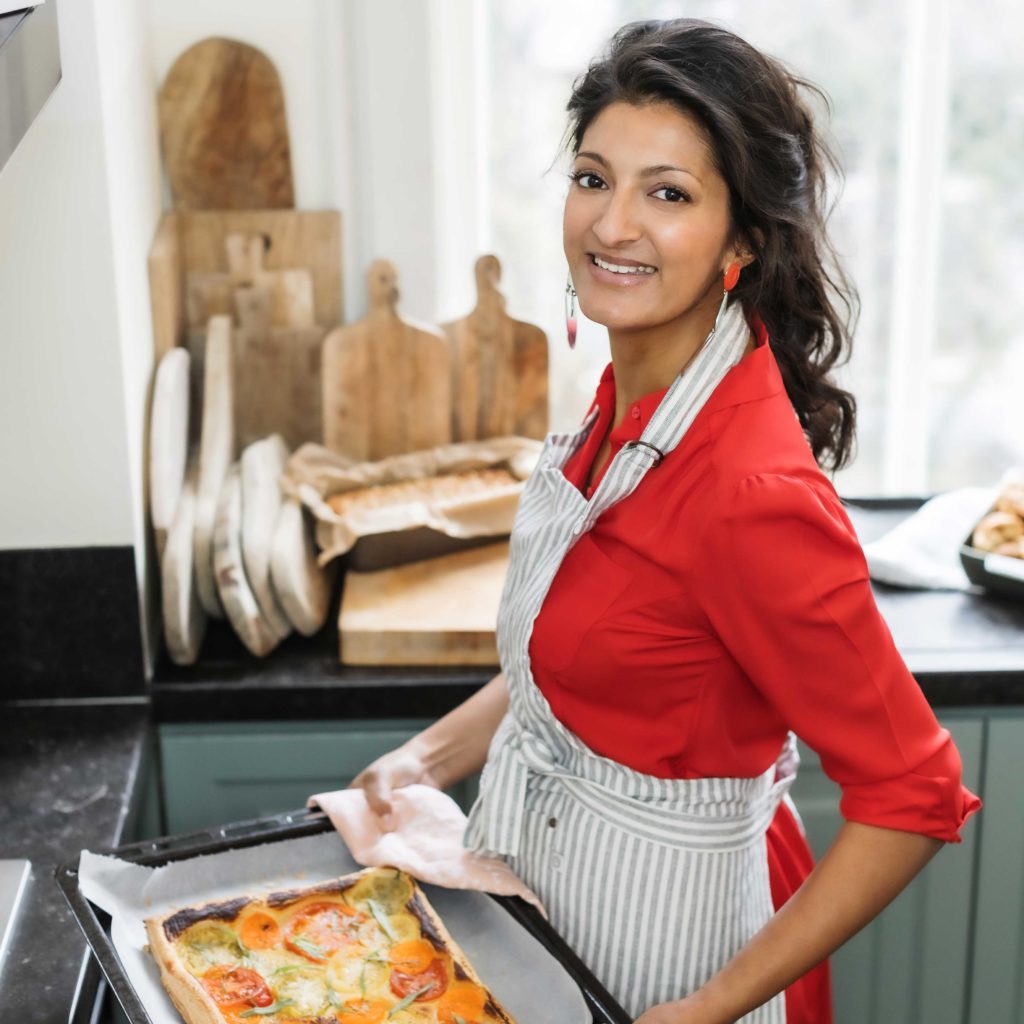 Dinner with Rukmini
Browse all of the recipes in Rukmini Iyer's cookbooks by ingredient.
Roasted Fig, Chicory and Hazelnut Lunchbox Salad
This delicious lunchbox recipe for Roasted Fig, Chicory and Hazelnut Salad from The Quick Roasting Tin is an easy, nutritious dish bursting with flavour. Swap the grilled chicken for goat's cheese to make it vegetarian.
Introduction
Honey roasted figs, chicory and hazelnuts are a beautiful base for this easy salad. Cook it in stages below for a simple yet delicious lunchbox, or eat immediately while the chikcen is still hot. It's nice enough for a dinner party.
Ingredients
| | |
| --- | --- |
| 2 | heads of chicory, halved if small, quartered if big |
| 4 | figs, halved |
| 40g | blanched hazelnuts |
| 1 | red onion, roughly sliced |
| 2 | free-range chicken breasts |
| 2 tbsp | olive oil |
| 1 tsp | sea salt |
| | Freshly ground black pepper |
| A good drizzle | honey |
| 2 | mini rosemary focaccias, torn into rough pieces |
| 100g | rocket |
| | For the dressing: |
| 1 | lemon, juice only |
| 1 tbsp | extra virgin olive oil |
| pinch | sea salt |
| | Freshly ground black pepper |
Method
Preheat the oven to 180°C fan/200°C/gas 6.
Tip the chicory, figs, hazelnuts, onion and chicken breasts into a roasting tin large enough to hold everything in a single layer.
Mix gently with 1 tablespoon of the olive oil, the sea salt and freshly ground black pepper, then drizzle with the honey.
Scatter the bread over the top, then transfer the tin to the oven and cook for 25–30 minutes, until the chicken is cooked through.
Meanwhile, whisk the lemon juice, extra virgin olive oil, salt and pepper for the dressing together.
Let the chicken and vegetables cool down, then slice the chicken. Divide the rocket between 2 lunchboxes, top evenly with the vegetables and sliced chicken, then refrigerate, along with the dressing, in a couple of little pots or jars. Pop the toasted focaccia into 2 airtight bags or containers to keep it crisp and mix everything together just before you eat.
MAKE IT VEGGIE: Substitute the chicken with 250g goat's cheese with a rind, cut into thick slices and baked along with the figs.
More Recipes from The Quick Roasting Tin
---