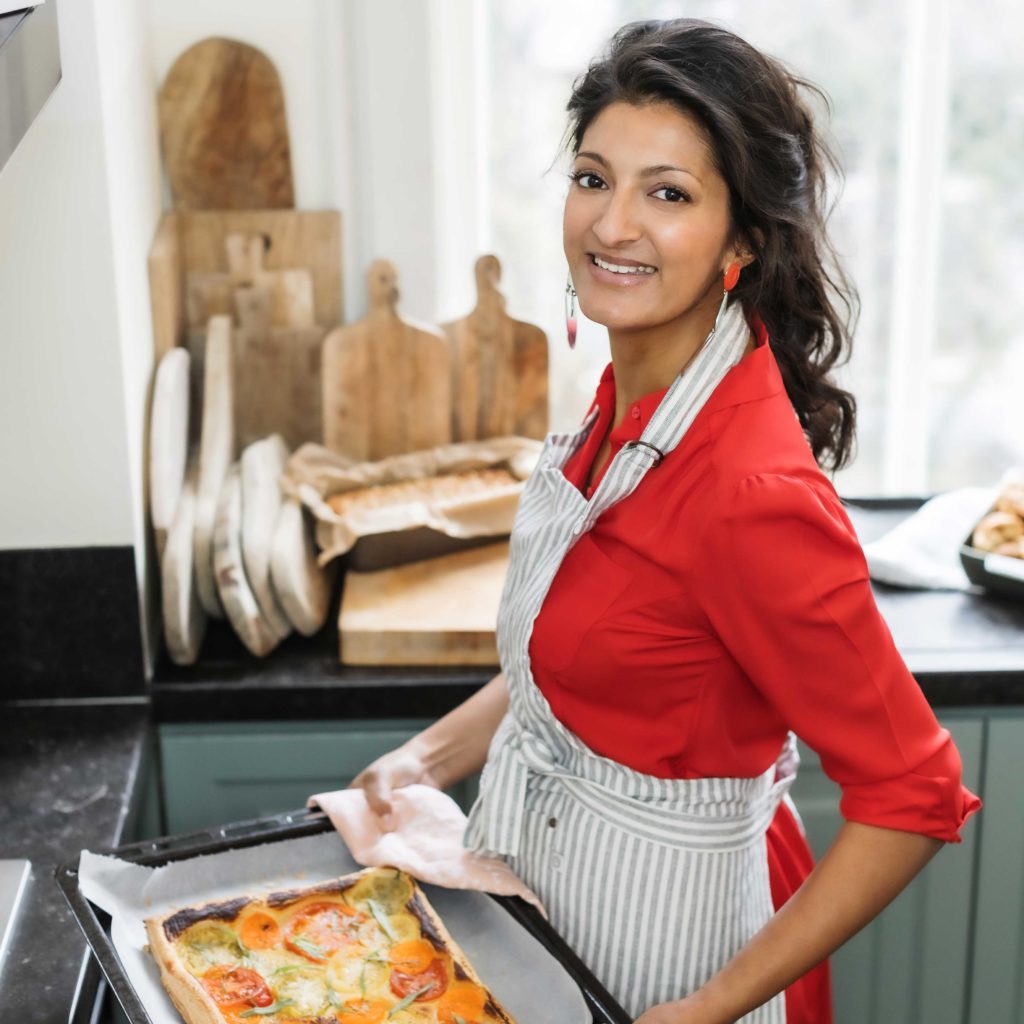 Dinner with Rukmini
Browse all of the recipes in Rukmini Iyer's cookbooks by ingredient.
Flash Grilled Spiced Steak with Chillies, Peppers and Onions
These quick and easy steak fajitas are a fast track to a Mexican-style feast and will be on the table in under half an hour.
Introduction
These super-quick fajitas are perfect for a weeknight dinner in a hurry. Bring the roasting tin to the table and assemble them as you go.
Ingredients
| | |
| --- | --- |
| 2 x 250g | rump or sirloin steaks, cut into ½cm slices |
| 1 | red chilli, finely sliced |
| 1 | red pepper, finely sliced |
| 1 | yellow pepper, finely sliced |
| 1 | red onion, finely sliced |
| 2 tsp | paprika |
| 2 tsp | ground cumin |
| 2 tsp | ground coriander |
| 3 tbsp | olive oil |
| A good pinch of | sea salt and freshly ground black pepper |
| A large handful of | fresh coriander, roughly chopped |
| 2-3 | tortillas per person |
| 150ml | sour cream |
| | lime juice and grated cheese (optional) |
Method
Preheat the grill to its highest setting.
In a large roasting tin, mix together the steak, chilli, peppers, onion, spices, olive oil, salt and pepper. Place under a blisteringly hot grill for 4 minutes.
Remove the roasting tin from the grill, give everything a good mix, then return to the grill for a further 3-4 minutes, until the steak is just cooked through.
Leave the steak to rest for 3 minutes, then scatter over the chopped coriander. Pile into tortillas, warmed through in foil at the bottom of the oven, and serve the sour cream alongside, with lime juice and grated cheese if you like.
Note: The steak in this recipe is cooked through. For rare steak, grill for 6 minutes in total, stirring halfway.