Yan Kit's Classic Chinese Cookbook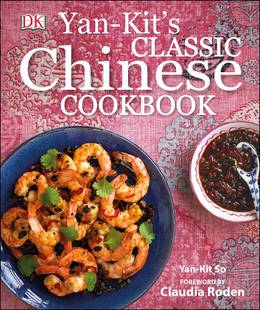 Who's the author? Yan-Kit So (1933-2001) was a well-known Chinese cookery expert and inspired generations of people to cook Chinese food. She successfully demonstrated her special techniques and recipes to Leith's School of Food and Wine, at Betsy's Kitchen, and at La Petite Cuisine School of Cooking.
What's it about? This visual guide demystifies the art of Chinese cookery and gives you the foundation to create over 140 mouth-watering dishes.
Recipes we love: Steamed Prawns in Mixed Bean Sauce, Kung Pao Chicken and Beef with Preserved
Tangerine Peel.
Good book for: Learning everything you need to know about Chinese cookery with images of specialist ingredients and equipment for easy identification when shopping, as well as easy-to-follow step-by-step techniques for traditional cooking methods such as shredding vegetables and wok stir-frying.
You'll like it if: You're enthusiastic about eating Chinese cuisine and are often intimidated by the complexities of Chinese cookery.
Over 140 recipes show you how to master the art of Chinese cooking, from familiar favourites such as Dumplings, Wonton Soup and Spring Rolls, to dishes from China's regional culinary traditions, like Peking Duck, Cantonese Fire Pot, and Smoked Fish Shanghai Style. Further impress your guests with your knowledge of the customs for correctly serving Chinese cuisine, including how to lay the table, eating with chopsticks and what to drink with your dishes.
Enjoy authentic Chinese food with this stunning new edition of Yan-Kit's Classic Chinese Cookbook, and see just how simple, delicious and rewarding cooking Chinese cuisine can be.