The Science of Spice: Understand Flavour Connections and Revolutionize your Cooking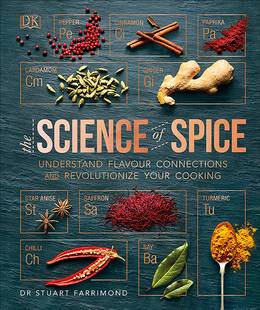 Who's the author? Food scientist, Dr Stuart Farrimond, is writer, presenter and author of bestseller, The Science of Cooking. Also a regular on TV shows from Channel 4's Food Unwrapped to BBC's Nigel Slater's Great British Biscuit, Stuart is a food-science guru worth his weight in saffron...
What's it about? This is a book that will teach you to know your cumin from your garam masala, and how to use spices with greater confidence, understanding and intuition in the kitchen. Ever wondered how to use sumac, why some spices taste stronger than others, or how to make your own five-spice mix? This book has the answers. Investigating the science behind the art of cooking with spices, Stuart groups each spice into 12 distinct flavour families, from Warming Terpenes to Toasty Pyrazines, illustrating how to pair seemingly disparate spices into new and delicious combinations. 
With beautiful illustrations, infographics, recipes and photography, this is an easy-to-navigate cookbook that is both educational and inspiring, changing the way you think about flavour and revolutionising your approach to cooking. 
Recipes we love: West African Peanut Curry with Durban Masala, Chicken & Aubergine Biryani with Seven-Spice, Cardamom Ice Cream, Date & Tamarind Granita with Caramelised Pineapple
Perfect for: Keen cooks looking to shake up their kitchen routine, anyone with an interest in food history, spice fanatics and science nerds.