Who's the author? GBBO winner, bestselling author, TV personality and inspiring foodie mum, Nadiya Hussain.
What's it about? Nadiya finally returns to her Bake Off roots, with a cookbook dedicated solely to exquisite cakes and bakes. Nadiya Bakes has a simple fact at its heart: that baking is a fundamentally joyful activity, one that uplifts our mood and makes those around us feel good too. Nadiya focuses on recipes that will bring a little more sunshine into the world and into the lives of our friends, families, and neighbours. In true Nadiya style, the recipes in this collection have been designed with home cooks in mind, meaning they're achievable, accessible, and bound to go down a treat with sweet enthusiasts of all ages. She'll explore all areas of baking, conquering cakes, pies, desserts, biscuits, no-bakes bakes, breads, and savories.
In the accompanying BBC2 series, Nadiya will visit extraordinary bakeries to be inspired by other passionate bakers and to learn more about the bakes that make her happiest. Along the way, she'll discover new recipes and techniques and, of course, create her own mouth-watering twists.
Recipes we love: Money Can't Buy You Happiness Brownies, Baked Chilli Churros, The 'WOW' Bake, Mango and Coconut Cake, and Rhubarb, Rosemary, and Olive Oil Polenta Cake.
Perfect for: Anyone who loves to bake, whether they're long-time enthusiasts who want to expand their repertoires or total novices looking for a grounding in the basics.
5 more reasons to buy Nadiya Bakes:
1. This beautiful book is Nadiya's most comprehensive collection of bakes to date, with chapters that span Cakes, Mini Cakes & Traybakes, No-bake Bakes, Biscuits & Bites, Celebration Bakes, Tarts & Pies, Bread & Buns, and Desserts too. There seems to be something for every occasion.
2. Beautifully designed with gorgeous photography and a pastel colour scheme, Nadiya Bakes would make a stunning gift for any of your friends or family who love to bake.
3. Nadiya Bakes is full of Nadiya's trademark original recipes, clever twists and unbelievable flavour combinations that are totally achievable at home, including Pecan Pie Empanadas, Tutti-Fruit Pavlova and Summer Fruit Tea-ramisu.
4. Whether you're a baking novice or fit for the Bake Off tent, Nadiya pitches this cookbook in a really accessible way, with plenty of her down-to-earth guidance so that anyone can cook from it, whatever their skill level.
5. Any cookbook with a recipe entitled Money Can't Buy You Happiness Brownies is as good enough a reason as any.
More about Nadiya Bakes
---
Recipe Collections
Our round-up of Nadiya Hussain's best recipes for feeding a family, from savoury snacks and easy midweek meals to tasty sweet treats.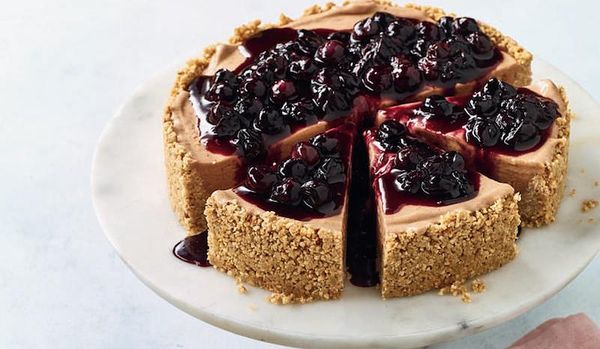 Features
From twists on tradition to celebration centrepieces to clever hacks using everyday staples, here are ten favourite desserts from star baker, Nadiya Hussain.