From the Veg Patch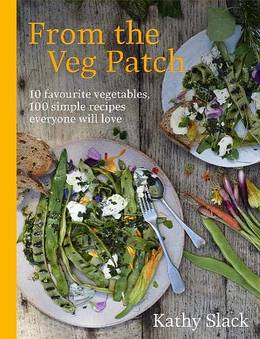 Who's the author? From author of award-winning Gluts & Gluttony website, Kathy Slack is a cook, gardener and writer with fans from Anna Jones to Gill Meller. Kathy spends her days writing and developing recipes, hosting supper clubs and cookery classes, food styling and holding cookery demonstrations, with a regular slot in Borough Market's award-winning magazine, Market Life. You can find her on Instagram @gluts_gluttony.
What's it about? Kathy Slack takes us through a year in her veg patch in this celebration of her ten favourite things to grow and eat. Most recipes are vegetarian, some have meat and fish, but there's always a focus on British seasonal produce at the front and centre of the plate. From springtime peas and lettuce to summer courgettes and tomatoes to autumnal squash and apples to winter kale and leeks, From The Veg Patch is a beautiful guide for cooks whether you grow your own or you buy your veg at the supermarket.

Recipe we love: Pea, Feta and Mint Frittata, Tomato Salad with Anchovy Breadcrumbs, Pumpkin Tikka Masala and Leek and Chestnut Crumble.
Perfect for: Keen gardeners seeking fresh inspiration to cook from their gardnes, everyday flexitarians looking for delicious ways to put more seasonal veg at the centre of their plates, and any fans of Anna Jones, Gill Meller or Nigel Slater.