We can't get enough of Jamie's new cookbook, 7 Ways, with 120 new recipes for every day of the week. "Whether you want something classic, comforting, light, hearty or slap-you-round-the-face exciting, I've got you covered", says Jamie. He's not wrong: there are midweek meals that you can make in under 30 minutes, inventive twists on your Sunday roast chicken (a whole chapter of them, to be precise) and clever tricks to make your Friday night takeaway healthier and cheaper, plus lots of veggie options too.
From meat-free Mondays to Friday night fakeaways, Jamie Oliver: 7 Ways is giving us new ideas for the most common supermarket ingredients we shop for week-in, week-out.
Monday: Cauliflower Cheese Pasta
With a creamy cauliflower cheese sauce, crispy garlic and cauliflower-leaf breadcrumbs, this 30-minute dinner is loaded with texture, is a great way to get the kids eating more veg, and uses up the whole cauliflower from leaf to stem so you won't waste a thing. 
Jamie Oliver: 7 Ways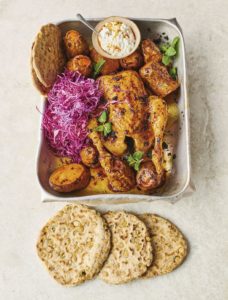 7 inventive new ways to cook with each of the UK's 18 favourite ingredients
With pared back ingredients lists and easy-to-follow instructions, you'll find plenty of quick and easy dinner solutions
Featuring family favourites, one-pot wonders, tray bakes, roasts, fakeaways and more
Tuesday: Creamy Prawn-Stuffed Salmon with Wilted Garlicky Spinach
Featuring salmon fillets stuffed with creamy prawns and baked in one tray with garlicky spinach, bacon and rosemary, this Tuesday traybake could not be easier.
Order your copy of Jamie's 7 Ways here.
Wednesday: Filo Chicken Kiev
A homemade, healthy version of a freezer favourite, this garlicky chicken is wrapped in filo, then baked until golden, tender and tasty. Use up potatoes and a few handfuls of frozen peas to make a sweet mash, and serve it all up with sprouting broccoli.
Order your copy of Jamie's 7 Ways here.
Thursday: Seared Steak and Red Chimichurri
Chimichurri is a spicy, fresh, garlicky sauce hailing from Argentina and Uruguay that pairs perfectly with steak. Jamie shows us how to make his quick riff on the original, with spring onions, garlic, chillies and jarred red peppers.
Order your copy of Jamie's 7 Ways here.
Friday: Cheat's Fish and Chips with Bacon Crumb 
Swap your Friday night takeaway for Jamie's quick, healthier version of a classic fish and chips. Here, fish fillets are coated in a bacon breadcrumb mix, then baked and served up with chunky chips, homemade smashed peas and a fresh mint sauce.
Order your copy of Jamie's 7 Ways here.
Saturday: A very British Bolognese
This Jamie-fied version of an Italian classic ragù combines mince with pale ale, mushrooms and rosemary for a dinner with real depth of flavour. A great one for a comforting Saturday dinner at home. "Batch up your leftover portions, cool, and pop into the fridge or freezer for another day", Jamie suggests.
Order your copy of Jamie's 7 Ways here.
Sunday: Easy Peri Peri Chicken
Shake up your usual Sunday roast with Jamie's Easy peri peri chicken, roasted with harissa, paprika, garlic, chilli and onions until deliciously tender. Then, make your own peri peri sauce combining meltingly soft onions with sweet, roasted garlic and chillies, and all the delicious spicy juices from the tray. Serve up with roasted potato wedges. Perfection!