Want to try something a little different this Christmas? Twist up your sprouts, spruce up the turkey or swap the Christmas pud for another boozy creation with Ottolenghi's usual flair for creativity. Whether you want to have a complete Christmas dinner overhaul or you're looking to mix it up just a little with an alternative Yule log, a spiced turkey marinade or a ridiculously indulgent gratin side dish, there's something here to inspire you. We've picked 10 of our favourite Ottolenghi Christmas recipes to make planning Christmas that little bit more exciting.
Brussels Sprouts with Burnt Butter and Black Garlic from Simple
Ottolenghi revolutionises Christmas Brussels sprouts with this simple twist. He swears by black garlic as "a quick way to inject a huge amount of flavour into a dish", and we couldn't agree more. This will take no time and will change how you think about sprouts forever.
Fondant Swede Gratin from NOPI: The Cookbook
This creamy, buttery, melt-in-your-mouth gratin is an indulgent side dish that will elevate your Christmas dinner to another level. Make this ahead up to the point where the gratin is due to go in the oven, then just bake it 30 minutes before serving on the day.
Order a copy of NOPI: The Cookbook here.
Marinated Turkey Breast with Cumin, Coriander and White Wine from Ottolenghi: The Cookbook
This is a great alternative recipe if you're not cooking a whole turkey this year or you want to use this deliciously spiced marinade for the whole bird. Herby and lightly spiced, this marinade will help your turkey shine without dominating all the other dishes you're serving it with.
Order Ottolenghi: The Cookbook here.
Fennel and Feta with Pomegranate Seeds and Sumac from Ottolenghi: The Cookbook
For something a little fresher, this raw fennel salad is paired with sweet pomegranate seeds, sharp sumac and tangy feta for a much-needed palate cleanser. 
Order Ottolenghi: The Cookbook here.
Roasted Baby Carrots with Harissa and Pomegranate from Simple
Switch up your roasted vegetables this Christmas with these harissa, cumin and honey-flavoured carrots. Serve with pomegranate seeds and fresh coriander. 
Prune Cake with Armagnac from Sweet
This boozy Christmas cake with brandy and walnuts, and the delicious festive flavours of orange, cinnamon and vanilla, makes a decadent festive dessert.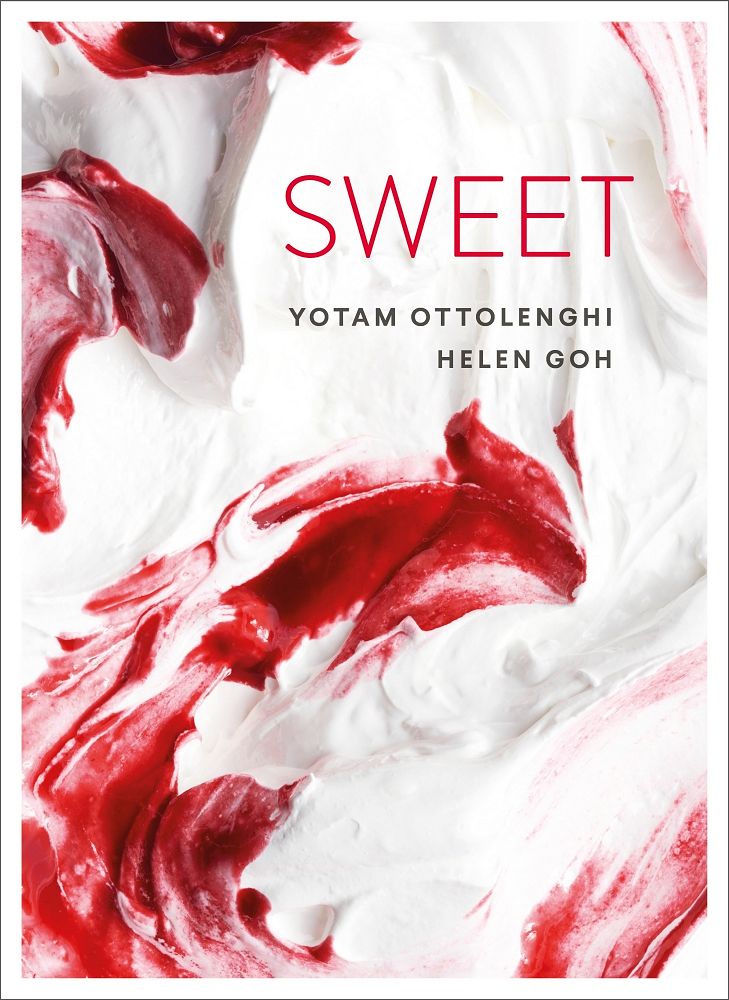 Sweet
Ottolenghi's cakes, bakes and desserts
Inspiring ideas for edible gifts
Dinner party and occasion showstoppers
Meringue Roulade with Rose Petals and Fresh Raspberries from Plenty More
For an alternative to the Christmas Yule log, try this gorgeously festive meringue roulade, elevated to special status with rose petals, juicy berries and pistachios.
Get yourself a copy of Plenty More here.
Frozen Espresso Parfait For A Crowd from Sweet 
Rich creamy coffee parfait set between chocolate meringue bases, topped with crunchy praline and a caramel whisky sauce, this is a wonderful alternative show-stopper that your loved ones will be thrilled with. 
Cranberry Oat and White Chocolate Biscuits from Sweet
Tart cranberries, chewy oats, nutty wholemeal flour and almonds, and a bit of sweet luxury from the white chocolate coating make these biscuits an edible gift worth giving.
Pecan and Prosecco Truffles from Sweet
Bite into these Yule log-shaped truffles to reveal rich, smooth truffle underneath – these are wonderful edible gifts for Christmas.