With the nights drawing in and the days getting cooler, less time spent outdoors means more time free for baking. Whether it's the prevalence of oozing melted cheese or the comforting nature of pastry in all its forms, there's something about savoury bakes that seems particularly appropriate for autumn, as this collection of recipes from Nadiya Hussain is here to prove. Extracted from Nadiya's cookbooks, including brand new release, Nadiya Bakes, these tarts, pies, buns and savoury doughnuts (!) are some of Nadiya's very best savoury creations.
Seekh Kebab Toad in the Hole from Nadiya Bakes 
An Asian twist on a British favourite – lightly spiced, homemade meatballs replace sausages in this toad in the hole, cooked with chunks of onion and baked in a simple Yorkshire pudding-type batter. Autumnal family food. 
Nadiya Bakes
A collection of all new baking recipes accompanied by gorgeous photography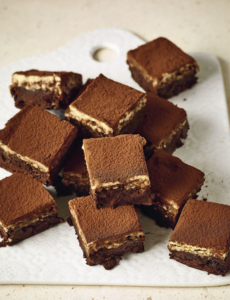 Packed with cakes, pies, and puddings to warm the heart and lift the spirits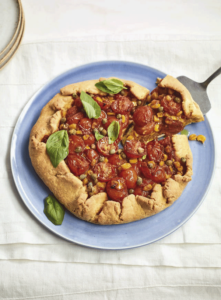 Including mouthwatering savoury bakes as well as irresistible sweets
Chicken, Brie, Cranberry and Pink Pepper Pithivier from Nadiya Bakes
A traditional French pie, a pithivier is made by baking two rounds of puff pastry with a sweet or savoury filling in the middle. With a simple chicken filling spiced with pink peppercorns and cranberries, around a gooey centre of melted Brie, this is pure decadence. A simple-to-make centrepiece for a special occasion. 
Order your copy of Nadiya Bakes here.
Pepperoni Pull-Apart from Nadiya Bakes
This pull-apart tear and share bread has all the flavours of pizza. With pepperoni, cheese, sriracha sauce and basil, this is great one for when you want something more than just a slice of bread with your soup. 
Order your copy of Nadiya Bakes here.
Ham and Cheese Crown from Nadiya's Family Favourites
It's hard to go wrong with the wonder-trio of pastry, ham and cheese, knocked together with a few kitchen basics. This is simple to create, but looks and tastes like you have made a real effort – perfect for weekend brunch when there's a crowd around the table. 
Get your copy of Nadiya's Family Favourites here.
Tomato Galette from Nadiya Bakes
Nadiya likes to think of this scruffy French tart as an easier alternative to pizza, with a simple pastry and a tomato, garlic and basil topping.
Order your copy of Nadiya Bakes here.
Ploughman's Cheese and Pickle Tart from Nadiya's British Food Adventure
Nadiya takes inspiration from a classic ploughman's sarnie with this combination of strong cheese and tart chunky pickle. "Cut through the cheesy filling and you'll find a hidden layer of pickle waiting to tantalize your taste buds". We can get on board with that.
Get your copy of Nadiya's British Food Adventures here.
Sag Paneer Spanakopita from Nadiya Bakes  
Nadiya does what she does best here, fusing two disparate dishes into something entirely new, surprising and delicious. Here, saag paneer – an Indian dish of spiced spinach and paneer cheese – meets spanakopita, the classic Greek filo pastry pie. 
Order a copy of Nadiya Bakes to get the recipe.
Potato Rösti Quiche from Nadiya Bakes
This recipe is all about the base – sweet and regular potatoes are grated and pressed into a tart case with garlic, paprika and onion to create a flavoursome twist on a potato rösti, filled with a creamy cheese and chive mixture. Yes!
Order your copy of Nadiya Bakes.
Cranberry and Chilli Brioche Wreath from Nadiya Bakes
"Expect a flavour explosion of sweet and savoury, all soft and oozy", Nadiya says of this crowd-around-the-table wreath. Spicy brioche balls surround a baked Camembert and topped with a dollop of marmalade – what is not to love?
Order your copy of Nadiya Bakes.
Pulled Chicken Doughnuts from Nadiya Bakes
With a spicy BBQ chicken filling, these savoury doughtnuts will confuse anyone expecting the usual sweet jam. Covered with a sweet-salty cumin dusting, these make for brilliant party food.
Order your copy of Nadiya Bakes here.
Onion Pretzels from Nadiya Bakes 
Perfect pack lunch fodder, these surprisingly easy-to-make pretzels are packed with crispy onions and chives, and are a hit with kids and adults alike.