From show-stopping celebration layer cakes and cream-topped meringues to simpler cookies and share and tear sticky buns, it goes without saying that baking is made for sharing. With the launch of Nadiya's latest and most comprehensive baking book, Nadiya Bakes, we've been inspired to put together our favourite of her crowd-pleasing cakes, biscuits, buns and bakes. Whether you're celebrating a special birthday, you've got a (small) gathering of friends coming round or you're after a comforting autumnal pud for the whole family, here's our pick of the bunch.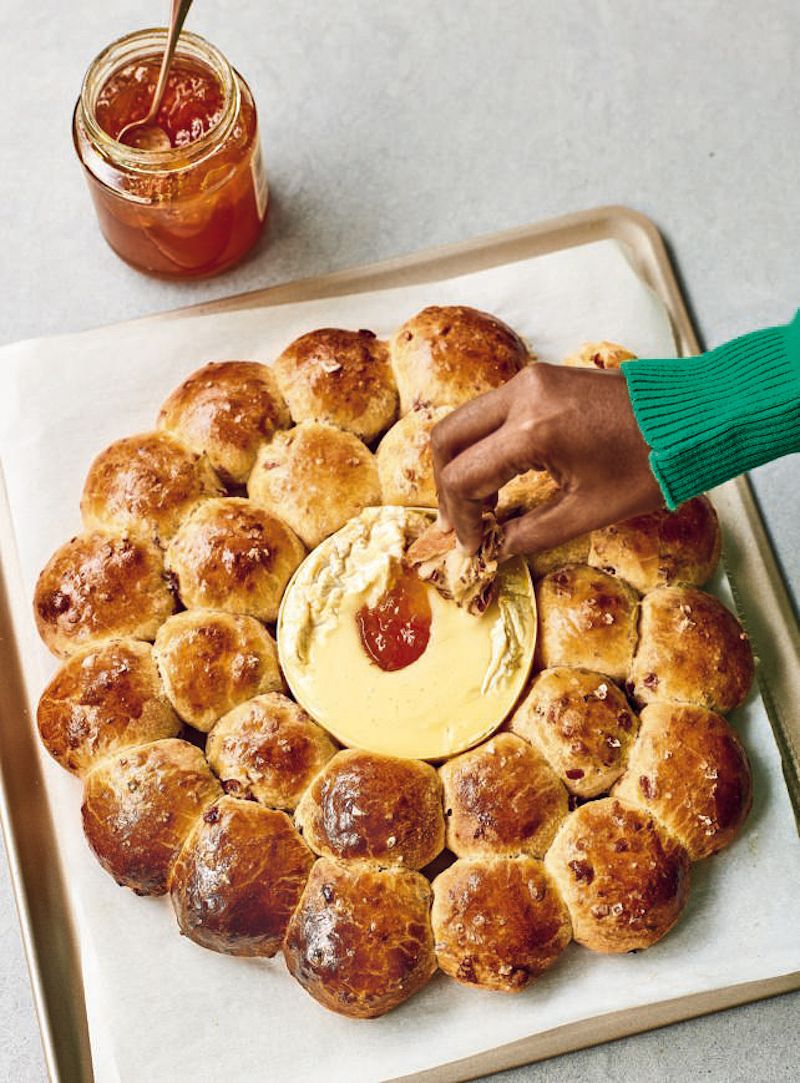 Cranberry and Chilli Brioche Wreath from Nadiya Bakes
A wreath of spicy brioche balls surround Marmalade-topped oozy baked Camembert in this flavour explosion of sweet and savoury. Bring it out on a big platter for real wow factor.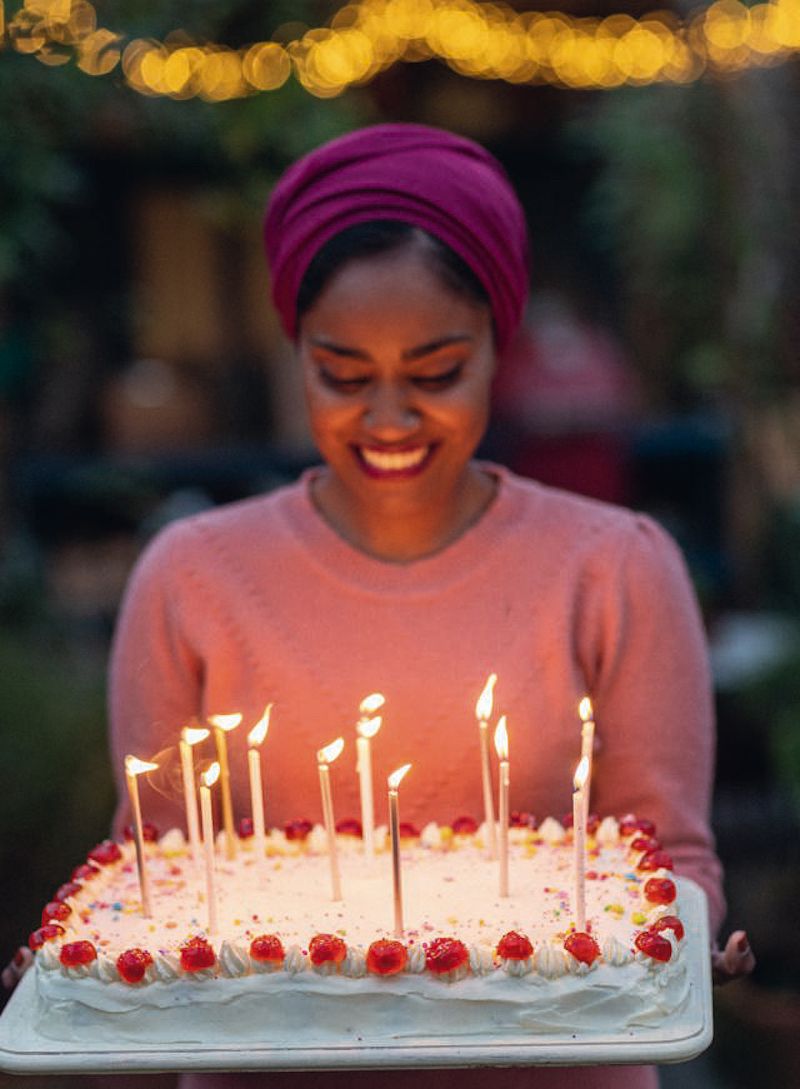 Pull Apart Muffin Cake from Nadiya Bakes
You wouldn't know it, but this mega cake is actually made up of lots of smaller chocolate-salted-caramel cupcakes, wedged together and iced with a delicious Swiss meringue buttercream. You won't need to cut or slice or plate it up, just get everyone to grab their own. Magic!
Order a copy of Nadiya Bakes to get the recipe.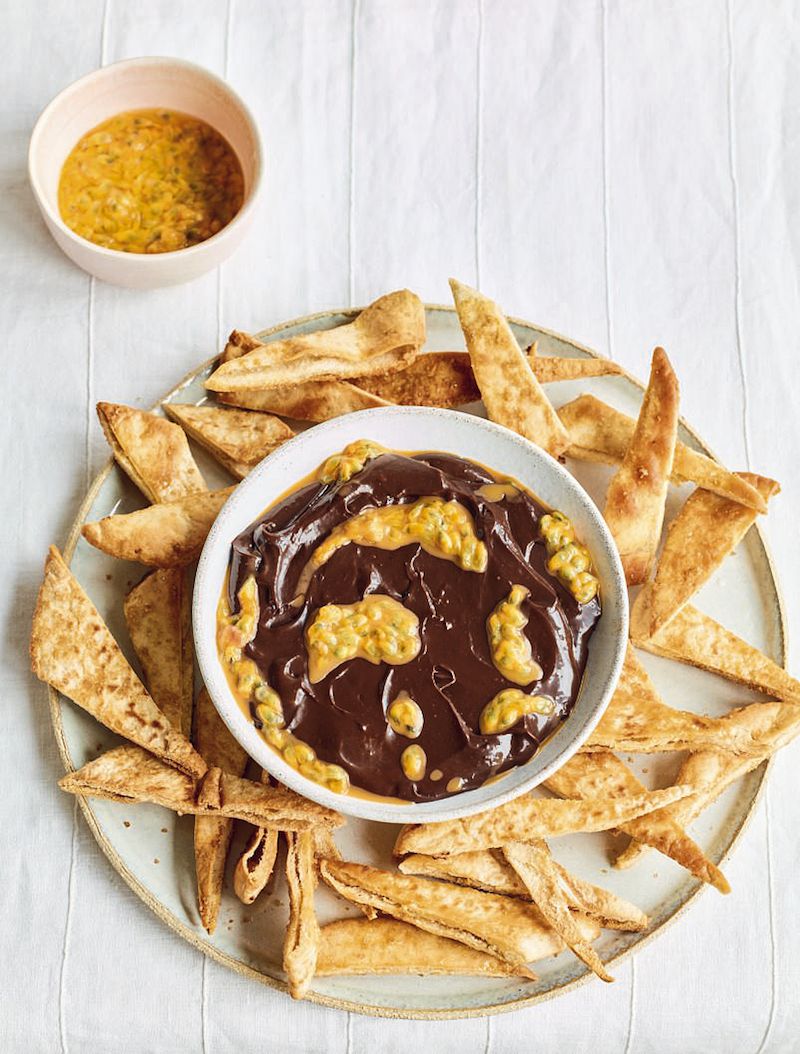 Brigadeiro with Sweet and Salty Pitta Chips from Nadiya Bakes
This riff on a traditional Brazilian treat is a bowl of chocolatey set ganache, made with just condensed milk, cocoa powder and butter. Nadiya tops hers with passion fruit for freshness and zing, before serving it up with home-made pitta chips that are baked in butter, salt and sugar. Rich, sweet and made for sharing.
Order a copy of Nadiya Bakes to get the recipe.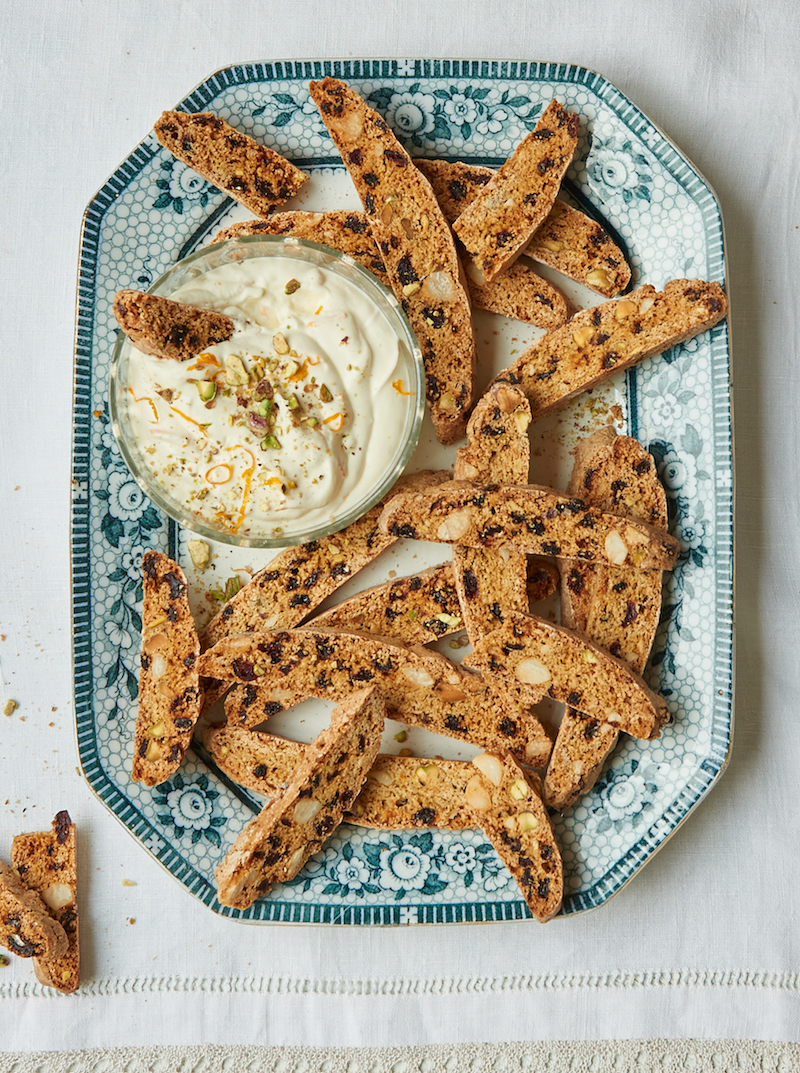 Spiced Biscotti with an Orange Syllabub Dip from Nadiya's Kitchen  
These crunchy Italian biscuits are packed with warming spices, orange zest and plenty of dried fruit and nuts, and they're perfect for dunking. Try them with this orange, creamy and luxurious syllabub, which Nadiya says "is just a fancier way of serving them if you have guests around". You can also swap out the fruit in this recipe for any dried fruit you have in your cupboards.
Get your copy of Nadiya's Kitchen here.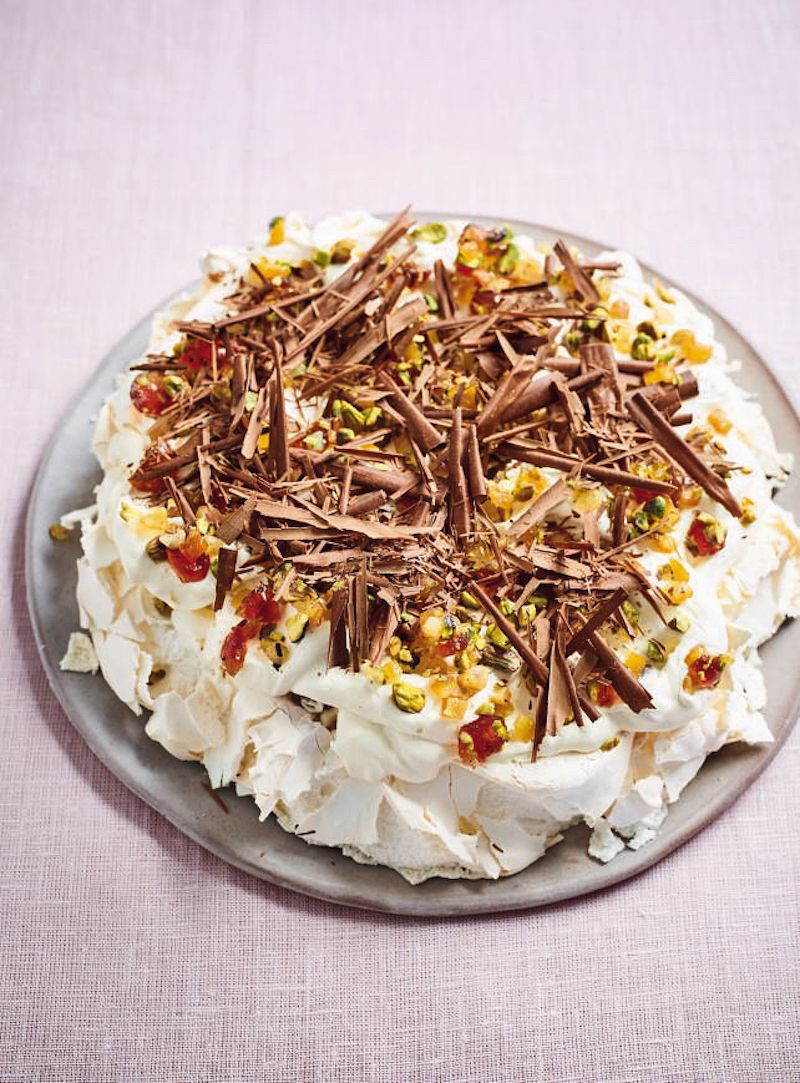 Tutti Frutti Pavlova from Nadiya Bakes
This nostalgic dessert has all the jewel-toned colour of tutti frutti with glacé cherries, pistachios and mixed peel rippled through simple whipped cream and topped with shavings of chocolate all served atop a chewy meringue nest. Yum.
Order a copy of Nadiya Bakes here.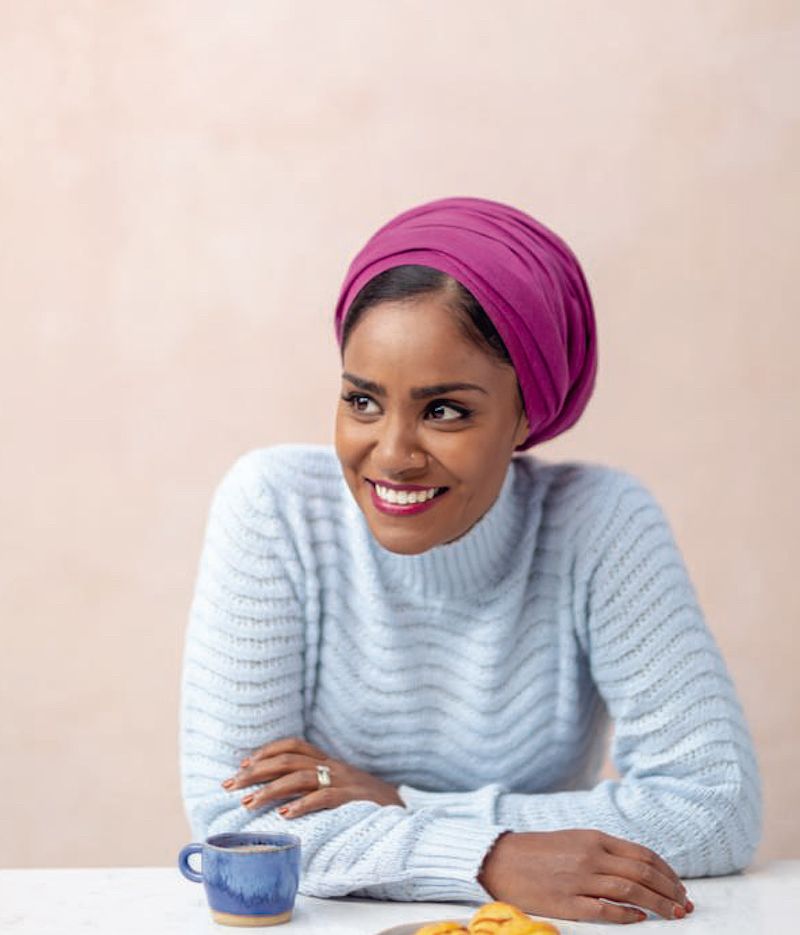 Sharing Chocolate Fondant from Nadiya Bakes
"If you don't mind sharing, this is the one for you", says Nadiya with this large, melt-in-the-middle chocolate pudding. Serve it hot on a chilly autumnal evening with a dollop of cooling crème fraîche.
Order a copy of Nadiya Bakes here.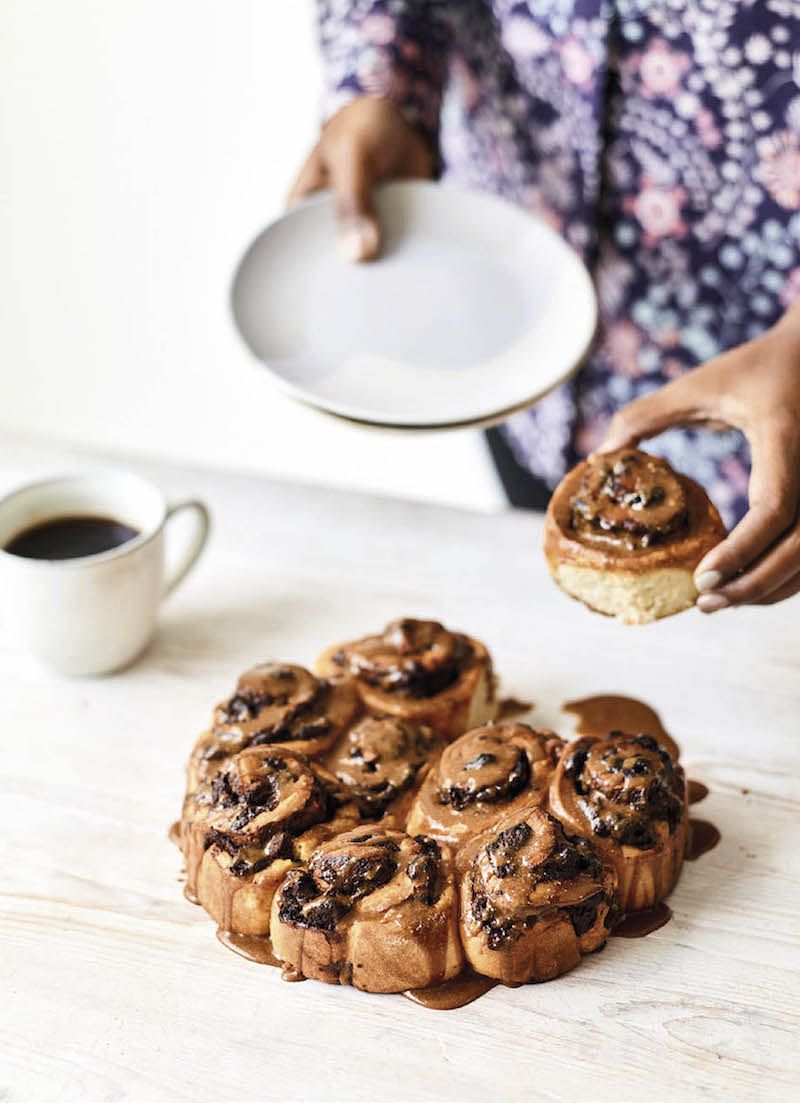 Mocha Swirls from Nadiya's Family Favourites
Nadiya has swapped traditional cinnamon swirls for decadent coffee and chocolate-flavoured buns here, topped with a sticky espresso icing. Perfect for afternoon tea.