What was the last thing you cooked in your microwave? I say 'cooked' in the loosest sense, because for most of us it's nothing more than a handy device for warming up leftovers, reheating a mug of cold tea or – if you're feeling really adventurous – attempting to scramble an egg.
But lockdown left us with an awful lot of time on our hands, most of it spent stuck at home, staring at the appliances. And so it's little wonder that microwave cooking is on the rise, with lots of us finally getting to grips with that under-used machine that sits in the corner of the kitchen.
Cooking in the microwave is one thing, of course… but have you ever tried baking? These past few months have also seen a spike in micro-baking (as I like to call it), with home bakers trying their hand at everything from mug cakes to microwave meringues.
I'm a big fan of baking in the microwave and you'll find plenty of recipes in my cookbook, Six Minute Showstoppers, which came out earlier this year. Whipping up a showstopper in six minutes is no mean feat, and the microwave rides to the rescue in countless dishes, from spicy shakshuka to cinnamon raisin scones and from honey almond cake to microwave pavlova (yes, it really is possible; get the book and give it a go!).
Six-Minute Showstoppers
The ultimate guide to fuss-free, high-speed baking.
Packed with ingenious kitchen hacks and 100 delicious recipes.
Including stunning cakes, lavish desserts and tasty tea-time treats.
So, how can you make the most of your microwave – and bake up a storm without using the oven? Here are my top five tips for micro-baking…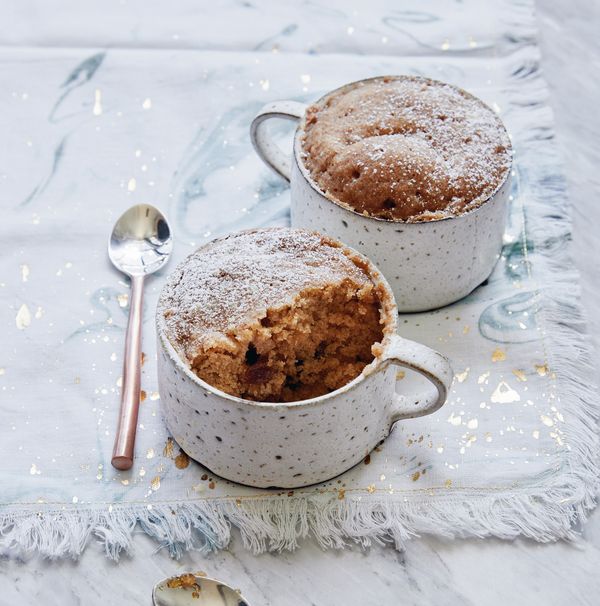 1. GET TO KNOW YOUR MICROWAVE
As I quickly learned when I ventured into this world a few years ago, microwaves are funny old beasts – and every single one is different.
Each microwave has a letter from A-E, which denotes how powerful it is (category D and E are the most common, with wattages of 750 watts and 800-850 watts) – you'll find this on the bottom right or back of your machine. The higher the wattage, the faster it cooks your food. Saying that, some are just plain temperamental, so you'll need to play around to get the temperature and timings right.
My advice is to opt for less cooking time than a recipe calls for; you can always pop it in again for longer if it's not baked through.
The other thing to know about microwaves is their capacity (in litres) and the diameter of their turntable (in centimetres). What you can cook in there depends very much on what will fit, so make sure you know the dimensions before you try squeezing a roasting tray through the door.
2. INVEST IN SOME PROPER KIT
The cardinal rule of micro-baking is this: NEVER, ever, ever put metal in the microwave. And this means all standard baking trays, cake tins and loaf tins. There will be sparks, things might explode – and your baking will absolutely not turn out ok. So it's worth getting yourself some proper kit.
You can use Pyrex or microwave-safe bakeware: plenty of pie dishes, pudding bowls and mixing bowls will state that they're microwave-proof (look on the base). But the best equipment, in my opinion, is made from silicone. Not only can it withstand super-high heat, but it's non-stick and bendy, meaning it's really easy to flip whatever you're baking out of the tin when it's done.
The best range I found is by Ipow – they do cake and loaf tins in all shapes and sizes, as well as miniature muffin and friand cases, and it's all available to buy on Amazon.
3. COVER UP WITH KITCHEN PAPER OR CLING FILM
You wouldn't dream of turning on the blender without the lid, so as a fellow rotating kitchen appliance, it makes sense to cover up your dishes before you put them in the microwave, especially if they have a high liquid content.
The worst offender for spattering all over your microwave is butter, which will look like it's never going to melt – and then suddenly 'SPLAT!'… it's everywhere. My tip for this is placing a sheet of kitchen paper over the top of the bowl; this will stop any spills or unexpected splats.
If you're baking something in a dish with a bigger diameter than a small mug or bowl, you'll need to resort to cling film. Just pierce a few holes to let the steam escape; the plastic will catch any other potential explosions as your dish bakes.
4. REMEMBER TO KEEP YOUR COOL
Because of the way microwaves cook (by heating water particles inside your food, which vibrate as they get hotter), your bakes will get EXTREMELY hot. Use oven gloves or a tea towel, just as you would with a regular oven, and let dishes cool before trying to take them out.
I recommend giving all your bakes a five minute 'cool-down' window before you even think about opening the microwave door.
Don't worry about souffles sinking or sponges getting soggy bottoms in this time; because of the intense heat, bakes made in the microwave tend to be more stable than ones cooked in the oven, so they'll be just fine on the other side.
5. ALWAYS KEEP IT CLEAN
Microwaves – especially communal ones (office microwaves, I'm talking about you…) – are notoriously grubby, with all those stains and spatters that gather on the top where nobody can see. So if you're baking a cake in there, it's more important than ever to keep your machine clean.
Rather than use a synthetic spray, try a homemade, all-natural cleaner. Simply put half a lemon in a small (microwave-proof!) bowl of water, microwave it for 30-40 seconds and, when it pings, use the cut half of the lemon to scrub away any spills or dried-on food on the inside of the microwave.
Dry all the surfaces, including the turntable, with kitchen paper before baking in there. Et voila… a clean, fresh-smelling microwave, ready for your next showstopper!