Learn how to nail the perfect gooey-centred chocolate chip cookies with these top tips, plus recipes from the likes of Nigella and Ottolenghi.
1. Quality butter (look for at least 82% fat) not only adds flavour but a fluffier texture to your bake – unless you're going vegan, don't scrimp on the butter.
2. This XXX-Rated Chocolate Chip Cookies recipe specifies both semi-sweet and unsweetened chocolate. The bitterness of dark chocolate pairs well with the sweet dough. You can also use a bar of quality dark chocolate, chopped into rough chunks. For a bit of variety, use a mix of dark and milk chocolate. Try to use the highest quality of chocolate your budget permits and steer clear of 'baking chocolate'. We particularly love Pump Street's baking pastilles, which are brilliant for creating cookies with layers of chocolate chunks.
3. Cream the butter and sugar first to help break the butter down evenly and incorporate air into your bake, then fold through the flour so it's nice and evenly distributed throughout the mixture. You don't have to be too delicate with this – put some muscle into it.
4. Weigh the dough. This might sound fanatical, but evenly sized cookies will ensure even baking – the last thing you want is a mix of over-baked and under-baked cookies. Try rolling them into balls or take the Nigella approach and flatten them into fat patties before baking them. (See Nigella's Sweet and Salty Chocolate Cookies). Chilling the cookies in the fridge overnight before you bake them will firm up the butter, helping your cookies to hold their shape and flavour more effectively in the oven. 
6. Once your cookies are in the oven, keep a close eye on the clock. "The secret here is to slightly under-bake the cookies, which keeps them soft and fudgy", say Yotam Ottolenghi and Helen Goh of their Chocolate, Banana and Pecan Cookies. Bake the cookies until soft to touch or as Nigella says, "once the surface is cracked, and the cookies have spread". 
Inspired to bake? Gorge on these ultimate chocolate-chip cookie recipes.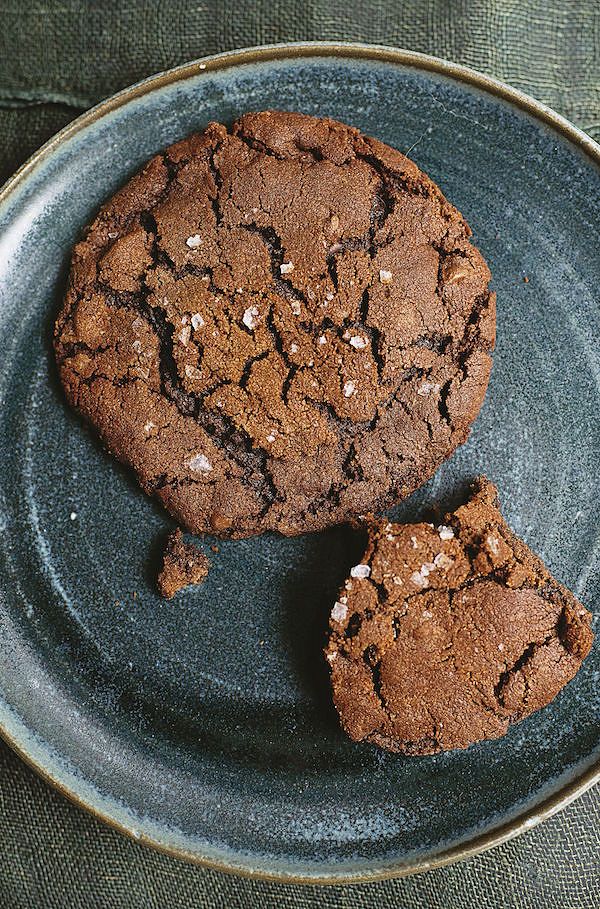 Mine-All-Mine Sweet and Salty Chocolate Cookies from Cook, Eat, Repeat by Nigella Lawson
Nigella's intensely chocolatey, sweet but not too sweet chocolate chip cookies are sprinkled with sea salt flakes for that irresistible sweet-salty combo. Nigella insists that these are best left until the next day when they've become "slightly sandy and softly chewy" although they're also wonderfully gooey fresh out of the oven.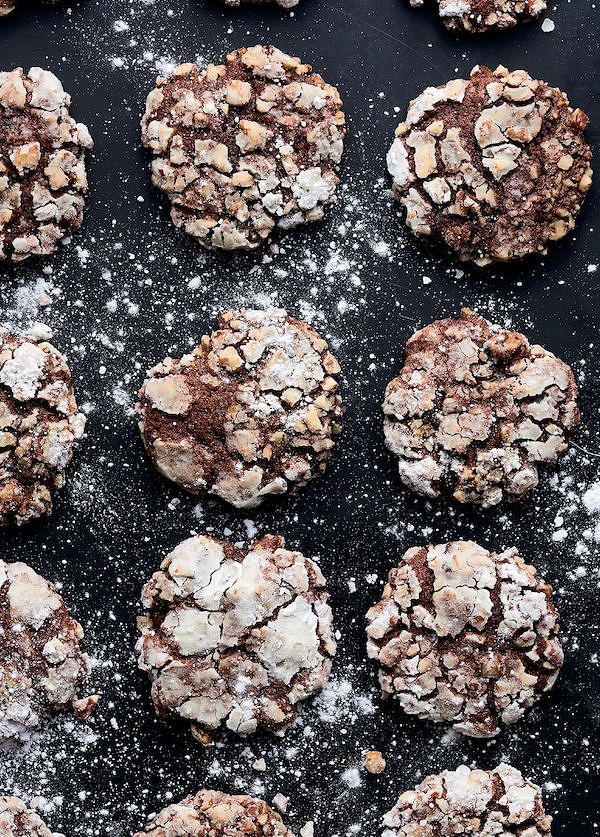 Chocolate, Banana and Pecan Cookies from Sweet by Yotam Ottolenghi & Helen Goh
Banana is added to the dough here for added moisture and a distinct flavour which sets them apart from classic chocolate chip cookies. Soft and fudgy, these nutty treats are best eaten on the same day of baking. Alternatively, freeze the unbaked dough for up to three months, and throw them in the oven from frozen for a last-minute afternoon tea treat.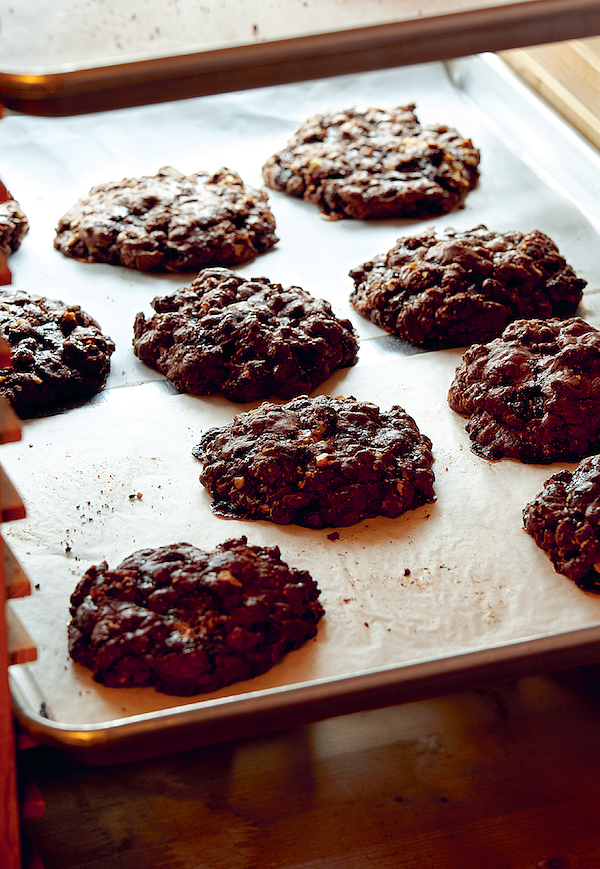 XXX-Rated Chocolate Chip Cookies from Baked in America by David Muniz & David Lesniak
With toasted nuts, three different types of chocolate chips and marshmallows, this is an all American cookie.
Order a copy of Baked in America here.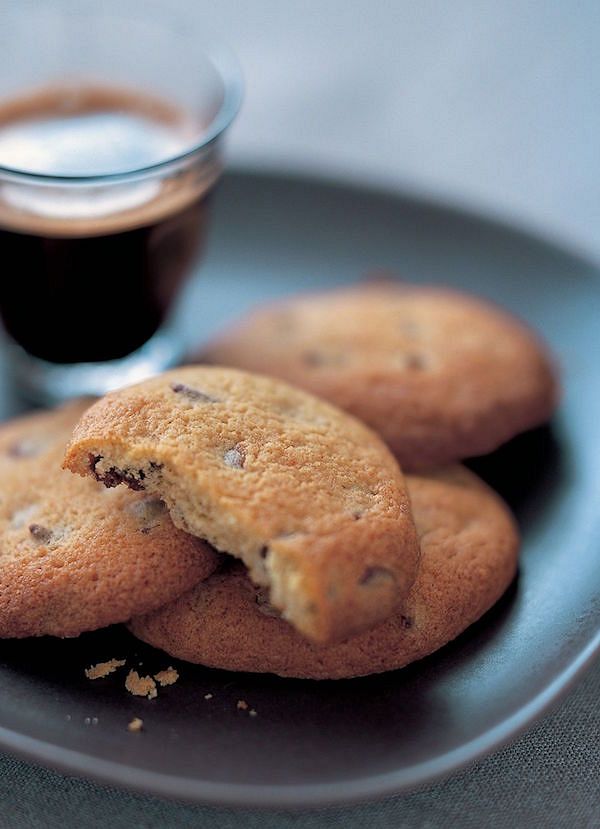 Chocolate Chip Cookies from Simple Cakes by Mary Berry
These simple chocolate-studded cookies are chewy and moreish. Make sure you "watch them like a hawk, as they will turn dark brown very quickly", says Mary.
Order a copy of Simple Cakes here.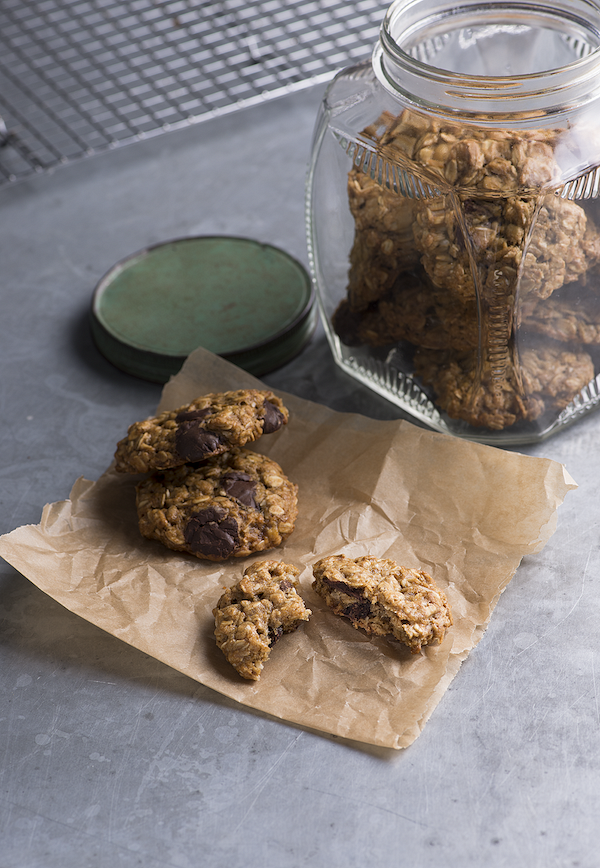 Vegan Banana Chocolate-Chip Oat Cookies from Plant Based Cookbook by Trish Sebben-Krupka
Banana is used as an egg substitute in these chewy, coconutty, vegan chocolate-chip cookies, lightly spiced with cinnamon.