Golden, colourful, indulgent French galettes are the tart du jour of 2019, but what are they and how do you make them? Galettes refer to the catch-all term for a pastry base, topped with either sweet or savoury fillings with the edges roughly folded in to create a gorgeous, rustic-looking bake. 
The word 'galette' comes from the Norman word 'gale', meaning flat cake, and is often used in French cuisine to talk about cakes that don't require a tin, although it can also refer to round, flat cakes and the cheesy Breton galettes described below. The lack of a tin makes galettes especially popular as they're easily adaptable and far more forgiving to make than traditional tart-making – simply roll out your pastry, top with your filling and fold it up roughly before popping it in the oven.
Breton galettes, hailing from Brittany, refer to the savoury buckwheat crepes that ooze with cheese and runny egg. These also follow a similar principle of piling filling onto a carbohydrate base and folding up the edges, but are nevertheless more pancake than tart. If you're seeking a galette of this kind, try this delicious Turkish Spinach Galette recipe from Rachel de Thample's FIVE cookbook.
To make a rustic tart-like galette of the kind you might have seen pop up on your Insta-feed lately, take inspiration from one of the recipes below, adapting your base to whatever seasonal fruit, vegetable or cheese you have to hand. Over the summer, think about swapping rhubarb for apricots, berries or peaches. If you're making a savoury galette, fillings could include wild mushrooms and blue cheese; kale and ricotta or squash and cheese. The beauty of galettes is they're not prescriptive!
Here are some top tips before you start:
When making your pastry, avoid overmixing so that you end up with larger chunks of butter than you would think. This will make the pastry more flaky once baked.

Try not to overfill your pastry: leave a couple of inches of space around the edge of your pastry round so you can easily fold it over.

For a lovely golden pastry crust, brush it with a beaten egg yolk or melted butter before putting it in the oven.

For an even bake, rotate the baking tray every 15 minutes or so.
3 galette recipes to get your teeth into: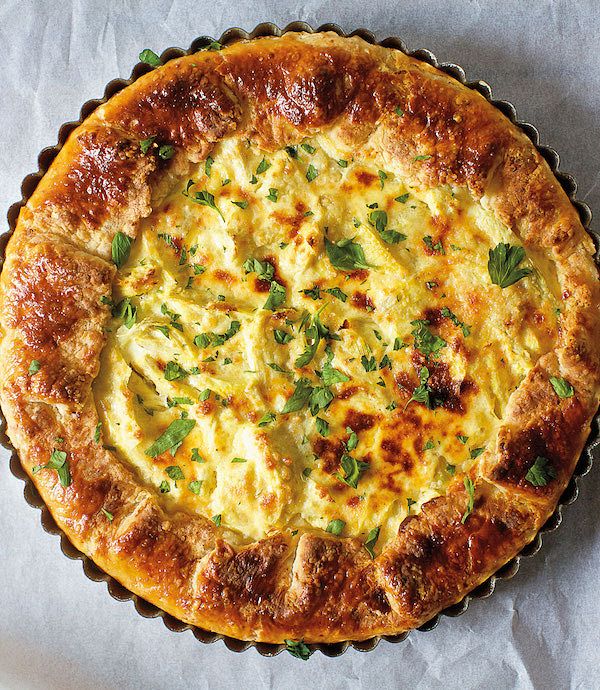 Artichoke and Parmesan Galette from Smitten Kitchen Every Day by Deb Perelman
This rich galette recipe has a Parmesan crust filled with a deliciously indulgent combination of artichokes, Parmesan and sour cream. Serve with a crisp green salad.
Order a copy of Smitten Kitchen Every Day here.
Rhubarb Galette from The Violet Bakery Cookbook by Claire Ptak
Tart rhubarb and frangipane form the filling of this gorgeous, golden bake. Serve it up with a scoop of vanilla.
Get a copy of The Violet Bakery Cookbook here.
Butternut Squash and Caramelized Onion Galette from The Smitten Kitchen Cookbook by Deb Perelman
Seeking an indulgent veggie show-stopper that'll feed a crowd? Try this galette recipe, filled with sweet, caramelised squash, fontina cheese, onions and thyme. Delicious!