Here at The Happy Foodie there are few things that cause as much commotion as the release of a new Ottolenghi cookbook. We've been itching to getting our hands on Ottolenghi FLAVOUR for months, so when our copies finally arrived we wasted no time in ripping off the packaging and immersing ourselves in this captivating book. Ottolenghi FLAVOUR is not your average meat-free recipe collection; Yotam Ottolenghi and co-author Ixta Belfrage are after something much bigger than that. This book is a deep dive into the science of flavour, designed to help you master new cooking techniques, understand ingredient pairing, and unlock the complex flavours in simple vegetables. To give you a glimpse of what Ottolenghi FLAVOUR is all about, we rounded up some (very enthusiastic) home cooks, armed each of them with a copy of the book, and set them loose in their kitchens. To find out how they fared on their culinary adventures, read on.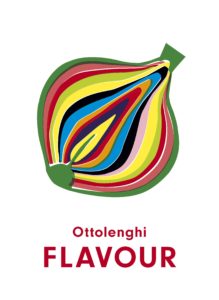 Ottolenghi FLAVOUR
A guide to unlocking the complex flavour in simple vegetables
With a focus on creative cooking processes and clever ingredient pairing
Including recipes for everything from midweek meals to weekend feasts
 Who: Genevieve Halbert – Marketing Executive, The Happy Foodie
What I made: Sticky Rice Balls in Tamarind Rasam Broth
What I thought: This was hands down the best thing I've cooked all year. The tamarind rasam broth, made with tamarind pulp, ginger, and fresh turmeric, had an incredibly intense flavour – sweet, salty, sour, and spicy all at once. This mouthwatering broth was punctuated by charred, sugar-sweet cherry tomatoes, blackened lemon slices, and herb-flecked sticky rice balls. The delicate, clean tasting rice balls provided a perfect counterpoint to the robust, complex flavours of the broth. For such a flavourful dish this was surprisingly easy to make. There are a few stages involved, but the rice balls can be assembled a day ahead and kept in the fridge, making this a very viable midweek meal. I made this for my family and there were literal "wows" all round, even from my usually vegan-sceptic brother.
Who: Indira Birnie – Senior Manager, Audience Marketing, Penguin Random House
What I made: Noor's Black Lime Tofu
What I thought: As a long-time Ottolenghi fan and lifelong vegetarian I couldn't have been more excited when I heard that this cookbook would be veg-centric. On my first look through the book, I earmarked a lot of the recipes but this black lime tofu was the one that sang out – perhaps because it's reminiscent of the black pepper tofu (one of my all-time favourites) from Plenty, Ottolenghi's first vegetarian cookbook. I already had most of the ingredients at home and black limes were easily sourced online and arrived in the post a couple of days later. This recipe is actually deceptively simple and the thing that took me the longest was shallow frying the tofu in several batches – I didn't have enough oil at home to deep fry but it would've been significantly quicker if I had. Once that's done though, you're on the home stretch as all that needs to be done is some sautéing of onions and garlic, adding of spices and black limes and finally the herbs and spinach before simmering it down to a rich sauce and then serving it over rice. Overall (as I suspected I would) I loved this dish; it felt warm and hearty – perfect as we head into autumn and winter – but the greens and pickled red onions add enough brightness to keep it from feeling heavy. I've never cooked with black limes before but I'm a total convert to the uniquely earthy and bitter flavour they added to this dish. Not only am I looking forward to eating this again, but I've also been looking through FLAVOUR to see what I can use them in next.
Who: Abby Watson – Marketing Manager, Ebury Publishing
What I made: Aubergine Dumpings Alla Parmigiana
What I thought: This was incredible! I think it looks like a really unassuming dish but it's packed full of flavour – the hit of salty olives with the dumplings just made the dish for me. Whilst it was straight forward to make for a weeknight meal it would also work really well as a dinner party dish if you were having friends over. I served it up with tenderstem broccoli and mangetout but it would be great with any other green veg or with pasta.
What I made: Za'atar Cacio e Pepe
What I thought: How do you make Cacio e Pepe, one of the best, creamiest, most satisfying dishes known to man, even better? Add za'atar, apparently. The addition of this fragrant, delicious spice really gave this comforting dish a bit of edge, and shot it to the top of my favourite midweek meal list. I didn't have bucatini in the cupboard so I used humble old whole wheat spaghetti (in an attempt to be slightly healthy, in spite of the mountains of cheese involved), and I also swapped the marjoram leaves for some homegrown oregano, simply because I struggled to find the real ingredient in the supermarket. It was a super easy, quick meal to knock out after a stressful day at work, with barely any prep, just a little frying of butter, cooking of pasta, and grating of two kinds of cheese. Even I, the most basic of cooks, couldn't really get this one wrong. Throw it together for a bowl of warm, cheesy heaven, and Bob's – Yotam's? – your uncle (I WISH Yotam was my uncle.)
What I made: Sweet and Sour Onion Petals
What I thought: I have cooked my way through half of Ottolenghi FLAVOUR already; it was so hard to choose just one recipe to talk about for this feature. But I've settled on these Sweet and Sour Onion Petals as I've made them four times now. They are definitely a new 'go to' when I'm in need of a simple side dish for a meal. I was lucky enough to be on set when we filmed a promotional video for the book, and this was one of the dishes Yotam and Ixta made that day. When we wrapped filming the crew, including me, got to eat the food and these onions disappeared within seconds. They seem to go with everything, and can be entirely prepped ahead and plated at the last minute. The goat's cheese is optional but I'd 100% recommend using it as it takes the recipe to the next level. I'd recommend serving these with the Spicy Mushroom Lasagne (also a favourite) and the Hasselback Beetroot with Lime Leaf Butter or with the Olive Oil Flatbreads with Three Garlic Butter, to mop up the pomegranate juice left at the end.
Who: Alice King – Publicity Officer, Ebury Publishing
What I made: Saffron Tagliatelle with Ricotta and Crispy Chipotle Shallots
What I thought: This was unlike any pasta dish I've ever made. The combination of the slightly pickled chillies and the sweet, crispy chipotle shallots was heaven. It was simple to make and you can soak the saffron and pickle the chillies earlier in the day to get ahead. Perfect for an indulgent week night meal or to make a big batch for a dinner party. I used shop-bought tagliatelle but there is also a recipe to make your own Saffron Tagliatelle for the very brave cook.
Who: Morgana Chess – Campaigns Assistant, Ebury Publishing 
What I made: Broccoli with Mushroom Ketchup and Nori
What I thought: This dish delivered the flavour on every level. The dried porcini mushrooms made the ketchup really earthy and rich, and the crunchy salty peanuts with nori flakes were the perfect topping for the broccoli. I served this dish with the Dirty Rice from Ottolenghi FLAVOUR as a side and it was a winning combo. Delicious! And much easier to make than I thought it would be – next time I will be making additional quantities of the ketchup to have on toast!
Who: Clara Triboul – Senior Data & Strategy Manager, Penguin Random House
What I made: Chickpea pancakes with mango pickle yoghurt
What I thought: I love the modernity of well-balanced vegetarian dishes. This book is a gem of creativity, and I can't wait to explore more recipes! To begin with, I set my mind on these chickpea pancakes because they seemed simple enough and quite frankly I had a big bag of gram flour I didn't know what to do with. Well, who knew pancakes could be so flavourful? Their rich depth of flavour was nicely balanced with the tangy sweetness of the mango yoghurt. An absolute winner. Making these (vegan!) pancakes is straightforward, perfect for a Sunday brunch, and the recipe invites experimentation. I've already switched the boiled egg for a fried, and I might add roasted veggies next!