When it comes to baking, Jane Dunn is all about creativity and experimentation. Her blog, Jane's Patisserie, was voted the number one baking blog of 2020 and it's not hard to see why; a treasure trove of eye-popping celebration cakes, confectionery-studded traybakes, and fluffy frosted cupcakes, Jane's Patisserie is an indispensable resource for anyone who wants to experiment with unique flavours and have fun in the kitchen. Like baking enthusiasts everywhere, we've been on the edge of our seats waiting for the release of Jane's debut cookbook and now that it's finally here we couldn't be more excited. Packed with the best recipes from her blog, as well as plenty of brand new ones developed just for the book, Jane's Patisserie will take your baking to the next level. To test just how accessible Jane's recipes are, we gathered a team of enthusiastic home bakers, armed them with copies of the book, and set them loose in their kitchens. Scroll on to see how they got on with everything from chocolate-dipped shortbread to Biscoff cheesecake.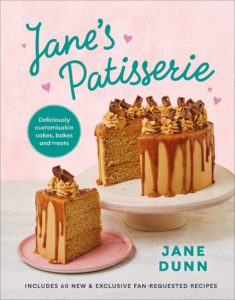 Jane's Patisserie: 100 deliciously customisable cakes, bakes, and treats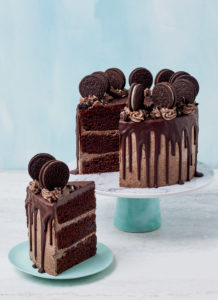 Bold, colourful, customisable bakes for every skill level
From tea time treats to celebration centrepieces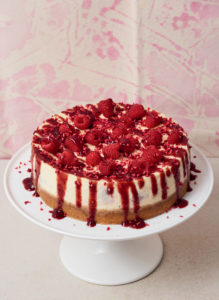 Accompanied by Jane's top tips and baking hacks
Who: Anna Lambert – Publicity Officer, Ebury Publishing
What I made: Shortbread
What I thought: Just when I thought you couldn't get better than a simple, standard shortbread, Jane came along and proved me wrong! This super easy recipe is very adaptable. While it would make a delicious plain shortbread, Jane encourages you to follow your taste buds and tailor the recipe to your own preferences by adding chocolate, lemon zest, walnuts…or just about anything else you can think of! I love recipes that can work in a number of ways and will definitely be making this one again with different flavours.
This time, we settled on a mixture of white and milk choc chips and the biscuits were delicious! We used small cookie cutters so came out with about double the amount of biscuits (perfect, as there were lots of people for them to go around) and they went down a storm.
Who: Vikki Mizon – Head of Creative Events, Penguin Live
What I made: Cinnamon Buns
What I thought: I'm very new to cooking with yeast and normally would have flipped quickly through the bread section of the book to something lighter and more simple looking, but I decided to challenge myself to make these cinnamon buns, and I'm so glad I did! The buns were delicious, absolutely delivered on the sugar kick front, and Jane's instructions were so simple and easy to follow that it made the whole thing really manageable. I wanted them for breakfast, so followed the suggestion of leaving them to prove for the second time in the fridge overnight and cooking them the following morning which worked perfectly. Delicious and indulgent, I'll definitely be making these again and plan on trying my hand at the other bread recipes, too.
Who: Sam Crisp – Editor, Ebury Publishing
What I made: Millionaire's Shortbread
What I thought: I've always been a bit frightened of making my own caramel – something about the scalding heat and thinking I'd need all sorts of tech like a thermometer etc, but it was actually much easier than I thought it would be! The caramel set really nicely, it was the perfect ratio for all the layers, and the fact that the shortbread needed just three ingredients made this an absolute winner for me. Really easy to follow instructions, no intimidating kit or methods, and deliciously sweet, gooey results!
Who: Claire Daverley – Marketing Manager, Page Turners
What I made: Edible Cookie Dough
What I thought: My friends jokingly call me the Cookie Monster so it was a HARD CALL when this book has so many fantastic cookie recipes to choose from. I love raw cookie dough, but rarely make it because I usually bung the dough in the oven to make proper cookies (and there's always that latent seed of my mother telling me not to eat raw egg, or indeed, raw flour). So I decided to make Jane's gloriously easy edible cookie dough. You bake the flour for five minutes, mix everything together – with no egg, just milk to bind! – and chuck in a load of chocolate chunks (Dairy Milk AND dark Galaxy, my end, because double chocolate is a no brainer). I rolled them into spheres that could pass for protein energy balls, when really they were just sugar-choco-treats, fridged them for an hour, and then they were ready to eat. They were so simple, so tasty, and freezable too, so I have cookie dough stashed away for future emergencies. Buttery bliss.
Who: Chloë Johnson-Hill – Creative & Communications Director, Ebury Publishing
What I made: White Chocolate & Pistachio Cupcakes
What I thought: It probably took over an hour to decide on a single recipe I was going to cook from Jane's book. In the end we had to put it to a family vote. The White Chocolate & Pistachio Cupcakes came top and I'm so pleased they did. They're very simple to make, and utterly delicious. It's such a treat to have a little bit of crunch in thecupcake from the pistachios, and it counters the sweetness of the white chocolate (a little. Make no mistake, these are still very sweet indeed). I felt rather disappointed that I don't (yet) own a piping kit for the icing so that I could try to make them look as beautiful as Jane's cupcakes, but then realised from the speed at which these cupcakes were gobbled up that my attempt at artistry may not have been appreciated. I asked the kids if they'd like me to make the cupcakes again to which they replied: definitely! Straight after you've made the NYC cookies, the Cookie Dough Cheesecake, the Bakewell Cookie Bars, the Millionaire's Shortbread…. I have a feeling Jane's Patisserie is going to get a lot of use in our household.
Who: Morgana Chess – Campaigns Officer, Ebury Publishing
What I made: No-Bake Speculoos Cheesecake
What I thought: I think this will quickly become a staple in our household – we almost always have Biscoff spread in the cupboard so the idea of turning it into a cheesecake was instantly appetising. I adapted the recipe slightly using vegan butter, cream cheese and double cream and it was absolutely delicious. The recipe was incredibly easy and the cheesecake had a gorgeous creamy texture that worked really well with the slightly spiced crunchy Speculoos base. And of course, the whole thing was topped with a generous drizzle of the golden elixir that is Biscoff spread. My obsession with Biscoff continues – thank you Jane for such an easy crowd-pleasing dessert!
Who: Abby Watson – Marketing Manager, Ebury Publishing
What I made: Salted Caramel Pretzel Slice
What I thought: I've been baking Jane's recipes for years (I swear by her NYC cookie recipe) so was SO excited for this book. I chose to make the Salted Caramel Pretzel Slice and it was delicious! A salty sweet combo is always a winner for me. This was really easy to pull together, it was incredibly satisfying watching the sugar and water mix turn into an amber caramel. I've made caramel before and it didn't go to plan so was a bit nervous about making it for this bake, but the instructions were perfectly clear and there was no need for a sugar thermometer. I was a bit enthusiastic with the chocolate topping, so my drizzle became a chocolate pool – but that's no bad thing.
Who: Vasu Siva – Senior Marketing Executive, Penguin Shop
What I made: Viennese Whirls
What I thought: Having been first introduced to Jane's amazing NYC cookies by my sister last year (I loved them so much I ended up having a large cookie for my birthday instead of a cake!) I couldn't wait to test a recipe from her new cookbook. I decided to make her Viennese Whirls and found the steps just as fool-proof and easy to follow as all her other recipes. I avoid any form of piping usually, so was happy that I managed to wrangle a piping bag for the first time ever when making these biscuits. I loved how she included customisations for her recipe and I ended up using her suggestions to make the biscuits unfilled, vanilla flavoured and dipped some of the batch in chocolate. The biscuits were so light, thoroughly addictive and had just the right balance of sweetness –perfect to enjoy with a cup of tea. I found that the whole cookbook was full of helpful ideas and hints, including a conversion table which I will forever refer to now! All of Jane's recipes I've tested have been delicious and I highly recommend this cookbook for both experienced and novice bakers. True to her fans, Jane goes above and beyond with each of her recipes in this book with her suggestions and substitutions. I can't wait to try baking more treats very very soon.