With the evenings drawing in and a chill in the air, we're seeking warming stews, weekend roasts and comfort puds to get us through the colder months. Who better than Mary Berry to show us how it's done? We've gone through and chosen ten of our favourites, all with her signature fail-safe guidance, no-fuss ingredient lists and delicious flavour combinations that will have you reaching for seconds. Brioche bread and butter pudding? Yes please.
Roast Chicken with Tarragon Butter & Melting Onions from Simple Comforts
"Perhaps the ultimate comfort meal for many of us is a roast chicken. Just the thought brings a smile to my face. My family loves it with all the trimmings in autumn and winter", says Mary. Here, she reinvents a classic with a ginger, tarragon and garlic butter spread under the skin before roasting. With homemade gravy and meltingly sweet onions, this is all we could want on a chilly autumnal Sunday.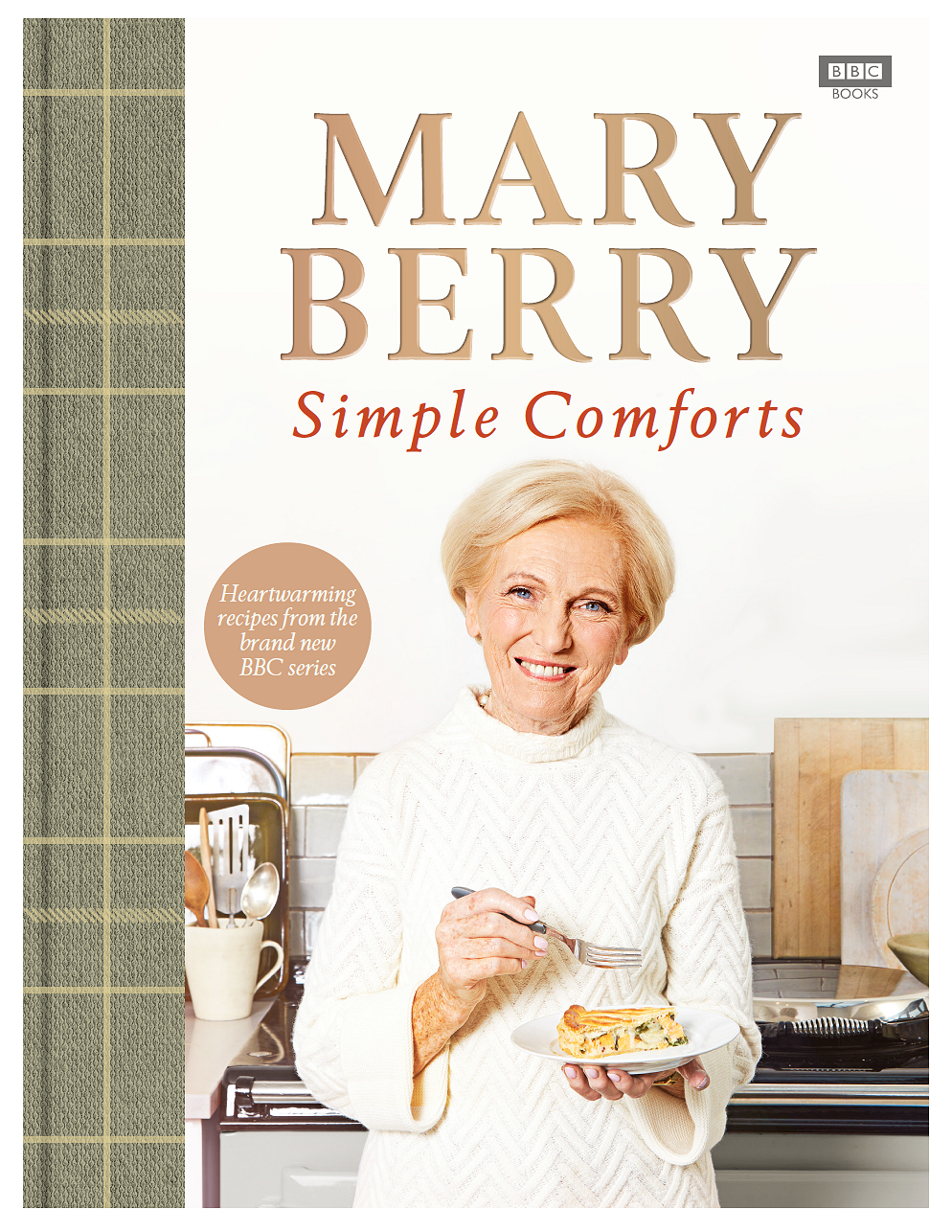 Simple Comforts
Heart-warming comfort dishes from the nation's favourite cook
With easy, family-friendly recipes as well as all-out weekend feasts
Including chapters full of indulgent bakes and sweet treats
Paneer and Roasted Vegetable Curry from Simple Comforts
This creamy mild curry celebrates paneer cheese, sweet potato and cauliflower, which are roasted first for additional caramelly sweetness. Paneer is a fresh Indian cheese that stays firm when roasted, and combines wonderfully with the veggies here. 
Order a copy of Simple Comforts here. 
Fish Pie with Crushed Potato Topping from Mary Berry Cooks the Perfect
Hake, salmon and spinach form the basis of this fish pie, but the real magic of this family favourite is in the topping. Instead of mash, Mary uses new potatoes, lightly crushed and drizzled with olive oil and baked on top until golden and lightly crisp with plenty of texture. 
Order a copy of Mary Berry Cooks the Perfect here.
Marigold Soup from Simple Comforts
"This soup is a beautiful bright orange colour – like the flower – and is so warming and cheering in the winter months", says Mary who makes the most of seasonal root vegetables here. Finish with toasted pumpkin seeds for a nice bit of crunch. 
Order a copy of Simple Comforts to get the recipe.
Warm Chicken and Dill Salad from Simple Comforts
With paprika-spiced chicken, crunchy lettuce, plenty of dill and a Caesar-like creamy dressing, this winter salad is a punchy twist on an Italian favourite. "You must like dill to enjoy it!", warns Mary.
Order a copy of Simple Comforts here.
Harissa-Spiced Lamb with Cannellini Beans from Mary Berry's Absolute Favourites
This hearty stew with meltingly tender lamb and creamy cannellini beans, cooked in a spiced, slightly sweet tomato sauce is so warming, and the leftovers taste even better. Serve with a little soured cream to counterbalance the spiciness of the harissa. 
Get your copy of Mary Berry's Absolute Favourites here.
Roasting Tin Thai Salmon and Vegetables from Simple Comforts
This all-in-one traybake is so easy to make. Salmon and vegetables are roasted together in a zingy coconut and chilli sauce, all in one tray so all the flavours cook together into one fiery, vibrant dish. A great midweek dinner to wake up your tastebuds.
Order a copy of Simple Comforts here.
Mushroom, Lentil and Double Potato Jumble from Simple Comforts
Think of this as a veggie shepherds pie, but instead of mash, Mary has topped her version with chunks of crispy, garlicky, cheesy potatoes. It's a game-changer.
Order a copy of Simple Comforts here.
Apple and Blackberry Crumble from Simple Comforts 
Apple and blackberry are the happy autumnal duo in this comfort classic. Bake until the fruit juices ooze around the edges and seep into the crumbly topping. Yes!
Order a copy of Mary Berry's Simple Comforts to get the recipe.
Brioche Bread and Butter Pudding from Foolproof Cooking
Made with brioche rather than a standard loaf, this creamy bread and butter pud sings with lemon zest rather than the usual spices for a fresh and delicate flavour.