If anybody knows how to riff on tradition with fun twists and inspired flavour combinations, it's Nadiya Hussain. With the recent release of her cookbook, Nadiya Bakes, we've been remembering our favourite Nadiya desserts and recreating them at home. Think tutti-frutti pavlovas, giant éclairs and deconstructed pear crumbles. We've whittled it down to ten, spanning celebration bakes and easy last-minuters to whip up when you really fancy something sweet.  
Tutti Frutti Pavlova from Nadiya Bakes
Nadiya recreates tutti frutti nostalgia in this dessert with glacé cherries, pistachio, chocolate shavings and mixed peel, piled onto chewy meringue and whipped cream. It's a winner.
Nadiya Bakes
A collection of all new baking recipes accompanied by gorgeous photography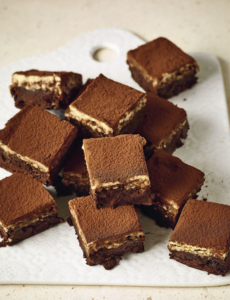 Packed with cakes, pies, and puddings to warm the heart and lift the spirits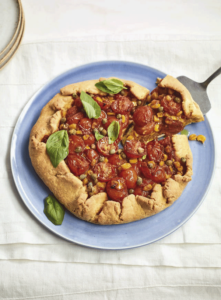 Including mouthwatering savoury bakes as well as irresistible sweets
Mango and Coconut Yoghurt Cake from Nadiya Bakes  
The traditional flavours of Nadiya's childhood – mango and coconut – take centre stage in this beautiful layer cake, filled with vanilla custard buttercream. Topped with mango pulp and toasted coconut, it's a proper celebration bake.
Order a copy of Nadiya Bakes here.
Éclair Roll from Nadiya's Family Favourites
If you love the glorious pastry, cream and chocolate combo of French éclairs but lack the motivation to make them, this giant éclair with salted caramel is a simplified version. 
Order your copy of Nadiya's Family Favourites here.
Mango and Black Peppercorn Cranachan from Nadiya Bakes
What Nadiya calls an 'unorthodox' take on a traditional Scottish recipe, this cranachan swaps raspberries and oats for mango and buttery cornflakes, layered up with cream and a hint of black peppercorns. Something to cheer a winter's evening.
Order a copy of Nadiya Bakes here.
Blueberry Clafoutis from Nadiya's Kitchen
A comforting, throw-it-all-in pudding, this clafoutis is a delight. You can make the batter up to a day in advance, then pour it into a baking dish and pop it in the oven last minute to serve freshly baked. The blueberry and vanilla is a delicious flavour pairing, too.
Order a copy of Nadiya's Kitchen here.
Chocolate Caramel Flan from Nadiya Bakes
This dessert is made with three layers: caramel in the base of the tin, then a chocolate sponge batter and finally a crème caramel mixture. As it cooks, the crème caramel seeps down to mix and meld with the caramel for a deliciously soft layer – pure sweet decadence.
Order a copy of Nadiya Bakes here.
Banana Ice Cream Cheesecake with Blueberry Compote from Nadiya Bakes
With a sweet, oaty, hazelnutty base and a banana ice cream 'cheesecake' layer, topped with warm blueberry compote, you might think this is a tricky dessert to make. Fear not – this is incredibly easy, and it's vegan too.
Order a copy of Nadiya Bakes here.
Filo Cream Parcels from Nadiya Bakes
This Lebanese-inspired dessert is filled with zingy cream and drenched in cardamom, saffron and orange flavours for a taste of sunshine.
Order a copy of Nadiya Bakes here.
Chocolate Hazelnut Mousse from Time To Eat  
Satisfy your sweet tooth with this quick and simple mousse, pairing chocolate and hazelnut. Finish with an extra dusting of chopped toasted hazelnuts for extra crunch.
Order a copy of Time To Eat here.
Half-a-Pear Crumble from Nadiya's Family Favourites
This autumnal pud is simple to put together and a great twist on regular crumble particularly if you, like Nadiya, prefer more fruit in the fruit-to-crumble ratio. Pears are poached, then baked with a sweet marzipan centre and a crunchy granola top.