Whole Chicken Roasted Over Rice with Cinnamon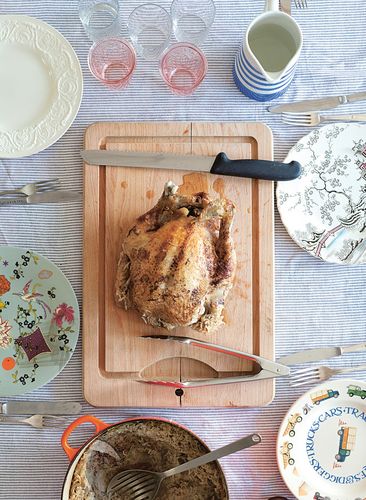 From my friend Jemma, whose grandmother has ultimate claim; it's been no mean feat to wrestle this recipe from her. I'll often make this for Sunday lunch with a big green salad.
Ingredients
250g

basmati rice

1.5kg

whole chicken

2 tbsp

(or thereabouts) olive oil

salt and freshly ground black pepper

3 tsp

ground cinnamon

1

cinnamon stick, broken in half

10

cardamom pods

2

whole allspice

4

bay leaves

2

onions, diced

500ml

hot chicken stock or boiling water

1

lemon, cut into wedges to serve
Instructions
1. Preheat the oven to 180°C/gas mark 4.
2. Soak the rice in a bowl of cold water while you prepare the chicken.
3. Rub the chicken with 1 tablespoon of olive oil, a heaped teaspoon of salt and half the ground cinnamon. Put half the whole spices, 2 bay leaves and an extra pinch of salt into the chicken cavity.
4. Heat a large deep heavy-bottomed casserole pan (big enough to take the whole chicken and with a tight-fitting lid – though you can use foil if necessary) over a moderate heat and pour in the remaining olive oil. Add the chicken, breast side up.
5. Put the casserole, unlidded for the time being, into the hot oven and roast for 20 minutes per 500g.
6. Meanwhile, remove the husks from the rest of the cardamoms and grind the seeds with the remaining allspice, leaving the remaining half of the cinnamon stick whole.
7. Drain the rice and take the pan from the oven and transfer the chicken to a plate. Leave the oven on.
8. Put the pan on a low heat and add the diced onions with the rest of the spices and the remaining bay leaves. Add a pinch of salt and cook the onions in the cinnamony chicken fat and olive oil, stirring often, until soft and sweet, 8–10 minutes.
9. Add the well-drained rice to the onion mix and stir well. 
10.Make a well in the middle of the rice mixture and put the chicken into it. Add the hot stock or water. Bring to a simmer, then return the pan to the oven with the lid on. Cook for about 20–25 minutes, until the liquid is absorbed and the rice and chicken are cooked (the juices should run clear).
11. Remove from the oven and allow the dish to rest for 10 minutes with the lid on – I place a clean tea towel between the lid and the chicken when resting, to absorb any excess moisture in the rice.
12.Serve with wedges of lemon to squish at the table, and give the rice and chicken a final seasoning with salt and a generous grinding of pepper.