Tony's Cauliflower and Chilli Cheese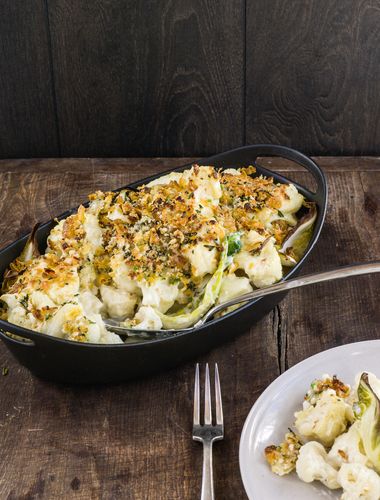 The Incredible Spice Men give an exciting twist to this classic vegetable dish.
For how many?
Serves 4–6 as a side dish
Ingredients
1 litre (1¾pints)

milk

2

bay leaves

1

garlic clove, lightly crushed

2

cloves

3cm (1¼in)

piece cinnamon stick

1

cauliflower (about 800g/ 1lb 14oz), cut into florets, leaves and stalks reserved

For the sauce:

60g (2½oz)

butter

60g (2½oz)

plain flour

100ml (3½fl oz)

double cream

120g (4½oz)

mature Cheddar, grated

salt and freshly ground black pepper

For the spiced topping:

50g (2oz)

white breadcrumbs

50g (2oz)

mature Cheddar, grated

30g (1¼oz)

Parmesan, finely grated

25g (1oz)

cornflakes

2

mild fresh green chillies, seeds removed if liked, finely chopped

1 tbsp

finely chopped fresh coriander

1 tbsp

finely chopped fresh mint
Instructions
1. Preheat the oven to 200°C/400°F/gas 6. Pour the milk into a large saucepan, add the bay leaves, garlic, cloves and cinnamon stick, and bring to the boil. Add the cauliflower florets, leaves and stalks, and simmer for 8–10 minutes until tender but still holding together.
2. Gently lift out the cooked cauliflower with a slotted spoon, removing the bay leaves and cinnamon stick, and set in a colander to drain. Strain the hot milk through a sieve into a jug and reserve.
3. To make the sauce, melt the butter in a medium-size pan over a low heat, then stir in the flour. Stir continuously over a low heat for 2–3 minutes, then gradually add the reserved hot milk, stirring with a whisk so that the sauce is smooth. Bring to a simmer and reduce the heat to very low, then simmer very gently for 5–10 minutes until the flour is cooked out, whisking occasionally.
4. Add the cream and heat the mixture through, then remove from the heat, stir in the Cheddar and whisk until all the cheese has melted. Season generously with salt and pepper. Gently stir the cauliflower into the cheese sauce so that all is well covered, and transfer to an ovenproof dish measuring about 30 x 20cm (12 x 8in).
5. Mix all of the spice topping ingredients together and sprinkle on top of the dish. Bake in the oven for about 20 minutes until golden and bubbling. If you like an extra-crispy topping, flash the dishunder a preheated grill for a few minutes before serving.