Spotted Dick with Butter, Golden Syrup and Custard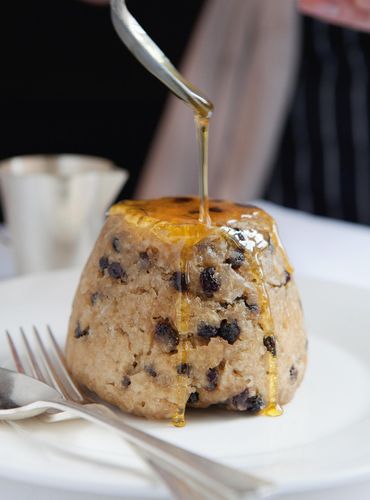 Serving spotted dick with a knob of butter on top and custard on the side is a tip from an old gentleman Tim Hughes once met on a train. Intrigued, we tried it, and sure enough, it was delicious. We serve it with butter to this day.
Ingredients
240 g

plain flour

1 tsp

baking powder

Pinch of salt

120 g

suet

80 g

soft light brown sugar

120 g

currants

Zest of ½ lemon, grated

½ tsp

mixed spice

200 ml

water

50 g

unsalted butter

4 tbsp

golden syrup

300 ml

custard
Instructions
Sieve the flour and baking powder together into a large mixing bowl with the salt. Add suet, sugar, currants, lemon zest and mixed spice, and just enough water to make a soft dough. Mix together with your hands.
Put the dough into a greased 1 litre pudding basin. Drop into a steamer over boiling water. Cover the saucepan and cook for 1 1/2 hours ensuring the pan doesn't boil dry. Top up with boiling water if necessary.
Remove wrappings and cut the pudding into 4cm slices. Place flat on each plate and serve with a knob of butter and drizzle with golden syrup, with custard on the side. For this dish, we use a vegetable steamer sitting over a saucepan but you could use a colander.