Slow-cooked Black Bean Ragout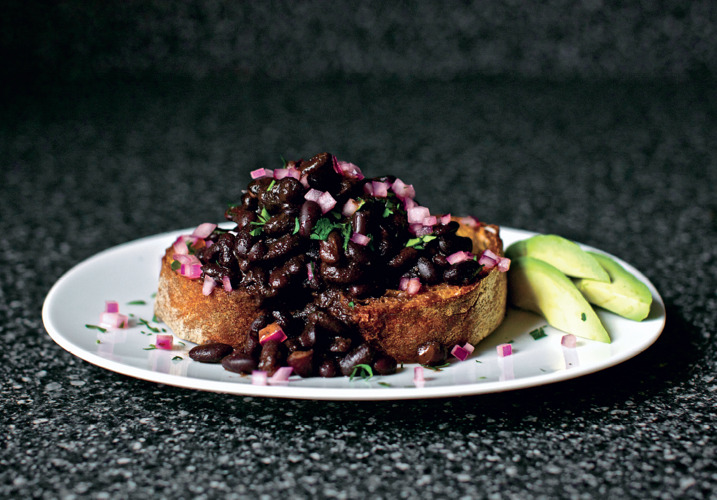 Slow-cooked Black Bean Ragout from The Smitten Kitchen Cookbook. An incredible bean stew served with garlicky toast, cumin cream and lime-pickled red onions.
For how many?
About 1.4 litres of ragout
Ingredients
BEAN RAGOUT

1

large onion, finely chopped

3

garlic cloves, finely chopped

1 tbsp

ground cumin

1/2 tsp

dried oregano

2 tsp

smoked paprika

450g

dried black beans, rinsed if not already soaked

1

dried chilli

2 tbsp

tomato puree

2 tsp

table salt

2 to 2 1/2 litres

water or unsalted vegetable or chicken stock

1 tbsp

lime juice or sherry vinegar

GARLICKY TOAST

2.5cm-thick

slices of bread, such as country or ciabatta loaf

Olive oil

Table salt

1

large garlic clove, halved

CUMIN CREAM

1 ts

ground cumin

240g

soured cream or creme fraiche

FRAICHELIME-PICKLED RED ONIONS

2 tbsp

freshly squeezed lime juice

1/4

medium red onion, finely diced

Table salt

Chopped fresh coriander leaves (or flat-leaf parsley if you're coriander-averse)

Avocado wedges
Instructions
To cook the beans:
Slow cooker - Put all the bean ragout ingredients except lime juice or vinegar in a slow cooker (the slow cooker doesn't care how you layer your ingredients). Cover and cook at high setting until beans are very tender, about 3 hours (in my super-speedy slow-cooker) to 6 hours.
Stovetop - Put all the bean ragout ingredients except lime juice or vinegar in a large pot, and bring to a boil. Reduce to a very slow simmer and cook for approximately 3 hours, until the beans are tender.
To make toasts: Brush bread with oilve oil, and sprinkle lightly with salt. Toast bread under the grill, and as soon as you take it out of the oven, rub it with the raw garlic clove.
To make cream: Stir together 1 teaspoon ground cumin with soured cream and set aside.
To make lime-pickled red onions: Mix the lime juice, onion, and a pinch or two of salt in a small dish and let stand for 15 minutes, stirring occasionally. Use to garnish black-bean ragout.
Once the beans are cooked, stir in the lime juice or vinegar. Adjust seasonings to taste. Ladle over garlicky toasts and sprinkle with chopped corriander, cumin cream and lime-pickled red onions. Serve with avocado wedges.